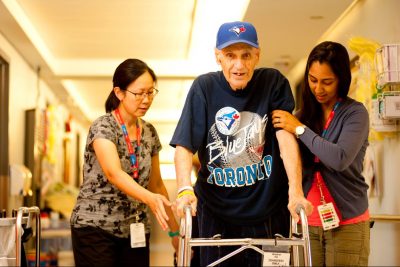 Seniors Care
Unity Health provides comprehensive and compassionate care for elderly people facing age-related issues like chronic disease, mobility problems and more.
We have a variety of Programs and Clinics at St. Joseph's Health Centre, St. Michael's Hospital, and Providence Healthcare.
Seniors Care at St. Joseph's Health Centre
St. Joseph's provides outpatient assessment, health promotion and illness prevention for the elderly, with the aim of assisting patients and families to manage the challenges associated with aging.
One of the most highly regarded geriatric programs in Toronto, the Clinic for Healthy Aging (CHA) provides initial and follow-up assessments, health education, consultation, diagnosis of dementia including Alzheimer's, treatment and assistance in planning for the future.
We provide the following services:
Comprehensive medical, cognitive and functional examination and health screening on a regular basis.
Specialized treatment programs streamlined to the needs of the elderly.
Up-to-date information and resources on management of elderly people living at home.
Expert consultation and support to families and caregivers who require assistance with caring for frail elderly people living at home.
Personalized information to the elderly and their families requiring assistance with planning and selecting appropriate accommodation in the community.
Referrals
Clients are seen on a medical referral basis only. Please use the CHA Referral Form to refer patients.
3rd floor East Wing
416-530-6770
Monday to Friday, 8 am to 4 pm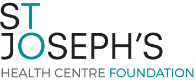 Seniors Care at St. Michael's Hospital
The team at the St. Michael's Hospital cares for older adults with complex chronic diseases and conditions associated with aging.
The Acute Care for the Elderly (ACE) Unit provides an elder-friendly environment for patients over 70 who have multiple chronic health conditions, may be seeing a decline in their function and/or are facing complex social issues. The unit comprises eight beds at St. Michael's Hospital.
With physiotherapists and occupational therapists on our team, there is an emphasis on the patient's mobility and function to help them maintain their independence and ability to return home. The unit embraces a collaborative and interprofessional philosophy to providing care. The team works closely with community partners facilitating a safe transition home by ensuring that the appropriate supports are in place.
14th Floor Cardinal Carter Wing
Please note: Due to the COVID-19 pandemic, we are unable to schedule in-person visits. However, we are able to book new patients and follow-up appointments with a geriatrician virtually via the Ontario Telemedicine Network, the Zoom video conferencing platform and/or phone. For more information visit our Virtual Care page.
As we age, many of us develop chronic diseases that affect our well-being, as well as our independence. The team at the St. Michael's Hospital Elders' Clinic cares for older adults with complex chronic diseases and conditions associated with aging including memory loss, mobility problems and falls, bowel or bladder difficulties, poor nutrition or unexplained weight loss, and challenges managing multiple illnesses and medications.
We provide Comprehensive Geriatric Assessments for older adults, and when it's needed and appropriate, we will connect you with community support services. A Comprehensive Geriatric Assessment is a multidimensional, interdisciplinary diagnostic process to determine the medical, psychological and functional capabilities of an older adult to develop a coordinated and integrated plan for management and longitudinal follow up. In addition to in-person care, we also provide assessments and treatments via Telemedicine.
9 Donnelly Wing
416-864-5015
Fax: 416-864-5735
Monday to Friday, 8 am to 4 pm
Referrals
You will need a referral from a doctor. Referrals can be faxed to the Elders' Clinic at 416-864-5735.
Geriatric Emergency Management nurses have specialized knowledge of the issues older adults often face. These nurses collaborate with the Emergency Department physicians and nursing staff in the assessment of frail, at-risk older adults and link them to appropriate resources and specialized geriatric services within the hospital or the community as needed.
Monday to Friday, 8 am to 4 pm
Some occasional weekend and evening hours. Availability is subject to change.
Referrals
Older adults who come to the Emergency Department are screened by nurses and/or doctors to identify those who are at risk and to determine who would benefit from a targeted geriatric assessment by a Geriatric Emergency Management nurse.
The Inpatient Consultation Team focuses on the prevention and management of geriatric syndromes such as delirium, dementia, falls, functional decline, frailty, incontinence and medical complexity.
Referrals
You will need a referral from a doctor. If you are 65 years or older and admitted to the Trauma Service or the Orthopedics Service with a fragility fracture, a referral is automatically made to the Inpatient Consultation Team.

Seniors Care at Providence Healthcare
Providence Healthcare is devoted to providing support, care and resources to seniors in need. For additional information on how to make a referral, please download and read our Referring Partners Guide.

As of April 1, 2021, St. Michael's Foundation amalgamated with Providence Healthcare Foundation and all receipts will be issued by St. Michael's Foundation.
We are pleased to let you know that your donation will go directly to the organization and priority that you have designated.
Last updated November 15, 2022