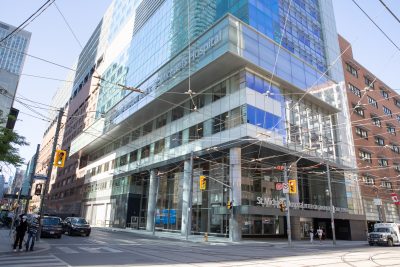 St. Michael's Hospital
Construction Alert: Please be advised that Metrolinx is currently doing construction work around St. Michael's. Queen Street between Bay Street and Victoria Street will be closed to all vehicles, but open for pedestrians. Please plan ahead for your appointment. For more information about this project please visit: Metrolinx's website
St. Michael's Hospital is a Catholic teaching and research hospital in downtown Toronto. Affectionately known as the Urban Angel, St. Michael's is renowned for providing exceptional patient care.
Mailing Address
30 Bond St.,
Toronto, ON
M5B 1W8
The main entrance is located near Queen St. East and Victoria St. The Bond St. entrance is not open to the public at this time.
416-360-4000
Emergency
Emergency is located at the corner of Victoria and Shuter Streets and one block east and north of Queen and Yonge. Please note that you cannot access Emergency if you enter the hospital from our Queen St. entrance. Please go directly to Emergency.
Parking
The parking lot is located at 209 Victoria St. on the west side of the Li Ka Shing Knowledge Institute.
There are also Green P lots across from the hospital's Queen St. entrance and behind Metropolitan United Church on the east side of Bond St.
You can also park at the Eaton Centre, located one block west on Yonge St. at Shuter St.
On-Site Directions
Click here for St. Michael's Hospital ground floor directions.

Last updated May 01, 2023