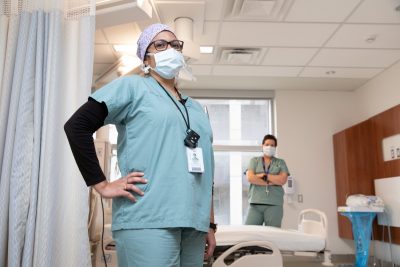 Nursing at Unity Health
Nurses are vital members of the health-care team. Unity Health nurses are passionate, committed and knowledgeable, and they all play a critical role in fulfilling our mission of delivering excellence in patient care.
At Unity Health, we believe:
Nurses make a valuable, unique contribution to patient care and play an integral role in maintaining and sustaining our culture of caring and discovery.
Design and delivery of professional, scholarly nursing services that are integrated and aligned with inter-professional practice structures is essential to the provision of quality care.
Decision making is enhanced by the collective wisdom acquired through dialogue and discourse of diverse nursing practice domains including education, research, informatics, and administrative/management.
For more information about nursing careers at Unity Health, visit unityhealthnursingcareers.com.
As a network of teaching hospitals and a referral centre for patients from across the province, Unity Health offers exciting career development and learning and growth opportunities for registered nurses in the following specialty areas:
Cardiovascular
Perinatal
Gynecology
Critical care
Trauma and neurosurgical intensive care
Diagnostic imaging
Laboratory services
Emergency
Gastroenterology
Community and family practice
We also have a diverse range of roles within the nursing profession, including:
Registered Nurse
Nurse Practitioner
Clinical Nurse Specialist
Clinical Nurse Educator
Clinical Leader Manager
The Ministry of Health Nursing Graduate Guarantee Initiative at Unity Health provides new graduates and internationally educated nurses upon hire with opportunities for:
Extensive orientation
Preceptorship by an experienced nurse with clinical expertise in the chosen area
Acquiring new clinical knowledge and skills
Learning how to prioritize patient care needs and manage a workload
The goal of this initiative is to promote the transfer of knowledge to new graduates and internationally educated nurses within an accountability framework focusing on the new graduate and internationally educated nurse's professional growth and autonomy, which will lead to active participation as a member of the clinical team.
Eligible nurses at Unity Health have access to financial assistance for professional development and education in the form of:
Sister Christine Gaudet Scholarship Fund
Dr. S. Gordon Ross Memorial Fund
Tuition assistance program from Human Resources
Nursing Excellence Grant
Syron Nursing Fellowship Awards
Mehramat and Satwant Gill Nursing Scholarship Fund
Canadian Nursing Association (CNA) certificate reimbursement
The Registered Nurses' Association of Ontario (RNAO) awards the Best Practice Spotlight Organization (BPSO) designation upon successful implementation, evaluation and knowledge translation of established nursing best practice guidelines (BPGs). The association created its BPG program to provide nurses and health-care teams with the most up-to-date, comprehensive, best evidence-based patient-care and healthy work environment recommendations. RNAO BPGs are recognized provincially, nationally and internationally.
Unity Health is committed to renewing its annual BPSO designation through actively engaging nurses to take the lead in contributing to evidence-based nursing culture and care. In implementing, evaluating and sustaining BPGs, our nurses are proactively improving patient outcomes and raising the profile of nurses as knowledge professionals and change leaders.
For more on the benefits of nursing at Unity Health, watch our video. 
Last updated June 08, 2022