Nursing at Unity Health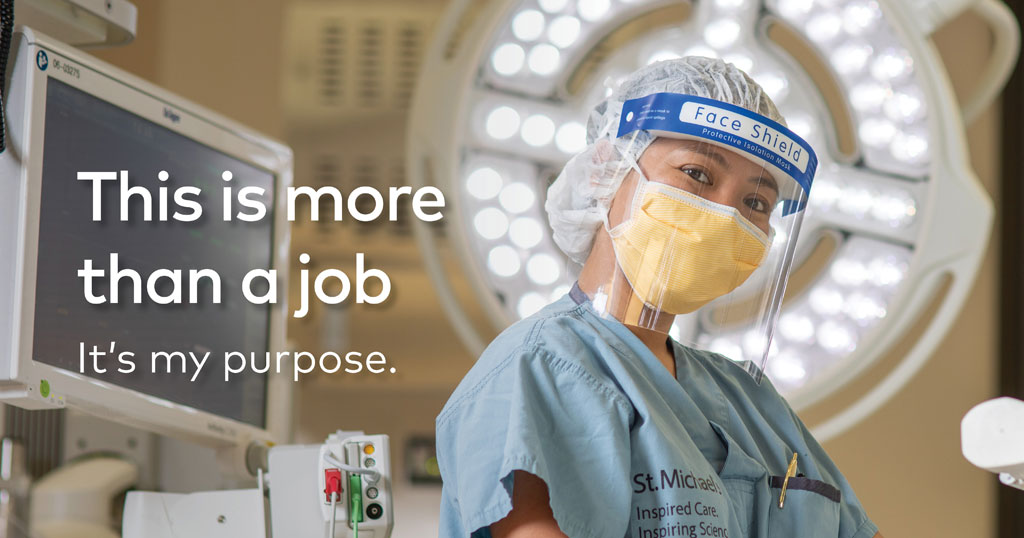 Nurses are at the front line of patient care across Unity Health. As a nurse, you carry the knowledge and the courage to work with confidence each day.
While our duty lies in providing expert care for our patients, it also lies in taking care of our own. That's why we've designed our workplace to support you not only while you're on shift, but throughout your career journey. Our inclusive, values-based culture holds a space where our nurses can bring their whole selves to work – and back home at the end of the day. At Unity Health, we don't just offer a place to work, we offer a place where you can flourish.
One network, three hospitals, unlimited opportunity
Unity Health Toronto is a health-care network made up of St. Joseph's Health Centre, St. Michael's Hospital and Providence Healthcare. We're reshaping health care to address the needs of the whole person – mind, body and spirit. Our Vision is The best care experiences. Created together. At Unity Health there is the chance to do this while being at the very forefront of health innovation, and we want you to be a part of it.
As a network of teaching hospitals and a referral centre for patients from across the province, Unity Health offers exciting learning and growth opportunities for registered nurses in the following specialty areas:
Cardiovascular care
Perinatal care
Gynecology
Critical care
Trauma and neurosurgical intensive care

Diagnostic imaging
Laboratory services
Emergency
Gastroenterology
Community and family practice
We also have a diverse range of roles within the nursing profession, including:
Registered Nurse
Nurse Practitioner
Clinical Nurse Specialist

Clinical Nurse Educator
Clinical Leader Manager
Unity Health is growing. We need nurses like you, and so do our patients. We're hiring RNs and RPNs across all disciplines, especially in our emergency, surgical, medicine, mental health and intensive care units.
Why Unity Health?
When you join Unity Health, you are joining a place of opportunity. Few workplaces offer the breadth of experience available through our network. Our services extend from prenatal care to end of life. We work in our community with some of Toronto's most vulnerable people and we offer some of Ontario's most specialized health services. We are routinely ranked as a top Canadian hospital network and a national leader in health research. Working with us means being at the forefront of health care in Canada's largest city alongside leading experts in clinical care, research, education and technology.
At Unity Health, we believe nurses make a valuable, unique contribution to patient care and play an integral role in maintaining and sustaining our culture of caring and discovery. We know that decision making is enhanced by the collective wisdom of diverse nursing practice domains. Our nurses are proactively involved in improving patient outcomes and raising the profile of nurses as knowledge professionals and change leaders.
Find out more about what it means to work at Unity Health, including competitive compensation, excellent health, financial and family benefits, vacation and time off, a leading defined-benefit pension plan, robust supports for learning and development, and programs for physical wellness, mental health, leaves of absence, parental leave and flexible work arrangements.
The Registered Nurses' Association of Ontario (RNAO) awards the Best Practice Spotlight Organization (BPSO) designation upon successful implementation, evaluation and knowledge translation of established nursing best practice guidelines (BPGs). The association created its BPG program to provide nurses and health-care teams with the most up-to-date, comprehensive, best evidence-based patient-care and healthy work environment recommendations. RNAO BPGs are recognized provincially, nationally and internationally.
Unity Health is committed to renewing its annual BPSO designation by actively engaging nurses to take the lead in contributing to evidence-based nursing culture and care. In implementing, evaluating and sustaining BPGs, our nurses are proactively improving patient outcomes and raising the profile of nurses as knowledge professionals and change leaders.
The Ministry of Health Nursing Graduate Guarantee Initiative at Unity Health provides new graduates and internationally educated nurses with opportunities for:
Extensive orientation
Preceptorship by an experienced nurse with clinical expertise in a chosen area
Acquiring new clinical knowledge and skills
Learning how to prioritize patient care needs and manage a workload
The goal of this initiative is to promote the transfer of knowledge to new graduates and internationally educated nurses within an accountability framework, focusing on professional growth and autonomy leading to active participation as a member of the clinical team.
Every member of staff at Unity Health is supported by tuition assistance, a robust in-house learning program, and a range of specialized programs that help our people make the most of opportunities for professional development and growth. Learn more about Unity Health's support for learning and development.
In addition, eligible nurses at Unity Health have access to special financial assistance for professional development and education, including the following.
Canadian Nursing Association (CNA) certificate reimbursement: Support for nurses who have successfully passed the CNA certification exam within one calendar year by providing reimbursement for exam application fees and continued support to nurses who have successfully recertified their CNA certification by providing reimbursement for recertification application fees.
Mehramat and Satwant Gill Nursing Scholarship Fund: Annual grants provided to nurse practitioners to enhance their clinical, education and/or leadership skills.
Nursing Excellence Grant: Financial support for nurses providing oral/poster presentations at national and international conferences, as well as university visiting lectures.
Sister Christine Gaudet Scholarship Fund and Dr. S. Gordon Ross Memorial Fund: Financial assistance in the form of scholarships for staff or their children pursuing studies in a health care-related field.
Syron Graduate Nursing Fellowship: Financial assistance in the form of a grant for permanent full- or part-time nursing staff employed by St. Michael's Hospital pursuing graduate education in nursing or in a health care-related field of study.
We can't wait to have you on our team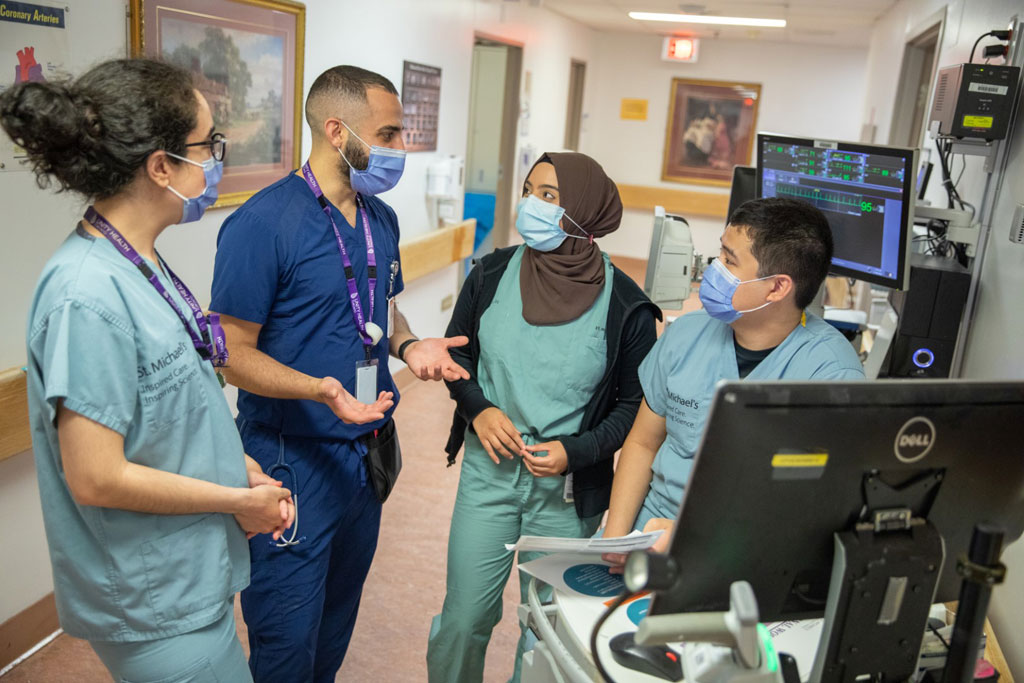 Last updated May 16, 2023