COVID-19
In this section you will find the latest news on COVID-19 at our Unity Health locations, including information about protecting yourself and our patients, clients and residents, outbreaks and more.
To help keep patients and visitors informed, Unity Health has developed this page to track and consolidate all COVID-19 outbreak-related information at St. Joseph's, St. Michael's and Providence.
The unit(s) listed below are currently in outbreak, which means they have had two COVID-19 cases within a 14-day period, where both cases could reasonably have been acquired in hospital.
When an outbreak is declared, our teams reach out to any patients, staff, physicians and learners who had direct contact with a positive case to advise of next steps. Our hospitals remain safe places to receive care. Each outbreak is assigned an outbreak management team that ensures infection prevention and control practices are followed.
We also take many measures to ensure the outbreak(s) are contained, including closing the affected unit to admissions, additional testing of patients and staff physicians and learners, enhanced cleaning and infection control procedures and additional safety precautions for our staff, physicians, learners, as well as patients and visitors.
In an outbreak situation, visitors may be restricted to protect the safety of our patients, their loved ones and our communities. If the patient you hope to visit is on a unit on outbreak, contact the unit the patient is on before visiting. You can find a unit by visiting our Clinic and Unit Contact Information page.
St. Joseph's Health Centre
2LM (Medicine) – declared on June 30, 2022
St. Michael's Hospital
Providence Healthcare
Recently resolved
B4 (Geriatric and Medical Rehab) – resolved June 21, 2022
FAQ
What is an outbreak?
The definition of a COVID-19 outbreak in a hospital is set by the province of Ontario. Outbreak status means the unit has had two COVID-19 cases within a 14-day period, where both cases could reasonably have been acquired in hospital.
Who declares an outbreak?
It is a joint decision made by Unity Health Toronto – with our Infection Prevention and Control (IPAC) team – and Toronto Public Health. IPAC works collaboratively with Occupational Health to obtain essential information to understand if there is an outbreak.
What is Unity Health Toronto doing to address the outbreaks?
Unity Health has precautions in place to help prevent the spread of COVID-19 and to ensure the continued safety of our patients and staff.
When an outbreak occurs in a hospital, additional measures are taken to mitigate further infections, including:
Formation of an outbreak management team which includes representation from:

Unit/clinical leadership
Infection Prevention and Control
Occupational Health
Toronto Public Health
Environmental Services
Laboratory leadership
Other partners as needed to effectively manage the outbreak and limit further transmission

Follow-up of patients and staff who may have been exposed to the source of the outbreak, including appropriate testing and isolation as needed
Enhanced cleaning in the unit
Additional precautions as identified by the outbreak management team
Should I be worried about coming to the hospital?
Our hospitals remain open and there is no reason to be worried about coming to any Unity Health Toronto location or our Emergency Departments. All Unity Health Toronto locations remain safe places to receive care.
| Location | Intensive care units | Inpatient units | Total |
| --- | --- | --- | --- |
| St. Joseph's | 1 | 9 | 10 |
| St. Michael's | 1 | 7 | 8 |
| Location | Hospital | Houses of Providence* | Total |
| --- | --- | --- | --- |
| Providence | 1 | 0 | 1 |
Total number of COVID-19 cases at Unity Health Toronto sites: 19
* Long-term care house at Providence Healthcare
Last updated: June 30, 2022 @ 10:56 a.m.
Taking precautionary measures is the best way to reduce the spread of COVID-19. To protect yourself and others, we encourage everyone to:
Practice good hand hygiene. Clean your hands often using soap and water or an alcohol-based hand sanitizer. Here are instructions on how to clean your hands properly.
Wear a non-medical mask or face covering, especially when physical distancing may be a challenge. Learn how to wear one safely.
Maintain physical distancing by staying at least two metres or six feet from those outside your household.
Clean and disinfect objects and surfaces that are frequently touched.
Avoid touching your face, including when you are wearing a mask.
Stay home when you are sick.
At Unity Health, the safety of our patients and care teams is our first priority and we have many precautions in place to help with this at our sites and clinics. Click here to learn more about how we are keeping you safe.
What is a coronavirus?
Coronaviruses are a large family of viruses. They can cause diseases ranging from the common cold to more severe diseases such as Severe Acute Respiratory Syndrome (SARS). Some human coronaviruses spread easily between people, while others do not.
On Dec. 31, 2019, Chinese health authorities identified a new (or novel) coronavirus (referred to as COVID-19) through a series of reported cases of pneumonia in Wuhan, China.
What are the symptoms?
Common symptoms of COVID-19 include:
Fever
New or worsening cough
Shortness of breath
A full list of symptoms and signs of COVID-19, as defined by the provincial Ministry of Health, can be found here.
What if I come to the hospital and I might have a COVID-19?
If you have the correct risk factors, your care team will wear protective equipment and place you in a room separate from other patients. After a careful review, a decision will be made as to whether you need testing, where this should be done, and whether you need to go to the emergency department (if you are not already there) and whether you need to be admitted to hospital. Patients that have very mild symptoms may be sent home with instructions to isolate at home while awaiting test results and will be followed by public health.
What should I do if I think I might have COVID-19?
If you are concerned about your symptoms and/or worried about potential exposure to COVID-19, we encourage you to take the Ministry of Health's self-assessment to determine if you need to visit an assessment centre or self-isolate at home.
If I have been tested, where can I see my results?
There is a new user-friendly online portal where the public can easily access their COVID-19 lab test results.
Do I need to wear a mask?
We are maintaining masking requirements in all Unity Health locations past June 11, 2022, as many of our patients and residents are, or may be, at increased risk of severe outcomes. These measures will remain in effect for the foreseeable future. Continuing to follow masking is an effective way for us to ensure a safe environment for healing, as well as limit the risk of transmission and outbreaks.
How can I protect myself and those around me?
To reduce exposure to and transmission of a range of illnesses, including coronaviruses, you should follow usual health precautions such as:
washing your hands often using an alcohol-based hand sanitizer or soap and water
avoiding touching your eyes, nose and mouth with unwashed hands
avoiding contact with people who are sick
keeping a safe distance of 2 metres or 6 feet from other individuals
covering your cough with a tissue or sneeze in your elbow
staying home when you are sick
frequently cleaning and disinfecting touched objects and surfaces
Where can I find more information?
For detailed information on the status of the virus and risk to Canadians, please visit the Public Health Agency of Canada or Ontario Ministry of Health websites.
Please note: As the number of patients we serve increases, we want to ensure all patients receive excellent and timely care. This may mean your care could be transferred to another hospital. Delivering safe, high quality care is our top priority and a transfer would occur only when we are confident care needs could be met equally as well by another hospital. Thank you for your cooperation and understanding during these unprecedented times.
Before you can come inside our sites and clinics, you will be asked questions at the entrance of our buildings. We are doing our best to move people through this screening process as quickly as possible, however you may need to wait for a short time in a line. You may also need to wait in a line for elevators so you can physical distance properly.  This is similar to what's happening at grocery stores and hardware stores in the community, so it's important that you plan ahead and give yourself extra time when coming in for a scheduled appointment or procedure. Visit the Directions and Parking page for more information.
Entrance screening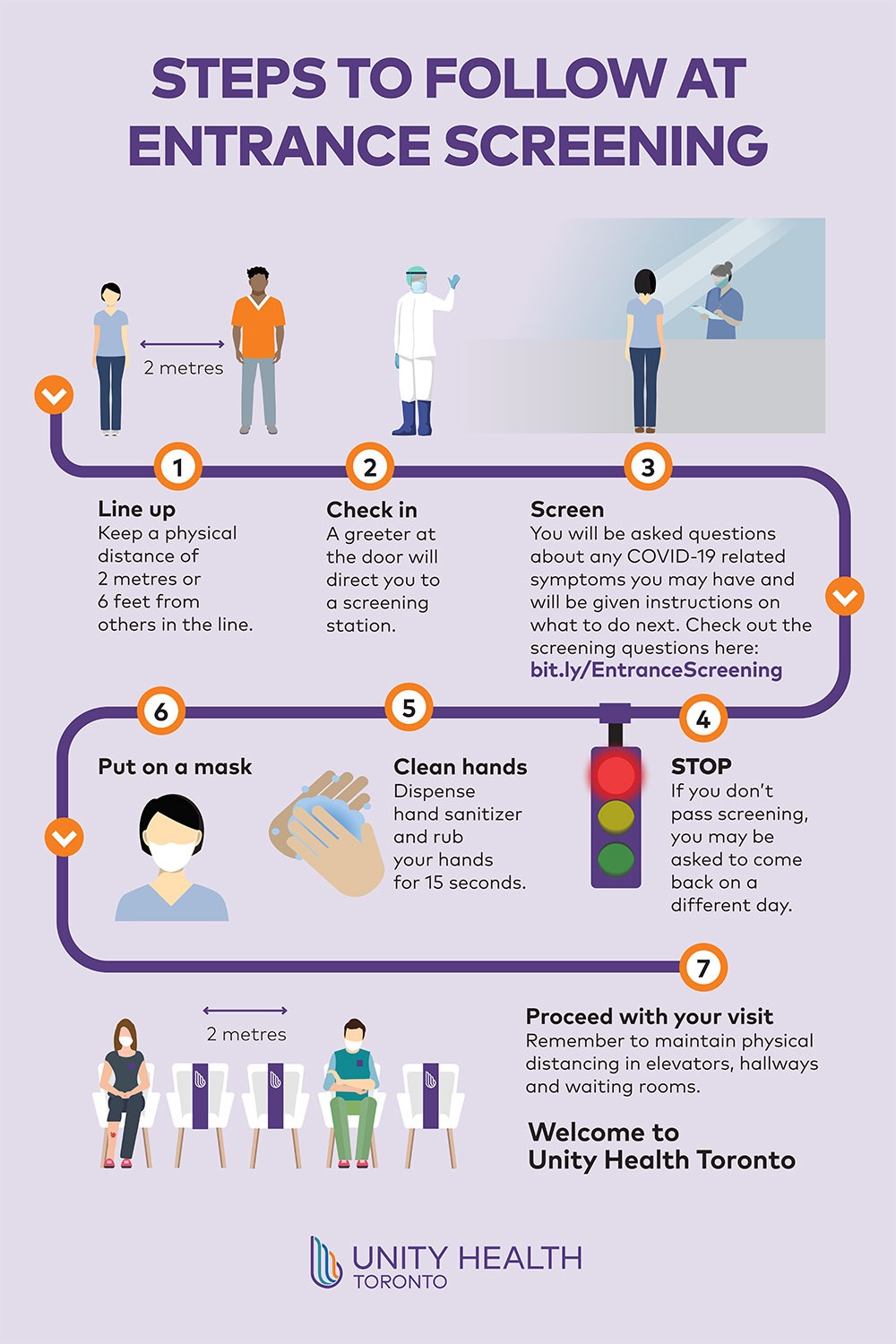 Click here to read text version
At the entrance, you can expect to be asked the following questions:
Do you have ANY of the following symptoms:
Fever or chills
New or worsening cough
New or worsening shortness of breath or difficulty breathing
Decrease or loss of sense of taste or smell
Runny nose or nasal congestion
Unexplained headache
Extreme fatigue
Sore throat
Unexplained muscle aches/joint pain
Nausea, vomiting or diarrhea
OR
Have you had unprotected close contact with a person with symptoms consistent with  COVID-19 or confirmed COVID-19 in the last 10 days?
OR
Do you currently have confirmed COVID-19 (this does not include those who have recently recovered, are asymptomatic and have been cleared by Public Health)?
OR
Are you currently required to quarantine due to travel outside of Canada?
If NO to all, you may proceed inside with your visit. You will be required to wear a face mask to enter our sites. If you require an exemption, please inform our entrance screeners.
If YES to ANY of the above, you may not enter the building today unless your appointment is scheduled or urgent.
Below are all entrance screening hospital locations across all Unity Health locations. These are the only entrances where patients can enter our main hospital buildings. If your appointment is in one of our other buildings such as one of our Family Health Team sites or 61 Queen St., you will also be screened at these entrances.
Site
Building
Entrance/Exit
Hours
St. Michael's
30 Bond St. – main
hospital
Donnelly entrance (Queen Street)
This entrance is temporarily closed. Patients and visitors should use the Gilgan entrance instead, where signage and staff will be in place to help you find your way.
Gilgan entrance (Queen and Victoria)
This entrance will temporarily be open 24 hours, daily.
Site
Building
Entrance/Exit
Hours
St. Joseph's
30 The Queensway – main hospital
Melnyk Entrance
6 a.m. to 11 p.m., daily
Gilgan Family Wing entrance (formerly Tranquility entrance)
6 a.m. to 10 p.m., Monday through Saturday
East Entrance
The East Entrance is CLOSED.

Please use the

Melnyk/Main entrance

instead, where signage and volunteers will be in place to help you find your way.

Garron Our Lady of Mercy entrance (formerly Our Lady of Mercy entrance)
24 hours, daily
Garron Our Lady of Mercy parking garage
24 hours, daily
Sunnyside building
Sunnyside West
7:30 a.m. to 4 p.m., weekdays
Site
Building
Entrance/Exit
Hours
Providence
3276 St. Clair Ave. East – main hospital
Main doors
24 hours, daily
Outpatient entrance
Pre-scheduled appointments only 8 a.m. to 4 p.m., weekdays
Houses of Providence
Main doors
6 a.m. to midnight, daily
Last updated June 30, 2022