Speech Language Pathology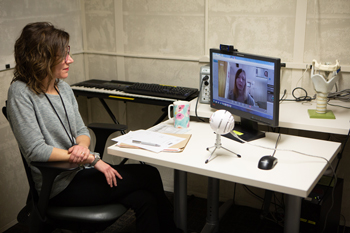 Speech-language pathologists at Unity Health Toronto care for patients who have swallowing and communication disorders. The team provides services to patients in both inpatient and outpatient settings. Speech-language pathologists help to evaluate and manage swallowing disorders, which may arise from medical causes such as stroke or trauma, or from other causes such as intubation.
A clinical swallowing evaluation includes an examination, a review of a patient's medical history and food and liquid trials in varying amounts and with various feeding techniques. For patients who have communicative challenges from stroke or head injury, the team also provides assessment and management of speech, language and cognitive communication disorders.
At St. Michael's Hospital, the Speech-Language Pathology service is fully affiliated with the graduate program in Speech-Language Pathology at the University of Toronto. All speech-language pathologists have received Master's level training and most have cross-appointments with the University of Toronto's Faculty of Medicine. Unity Health's commitment to quality improvement and education is demonstrated in various research-related endeavours and in continuous staff training.
For more information on this service, visit our Ear, Nose, Throat and Voice page.
---
Last updated May 04, 2021