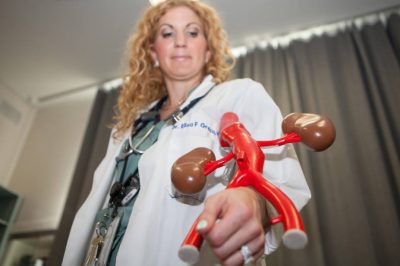 Diabetes, Kidney and Transplant
With several clinics, programs and services dedicated to helping patients living with chronic kidney diseases, diabetes and its related complications, Unity Health's Kidney and Metabolism program takes a multidisciplinary approach to patient care, and offers a diverse range of services. The program encompasses several areas including Ear, Nose, Throat and Voice (Department of Otolaryngology, Head and Neck Surgery).
Diabetes, Kidney and Transplant at St. Joseph's Health Centre
St. Joseph's Kidney and Metabolism program offers a comprehensive range of services for patients at risk of kidney failure or who are in the later stages of kidney disease. Our interprofessional team works with patients and their families with the goal of managing their health to delay the need for kidney replacement treatment.
1020 Islington Avenue, Unit 11
416-530-6018
Fax: 416-530-6828
7 a.m. to 10 p.m.
Osteoporosis is a chronic condition characterized by a low bone mass and deterioration of the bone tissue, causing bones to become thin and weak. The COPE Clinic team at St. Joseph's Health Centre assesses and tests patients who have been diagnosed with osteoporosis to optimize treatment and self-management to maintain bone health and preventing fractures.
Ground Floor Gilgan Family Wing
Wednesday and Thursday, 8:30 to 11:30 a.m.
Our diabetes education team in the Ambulatory Care Centre provides adults, their families and caregivers with diabetes education aimed at effective self-management. The diabetes education program services the population of West Toronto which includes various ethno-culturally specific groups, as well as individuals living with both diabetes and mental illness. Through relevant, culturally-sensitive diabetes services and education programming we are working to help our population achieve effective self-management.
Our programs are available to individuals over the age of 18 who have type 1 diabetes, type 2 diabetes, gestational diabetes or prediabetes. Our programs are designed to teach you about the benefits of a healthy lifestyle, including healthy eating, keeping active and how medications can have a positive impact on prevention of long term complications.
We require a referral from your doctor faxed to 416-530-6050.
The clinic accepts referrals for patients seeking treatment for hormonal diseases including thyroid disease, lipid disorders, and disorders of other organs such as the pituitary, parathyroid and adrenal glands. Our endocrinologists are skilled in the detection and management of conditions that impact patient's lives. Our specialists will work with you to find the treatment option that is ideal for you.
Note: Patients requiring diabetes management should be referred to the Diabetes Clinic or Diabetes Education Program.
Ground Floor Gilgan Family Wing
Wednesday, 8 to 11 a.m.
The Department of Ophthalmology at St. Joe's provides services for approximately 4,000 patient visits annually through the fully staffed on-site Eye Clinic. The clinic is equipped with laser therapeutic technology as well as a minor operatory for oculoplastic surgical cases. The department performs approximately 1,500 cataract surgeries per year as well as strabismus and glaucoma cases. The members include comprehensive general ophthalmologists and specialists in pediatrics, glaucoma, retina and uveitis.
Ground Floor Morrow Wing, 161
416-530-6395
Fax: 416-530-6533
7 a.m. to 10 p.m.
The Home Dialysis Program focuses on implementing innovative, creative and individualized strategies in the process of counseling and training patients and their families to support dialysis modalities in the comfort of patients' own homes.
The program provides:
Interprofessional team collaboration in the management, treatment, education, training and support of patients wishing to perform dialysis in their home: both home peritoneal dialysis and home hemodialysis.
Referral and preparation for kidney transplant with our partners at University Health Network and St Michael's Hospital.
416-530-6787
The Interprofessional Resource Team (IRT) is an innovative and dynamic team that provides relief staffing in patient care settings across the health centre. The team consists of registered nurses, registered practical nurses and health care attendants.
4 Gilgan Family Wing, 02 (Staffing Office)
416-530-6458
NRTStaff@StJoesToronto.ca
Monday to Friday, 5:30 a.m. to 9 p.m.
Saturday, Sunday and Holidays, 5:30 a.m. to 9 a.m. and 5 p.m. to 9 p.m.
The Eye Clinic at St. Joseph's Health Centre provides approximately 4,000 patient visits and performs approximately 1,500 cataract surgeries every year.
For more information, visit Ophtalmology.
The clinic is staffed by a team of urologists who assess and treat diverse diseases of the urinary tract including the kidneys, bladder, genitals and prostate. These include health problems such as kidney stones, urinary incontinence, bladder dysfunction, prostate disease/cancer or bladder cancer.
Ground Floor Gilgan Family Wing
Monday, Tuesday, and Wednesday 8 to 11:30 a.m.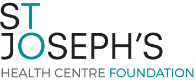 Diabetes, Kidney and Transplant at St. Michael's Hospital
The St. Michael's Hospital Kidney and Metabolism program takes a team-based approach to managing proactive care. Our team consists of endocrinologists, nephrologists, urologists, nurses, nurse educators, registered dietitians, social workers, chiropodists, pharmacists and other allied health-care providers.
The Apheresis Unit performs Therapeutic Plasma Exchange, Red Cell Exchange, mononuclear cell collection for research and ABO Immunoadsorption for ABO incompatible kidney transplantation. We also participate in clinical trials.
8th Floor Cardinal Carter Wing North, Room 8-119
416-864-5614
Fax: 416-864-5964
Monday to Friday, 7:30 a.m. to 3.30 p.m.
24/7 on-call coverage for urgent cases
Referrals
Please fax referrals to Dr. Katerina Pavenski at 416-864-3060
In addition to seeing adults living with Type 1 or Type 2 diabetes, the St. Michael's Diabetes Clinic offers a specialized clinic for young adults (ages 18 to 24) with Type 1 or Type 2 diabetes. The team includes endocrinologists (diabetes doctors), diabetes nurse educators, registered dietitians and a social worker, chiropodist and pharmacist who will work collaboratively with you to create an individualized care plan.
Services include:
Regular appointments with an endocrinologist for an initial assessment and follow up
One-on-one appointments with team members
Young Adult Diabetes Clinic
Insulin Pump Program
Continuous glucose monitoring
Insulin Dose Adjustment Clinic
Diabetes in Pregnancy Clinic
Group education classes (currently on hold)
Mentorship Program
Osteoporosis Outreach Program (OPOutreach)
You can find more information about diabetes in our Online Health Library.
Location and Contact Information
Note: Some patient appointments are happening by phone due to the COVID-19 pandemic. If you are unsure if you have a phone or in-person appointment, please contact us.
Location: 61 Queen Street East, 7th Floor (across the street from the main hospital)
Telephone: To schedule, rebook or cancel appointments, call 416-867-3679. For all other inquiries call 416-867-7424.
Fax: 416-867-3654
Referrals
The Endocrine Clinic specializes in the diagnosis and treatment of endocrine disorders, which may involve one of several hormone-producing glands like the thyroid, pituitary, adrenal, parathyroid, ovaries or testes. At the clinic, patients are seen by residents (doctors in training) and an endocrinologist.
Medication information for patients:
8 Cardinal Carter North
416-864-5228
416-864-5338 (North)
Monday to Saturday, 7:30 a.m. to 11:30 p.m.
Home dialysis training is scheduled Monday to Friday for six hours each day. Patients receive dialysis during the training sessions. After successful training, patients attend the Home Dialysis Clinic every eight weeks.
8 Cardinal Carter North
416-864-5794
Tuesday, 12:30 to 4 p.m.
The Interprofessional Resource Team (IRT) at St. Michael's is an innovative team that has presence in patient care settings across the hospital. The team consists of registered nurses and clinical assistants.
2 Bond St. (booking office)
416-864-2364
NRTOFFICE@smh.ca
Monday to Sunday, 5:30 a.m. to 9:30 p.m.
Transplant is a treatment option for people with severe kidney disease. Founded in 1969, the St. Michael's Kidney Transplant Program is one of the largest adult kidney transplant programs in Canada. At any given time, there are hundreds of patients being actively followed in the post-transplant ambulatory clinic.
The program receives referrals from more than 30 dialysis centres and kidney clinics in the Greater Toronto Area.
Location and contact
61 Queen Street East
Toronto, Ontario
Transplant clinics: 416-867-3665
Living donor clinic: 416-867-3676 or email LiveDonorTeam@smh.ca.
For urgent issues on weekends and after hours, call 416-864-5431 and request to speak with the nephrologist on-call.
Referrals
Please include all required test results with the referral package to facilitate completing the transplant assessment in a timely manner.
TGLN Kidney Transplant Referral Form
Information for patients
For more information about kidney transplantation, visit the Kidney Education Resources page.
Information for health-care providers
The following information describes the patient services and resources available to kidney transplant candidates at St. Michael's, our transplant evaluation process and timeline, and our communication standard.
What transplant options and services are available for patients at St. Michael's?
We offer a variety of options for adult chronic kidney disease (CKD) patients who are interested in pursuing kidney transplant.
Deceased donor kidney transplant options:
The provincial waiting list, managed by Trillium Gift of Life Network (TGLN)
The Highly Sensitized Patient (HSP) Program, a national registry for patients with difficult-to-match antibody levels (cPRA ≥95%)
The extended criteria donor (ECD) list, which reduces the waiting time for eligible older patients
Living donor kidney transplant options:
Direct donation between compatible pairs, including donors from out-of-country
Direct donation between blood-group incompatible donor-recipient pairs by desensitization using Glycosorb® technology (the first in North America)
The Kidney Paired Donation (KPD) Program, which works to match donors and recipients across Canada
The List Exchange Program
Our multidisciplinary team provides a comprehensive suite of services for transplant candidates, recipients and living donors, including:
Transplant candidate assessment
Living donor candidate assessment, including out-of-country donors, when feasible
Longitudinal multidisciplinary post-transplant follow-up care
Patient health information website, print material, and group and individual in-person classes
Opportunities to participate in clinical research trials
Opportunities for patients and families to provide input via the Patient and Family Advisory Council
What are the steps involved in the transplant evaluation process?
We carefully evaluate each patient for transplant suitability. The following outlines the steps we take from initial referral to decision.
Referral package is sent by the primary nephrologist to the Kidney Transplant Program.
The referring clinician is notified of receipt within five days.

Incomplete packages are sent back to the referring clinician for completion.
Complete packages are triaged to a transplant RN coordinator for review.

All routine consults and appointments at St. Michael's are booked within two weeks of receiving the referral .
The patient attends a Learn about Transplant class, is provided a "Transplant Passport" and completes tissue typing and an initial cPRA test at St. Michael's.
The patient attends an initial assessment appointment with the transplant nephrologist and a transplant social worker at St. Michael's.
The patient attends all additional routine testing and consults (e.g., CT, anesthesia consult, surgical consult) at St. Michael's.
Additional testing or consultations may be required from the referring clinician.
A final decision is issued from the transplant nephrologist.
What should be included in the iliac Doppler report?
Iliac Dopplers have traditionally been done at St. Michael's as part of determining suitability for kidney transplant. In an effort to ease the burden on patients, and based on requests to minimize visits to St. Michael's, we are asking that you arrange for iliac Dopplers to be done at your hospital. Please include the results with the initial transplant referral package you send to us. We will continue to perform non-contrast CT scans of iliac vessels to assess for vascular calcification at St. Michael's.
We understand that not all ultrasound departments are familiar with the requirements for pre-transplant iliac Dopplers. Our transplant surgeons are most concerned with the degree of iliac artery stenosis, as this will determine whether the renal allograft will be adequately perfused after the anastomosis with the donor renal artery. As such, we request that your report comment on the:
Aorta
Common iliac artery and vein
External iliac artery and vein
Internal iliac artery and vein.
For each of these vessels, we request that you assess for the following:
Diameter
Presence of aneurysm
Presence of wall calcification or plaque
Presence of flow (monophasic, biphasic or triphasic)
Evidence of stenosis, location and an estimate of how severe (e.g., 50% occluded).
How do I find out the status of my patient's transplant workup?
We will provide regular updates to let you know the status of each patient's transplant workup. We will inform you:
When we have received the referral
If additional test results or reports are required
When the patient has seen the transplant nephrologist
Each time your patient has an appointment with us
When a decision has been made regarding the patient's suitability for transplant
We also maintain regular contact with patients directly through mail or email to provide them the same updates.
In order to provide timely updates, it is important that we have the most current referral contact details. If a patient changes care teams or there are staff changes, please inform us as early as possible by email.
How long will my patient wait for a kidney?
From the time a referral is received, the transplant assessment takes three to nine months for recipients with a living donor and six to 12 months for recipients without a living donor. The specific timeframe depends on the medical complexity of the patient or kidney donor, his or her availability to attend appointments, and the completeness of the initial referral. For patients with a living donor not yet on dialysis, we try our best to complete the assessment to facilitate transplant pre-emptively before requiring dialysis.
If the recipient is approved for transplant, he or she may be added to the provincial wait list for a deceased donor kidney. Currently, the wait time in Ontario may be up to five to nine years, depending on the patient's blood type and antibody level and the availability of organs. Each patient's position on the wait list is determined by an allocation score, which is calculated as:
Allocation score = 0.1 point per 30 days on dialysis + 4*(cPRA/100)
As patients gain allocation points, they move up on the wait list.
For recipients with a living donor, surgery is usually scheduled six to 12 weeks after both the recipient and the donor have been cleared.
What can I do to prepare my patient for kidney transplant?
An informed patient is key for good health outcomes after transplant. All transplant candidates attend a mandatory Learn about Transplant class as the first step in the work-up process. Patients and family members receive written information throughout the transplant process about different transplant options, what to expect after transplant, how to prepare beforehand, being on the wait list and living donation. All of our patient education material is posted on our Kidney Education Resources page. We welcome you to use these resources to educate patients and their potential kidney donors.
If you'd like to increase your own transplant knowledge to better educate and inform patients, we encourage you to attend our next educational symposium for nephrology nurses and allied health professionals. Contact our team for details.
How long does a kidney transplant last?
Our graft survival rates are comparable to or exceed those seen in transplant centres across North America.
Information for living kidney donors
Are you thinking about a being a kidney donor?
Our living donor transplant coordinator can help. Call 416-867-3676 or email LiveDonorTeam@smh.ca.
St. Michael's Hospital Living Donor Transplant Program prides itself on:
Being one of the largest living donor transplant programs in Canada.
Participation in national Kidney Paired Donation Program.
An expert team of surgeons who can perform keyhole donor surgery for a faster recovery. Minimally invasive (laparoscopic) surgery allows for a shorter hospital stay, less pain and a quicker return to employment for living donors.
A health-care team dedicated to helping kidney donors and recipients have an excellent transplant experience.
Innovative options, even if your kidney isn't an exact match. We are the only transplant centre in North America offering blood type (ABO) incompatible transplant with Glycosorb® Patients can receive a kidney from their living kidney donor even if the blood type is incompatible, with success rates comparable to other living donation transplants. Glycosorb® immunoadsorption is a unique technology that circumvents complications associated with apheresis that is used in older ABOi techniques.
More information for potential donors can be found on the Kidney Education Resources page.
The Lipids Clinic specializes in the diagnosis and treatment of abnormal lipid (cholesterol) levels. The team works with people who are at high risk for future cardiovascular disease.
At the clinic, you will be seen by a registered dietitian and a physician for assessment, medical treatment and advice on healthy living. The clinic is also involved in many research studies related to diet and medications that may reduce your risk of heart disease.
Information for patients:
8 Cardinal Carter North
416-864-5097
Sunday to Friday, 7 p.m. to 7 a.m.
The Department of Ophthalmology at St. Michael's is a world-class facility recognized for excellence in patient eye care, research and teaching in the field of ophthalmology.
For more information, visit Ophtalmology.
The Osteoporosis and Metabolic Bone Disease Clinic uses state-of-the-art equipment and tests to investigate and manage osteoporosis and other metabolic bone diseases. Our multidisciplinary team is made up of endocrinologists, rheumatologists, internists, gynecologists, nurses and dietitians. The clinic was the first of its kind in Toronto and is also involved in cutting edge clinical research.
Medication information for patients:
9th Floor 61 Queen St. E.
416-360-4000 ext. 3710
Renal Services includes a wide range of different kinds of dialysis as well as vascular and peritoneal dialysis (PD) access, renal clinical technology, kidney stone prevention and our renal transplant program. St. Michael's offers a comprehensive range of services for patients at risk of kidney failure or who are in the later stages of kidney disease, with the goal of managing their health and educating them on kidney replacement options if required.
The kinds of dialysis services we offer include:
Pre-dialysis/Multi Care Kidney Clinic: This clinic is for patients with end-stage renal disease who have not yet started dialysis or who are preparing for a kidney transplant.
Hemodialysis: Safe and successful hemodialysis is a highly technical process involving sophisticated equipment and resources used to clean the patient's blood. This is the most common type of dialysis.
Peritoneal dialysis: Patients can choose between continuous ambulatory peritoneal dialysis (CAPD) and continuous cycling peritoneal dialysis (CCPD). In CAPD, dialysis fluid is administered to the abdomen four to five times daily and is drained after several hours. There is no machinery required for this type of dialysis. In CCPD, the patient is attached to a machine that performs all the filling and draining of the fluid automatically. The machine administers the fluid every night for eight to 10 hours, and some patients require an additional fill during the day.
Nocturnal Hemodialysis: This program is unique to St. Michael's Hospital and provides treatment for patients who are either unable to perform home dialysis therapy or who are working towards home therapy. Patients are treated in the main hemodialysis unit overnight while they sleep, three times per week.
Continuous renal replacement therapy (CRRT): For acute specialized treatments, the clinical technology department operates five continuous renal replacement therapy (CRRT) machines.
Home dialysis: Our home dialysis programs provide education and training on either hemodialysis or peritoneal dialysis so patients are able to perform dialysis on themselves from the comfort of their own home.
45 Overlea Blvd, Unit 2, East York Town Centre
416-867-3700
Monday, Wednesday, Friday, 7 a.m. to 5 p.m.
Tuesday, Thursday, Saturday, 7 a.m. to 1 p.m.
The Division of Urology at St. Michael's provides general urological care to the community, but also provides subspecialized care in the following areas:
Kidney transplantation
Robotic-assisted surgery
Laparoscopic surgery
Shock wave lithotripsy (SWL) for kidney stones
Endourology (minimally invasive procedures for kidney stones)
Cancer surgery for all urologic cancer including kidney, bladder and prostate
9th Floor 61 Queen St. E.
416-867-3710
Fax: 416-867-3709
Monday to Friday, 8 a.m. to 4 p.m.
Referrals
Patient resources
8th Floor Cardinal Carter Wing – Hemodialysis South
PD Access Coordinator: 416-864-6060 ext. 5794
Vascular Access Coordinator: 416-864-6060 ext. 5228
bodyaccess@smh.ca
Referrals

Last updated September 22, 2021