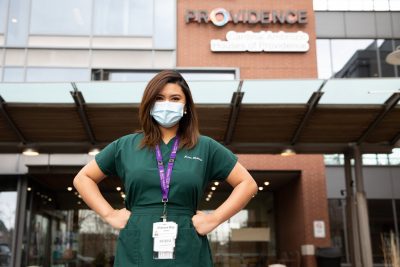 Long-Term Care
The Cardinal Ambrozic Houses of Providence is home to 288 residents of various backgrounds, perspectives and life experiences. With helping residents maintain a high quality of life our primary focus, we strive to recognize and respect the privacy and independence of all residents. Creating an environment that meets the physical, emotional and spiritual needs of our residents in a dignified and safe community is essential to us.
We have a track record of innovative expertise in the unique challenges of aging. Some of the services we offer at the Houses of Providence include:
24/7 nursing and personal care
A team of Interprofessional health care specialists
Access to on-site health care services
Delicious dining with menus created by an Executive Chef
Comfortable bedrooms with large windows
Modern living areas
On-site hair salon / barber shop
Our resident-focused core programs, which focus on resident safety including prevention prevention of falls and pressure injuries, effective pain management, use of least restraints, palliative care, etc.
Spiritual Care including daily mass
Therapeutic Recreation including an on-site library
Fixing Long-Term Care Act – Updates
Long-Term Care at Providence Healthcare
To learn more about the Cardinal Ambrozic Houses of Providence and how to apply, click on the links below.

As of April 1, 2021, St. Michael's Foundation amalgamated with Providence Healthcare Foundation and all receipts will be issued by St. Michael's Foundation.
We are pleased to let you know that your donation will go directly to the organization and priority that you have designated.
Last updated March 16, 2023