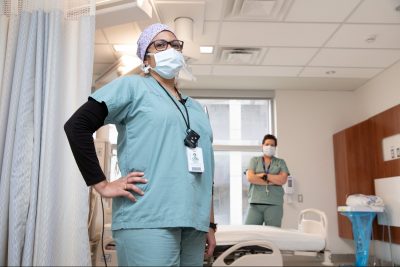 Trauma and Neurosurgery
Unity Health's Trauma and Neurosurgery program is one of the largest and most comprehensive in Canada. The trauma team is composed of multidisciplinary specialists and services including the blood bank, sophisticated medical imaging department and operating rooms immediately available to patients 24-7.
Trauma and Neurosurgery at St. Michael's Hospital
Accredited as a Level 1 trauma centre by the Trauma Association of Canada in 2006, the trauma program at St. Michael's assumes the following responsibilities:
The provision of a leadership role in the provincial trauma system
An advisory role within the provincial trauma network
An advisory to the Ministry of Health on the provincial trauma system
A central role in the regional trauma system
Care to the majority of the multisystem trauma patients in the region (Southern GTA and South Central Ontario)
Complex and unique (quaternary) trauma services for the province
Academic leadership including trauma training and research programs
The Head Injury Clinic is the largest of its kind in Ontario with 2,000 patient visits per year. This clinic provides assessment, diagnosis and management of physical, cognitive and behavioural/psychological symptoms for patients who have sustained mild and moderate traumatic brain injury (mTBI). The clinic is run by a multidisciplinary team including physiatrists, neuropsychiatrist, neuro-otolaryngologist, RN clinical coordinator, social worker, cognitive speech-language pathologist, and research associate.
Goals of the Head Injury Clinic:
Early Assessment, diagnosis and comprehensive medical management (pharmacological and non-pharmacological) of TBI and related disability
Coordination of community supports and rehab services
Provide reintegration support for patients returning to work/school
Collaborate with other providers across the system to best meet patient's needs (OHIP and third party-funded services)
Provide education related to mTBI to patients /family to guide them in their recovery
Serving a unique patient population, this clinic is committed to providing excellence in care and effective treatments. Patients are referred directly from the Trauma Neurosurgery Department, Emergency Department and Family Practice at St. Michael's.
3rd Floor Donnelly Wing South
To book or cancel appointments: 416-864-6060 ext. 46359
For queries and concerns: 416-864-5520
Clinic Hours: Tuesday, 8 a.m. to 4 p.m.
Office Hours: Monday, Wednesday to Friday, 8 a.m. to 4 p.m.
Referrals
The neurosurgery service at St. Michael's is a busy inner city urban practice and one of 11 adult neurosurgical centres in Ontario. The Division of Neurosurgery distinguishes itself by providing neurosurgical care to patients with:
Brain and spinal tumours
Complex skull base lesions including pituitary tumours
Spinal stenosis, spinal fractures and spinal cord injury
Brain hemorrhages
Neurovascular disease
3rd Floor Donnelly Wing South, 30 Bond St.
416-864-5678
Fax: 416-864-5790
The Neurovascular service provides highly specialized endovascular services for neurovascular disease including:
Coiling/stenting of aneurysms
Carotid artery stenting
Vascular malformation management
Neurosurgery Clinic, 3rd Floor Donnelly Wing South
416-864-5131
Fax: 416-864-5716
8:00 a.m. to 4:00 p.m.
Referrals
The Trauma Clinic at St. Michael's is a Nurse Practitioner-led, post-injury assessment clinic for trauma patients who have received treatment in the emergency department or have been admitted to the hospital. The Trauma Clinic provides follow up care for patients who have sustained single and multi-system injuries related to motor vehicle collisions, gun violence, self-harm, falls or been injured in their place of work. Our team consists of nurse practitioners, nurses, social work and psychiatry.
Goals of the Trauma Clinic:
Provide patients with comprehensive assessments to evaluate their physical, functional, cognitive and psychological recovery after injury
Identify and provide early intervention to optimize post-trauma and injury outcomes
Enhance collaboration with community teams to strengthen wrap around care
Improve access to care and services after discharge that include: wound care, pain management, screening and referrals to specialty clinics and programs
4 CC Specialty Clinics
416-864-6060 ext. 6037
Fax: 416 864 6015
Wednesday, 1 p.m. to 4 p.m.
Larissa Bertrand, Clinic Administrative Assistant
Referrals
Internal referral only from Emergency Department or in-patient Trauma Ward or ICU providers
Not accepting external referrals
The Trauma and Neurosurgery Intensive Care Unit (TNICU) provides traumatic and neurosurgical care to patients from across the province.
9th Floor Donnelly Wing
416-864-5725
Clinical leader manager: Liz Butorac
Inpatient Unit
9th Floor Cardinal Carter Wing
416-864-5814
Clinical leader manager: Shannon Swift
The Brain Aneurysm Support Group is dedicated to helping:
Brain aneurysm survivors
Caregivers
Family and friends
Due to the COVID-19 pandemic, meetings are currently being held virtually (online).
For more information, please contact:
Denise Ouellette
Clinical Nurse Specialist, Neurosurgical Outreach Activities
Coordinator, Brain Aneurysm Support Group
aneurysmsupport@smh.ca
416-864-6060 ext. 7168
Information to help you understand how your pituitary disorder will be diagnosed and treated at St. Michael's Hospital.
Did you suffer a traumatic injury?
Were you:
In a car crash?
Injured at work?
Injured in a fall?
Injured on your bike?
A pedestrian struck by a vehicle?
A victim of a violent attack?
Are you:
Trying to figure out what happens next?
Wondering how you will cope with your life?
Wondering how your life will change?
Worried about what you need to do?
Monthly support group meetings are open to any interested participants who have sustained or been affected by traumatic physical injury.
Zoom meetings are held monthly on the last Tuesday of the month from 7 to 8:30 p.m. Upcoming meetings:
Tuesday February 22, 2022 –  7 p.m. to 8:30 p.m.
Tuesday March 29, 2022 – 7 p.m. to 8:30 p.m.
Tuesday April 26, 2022 – 7 p.m. to 8:30 p.m.
Tuesday May 31, 2022 –  7 p.m. to 8:30 p.m.
Tuesday June 28, 2022 – 7 p.m. to 8:30 p.m.
Tuesday August 30, 2022 – 7 p.m. to 8:30 p.m.
Tuesday September 27, 2022 – 7 p.m. to 8:30 p.m.
Zoom meeting link:
https://zoom.us/j/95200218879?pwd=Rm9vL2xFRkZlYWdJamVaek1rZGd1Zz09
Meeting ID: 952 0021 8879
Passcode: 871467
For more information, please email mybest@smh.ca

Last updated February 02, 2022