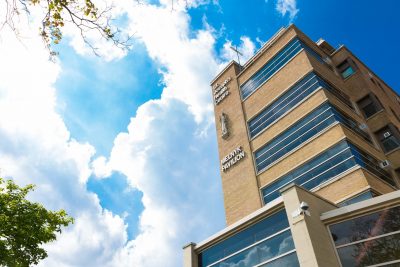 St. Joseph's Health Centre
Construction Alert: Please be advised that the City of Toronto and TTC are currently doing construction work around St. Joseph's. Please plan ahead for your appointment.

As part of this City construction project, effective Wednesday, May 4, left turns in and out of the St. Joseph's Melnyk Driveway entrance to and from The Queensway (eastbound) will not be permitted. Effective Monday, July 19, left turns onto Glendale Avenue from The Queensway (eastbound) will not be permitted. There will be no impact to the westbound lane on The Queensway. Detour routes and more information about this project can be found at: www.toronto.ca/kqqr

TTC streetcar track work starting April 11 near Dundas West station could delay your commute to St. Joseph's. More information on this construction.
Construction work is also taking place within the hospital. As a result, you may experience some noise impacts during your visit.
The East entrance is CLOSED. Please use the Melnyk/Main entrance instead, where signage and volunteers will be in place to help you find your way.
St. Joseph's Health Centre Toronto is a Catholic community teaching hospital affiliated with the University of Toronto and accredited with exemplary standing by Accreditation Canada.
30 The Queensway,
Toronto, ON
M6R 1B5
416-530-6000
Emergency
The Emergency Department is located on the ground floor in the Barnicke Wing, just inside the Emergency entrance.
Parking
The main parking garage is located on Sunnyside Ave.
Limited underground parking is available in the Our Lady of Mercy (OLM) Wing located off Sunnyside Avenue (just north of the main garage).
There is some surface parking near the Emergency Department. To access this parking area, please use the main Emergency driveway off Glendale Ave.
On-Site Directions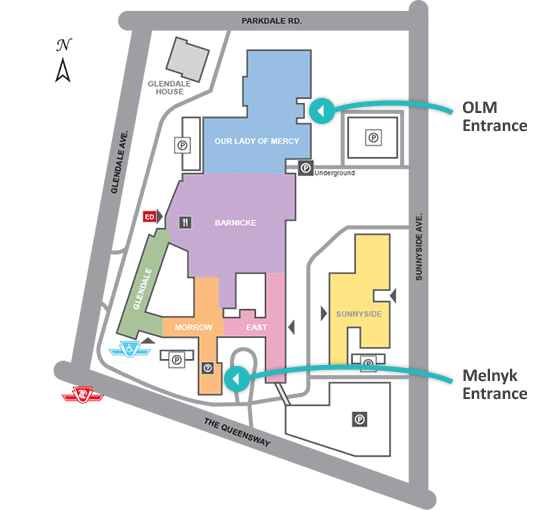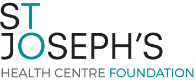 Last updated July 19, 2022