Occupational Therapy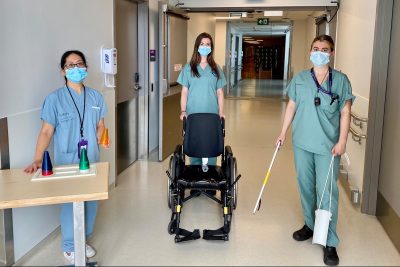 Occupational Therapy promotes health and well-being by enabling people to participate in daily activities that give meaning and purpose to their lives. Occupations include the categories of self-care (e.g. bathing, dressing), work/productivity (e.g. paid work, volunteer roles), and leisure (e.g. gardening, reading).
Occupational therapists (OTs) assess not only the physical effects of an injury or disease but also address the cognitive, emotional and spiritual factors that challenge a person's ability to function in their environment. Occupational therapists are health-care professionals regulated by the College of Occupational Therapists of Ontario.
Some examples of occupational therapy assessments and interventions include:
Assessing patients' abilities to complete basic daily activities and making recommendations for various equipment needs
Assessing and recommending wheelchair/mobility aids
Assessing for positioning while in bed or in a wheelchair
Educating on new ways to complete activities like dressing or cooking when there is arm or leg weakness
Fabricating custom-made splints to improve upper or lower extremity function
Occupational therapists and occupational therapist assistants work in many different areas of Unity Health including heart and vascular, diabetes complex care and the Multiple Sclerosis Clinic.
---
Last updated March 24, 2021