Quality of Work-Life: Safety, Wellness & Work-Life Balance
We know that our staff are at their best when they are supported at work and at home. We offer a range of programs that help our staff achieve work-life balance and stay safe, healthy and happy at work.
Highlights include:
Flexible and remote work arrangements
Robust safety programming
Employee and Family Assistance Program
Staff awards and scholarships
Staff appreciation and social events

Sector-leading support for leaves
Prevention of Workplace Violence Program
In-person, virtual and self-guided wellness programs
Annual funding for Joy at Work programming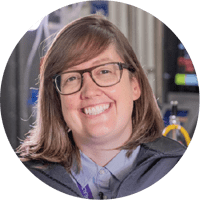 "What makes Unity Health is its people and the fact that they are caring, that they're empathetic and that they do an amazing job. And so really, being able to work at Unity Health means you have access to this really wonderful resource."
– Lindsay Beavers, Manager Simulation Program, Education Department, Unity Health Toronto
Unity Health recognizes the impact that a flexible work environment can have on your ability to succeed both at work and at home.
Certain positions at Unity Health allow for a full or blended remote working arrangement. Roles across the organization offer access to a variety of different flexible scheduling arrangements to support work-life balance. Please feel free to ask for more information as part of your hiring process.
Wellness is multidimensional and holistic concept, encompassing lifestyle, mental and spiritual well-being. It is an active process of becoming aware of and making choices toward a healthy and fulfilling life. Wellness is more than being free from illness; it is a dynamic process of change and growth.
The Unity Health wellness framework focuses on six pillars of wellness – physical, emotional, occupational, intellectual, spiritual and social – and is a model adapted from the National Wellness Institute's six dimensions of wellness.
We offer virtually accessible, curated resources, classes, and access to free or discounted services in our community that support employee wellness. These include everything from educational materials to speakers series to support lines, fitness and cooking classes, and meditation apps. A series of quiet spaces have been created across our hospital sites to offer staff a respite during busy or difficult moments. We also offer opportunities for staff to come together and experience Joy at Work, including initiatives like Unity Health's Got Talent, a variety show that demonstrates the many hidden talents and skills of our people and teams across the organization.
For more information about health and dental benefits and other employee perks, visit our Compensation, Benefits and Pension page.
Joy in Work is about offering an environment where people can feel meaning, purpose and happiness in their work every day. It's about fostering a culture in which our staff feel valued, appreciated and safe at work. This can mean different things to different people. For some it's about autonomy and choice, for others it's flexibility, for many it's about having a voice. We strive to show our appreciation for the unique contributions of our people by recognizing and meeting their individual needs.
We also believe our people deserve to be celebrated for their efforts. Whether through personal acknowledgements, awards or scholarships, our leaders find ways to make people feel seen and acknowledged. We also encourage peer recognition through our virtual thank you card program. Our regular social events focus on the importance of social connectedness in bringing people together to celebrate the impact of our collective efforts, and make Unity Health a dynamic, fun and social work environment.
For more information about grants and scholarships, visit our Career Growth: Education and Development Opportunities page.
Unity Health Toronto is committed to a culture of safety and programming that ensures a safe and healthy work environment for all our people. Our Corporate Health, Safety and Wellness and leadership teams work to protect our staff from harmful situations through robust safety programs, infection control precautions and practices, and facilities designed to support safety at work. For example:
Our comprehensive infectious disease surveillance programs ensure respiratory protection and personal protective equipment for our staff.
Our Safety First reporting system tracks every event that has the potential to result in a negative outcome for a person at Unity Health. This helps us respond to safety events and look at changes that can be made to prevent similar events from happening in the future.
Our Prevention of Workplace Violence Program is designed to minimize the risks associated with workplace violence and provide education, supports and resolution for employees who have experienced workplace violence, workplace harassment and/or domestic violence.
Our musculoskeletal disorder prevention programs supports safe patient and material handling and ergonomics.
Our Whistleblower Policy allows our employees to confidentially report cases of wrongdoing without reprisal.  We use a private external service provider and an independent process to review and respond to all complaints.
The Employee and Family Assistance Program gives staff and their families confidential support, resources and information for personal and work-life issues 24 hours a day, 7 days a week. It is offered at no charge.
Program supports include:
Counselling to navigate an array of life challenges, including marital, relationship and family issues, stress, anxiety, depression, grief, loss, job pressures and substance abuse.
Work-life specialists who can provide qualified referrals and customized resources for child and elder care, moving, pet care, post-secondary education planning, home repair, buying a car, planning an event, selling a house and more.
Legal support through licensed lawyers who can address your legal concerns, such as divorce, custody, adoption, real estate, debt, immigration, bankruptcy, landlord/tenant issues, civil and criminal actions, and more.
Financial information through financial professionals who can answer questions about budgeting, debt management, tax issues and other money concerns.
Wellness tools and resources to help you and your family make positive lifestyle changes.
We support employees if they need to take a leave of absence. Our leave offerings are routinely evaluated against other employees in the sector to ensure that we are on the leading edge. Leaves of absence may be requested for a range of reasons, including personal reasons, family responsibilities, medical or compassionate care needs, caregiving or organ donation.
Permanent employees as well as temporary employees hired on contract for 18 months or longer are also eligible for supplemental payment above their employment insurance benefit during maternity and parental leave. Please feel free to ask for more information as part of your hiring process.
We encourage you to ask questions and seek clarification about our programs during your hiring process. For information about our Total Rewards package, visit our Compensation, Benefits & Pension page. For more information about funding and support for career development, visit our Career Growth: Education & Development Opportunities page.
Last updated November 22, 2022