Surgery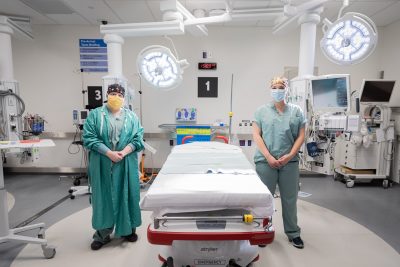 Unity Health's Surgical Program is a leader in its field, providing high quality care to meet the needs of the diverse communities we serve. We offer a wide range of care and procedures from ophthalmology to orthopedics and many more in between.
Patients of all ages are cared for by our exceptional team of surgeons, anesthetists, health professionals and support staff. Together, our surgical programs at St. Joseph's Health Centre and St. Michael's Hospital comprise several operating rooms and inpatient units.
To learn more about how to prepare for your surgery and what to expect, visit our Your Hospital Stay page.
View the list below to learn more about the surgery and surgical services we offer at Unity Health.
Anesthesia and Acute Pain Services (APS)
Our Acute Pain Service (APS) comprises a team of anesthetists and a nurse practitioner that are available for inpatient consultation, as requested by the surgical or medical team, 24 hours a day, seven days a week. The team provides acute pain management to post-operative and complex pain management patients by a variety of methods including Patient Controlled Analgesia (PCA), epidural analgesia and peripheral nerve block.
General Surgery
Our general surgeons specialize in removing cancerous tumors of the breast, liver, pancreas, gastrointestinal tract, colon and rectum. We also treat a wide spectrum of benign surgical conditions like inguinal and ventral hernia repairs, gall bladder surgeries and appendectomies as well as bariatric surgeries.
Mohs Micrographic Surgery
Mohs micrographic surgery is a procedure to remove skin cancers (basal cell carcinomas and squamous cell carcinomas). Mohs surgery is used mostly for high-risk cancers on the head and neck, where keeping normal tissue around the cancer is important. To learn more visit the Dermatology page.
Neurosurgery
Our Neurosurgery service, at St. Michael's Hospital, is one of 12 adult neurosurgical centres in Ontario. The team provides highly specialized neurovascular services including endovascular neurosurgery, aneurysm coiling, carotid stenting and vascular malformation management. The division of neurosurgery provides neurosurgical care to patients with neurovascular disease, complex skull base lesions including pituitary tumours, brain tumours and spinal disease.
Plastic Surgery
Our Division of Plastic Surgery offers comprehensive care in all forms of plastic and reconstructive surgery. Areas of interest and expertise include tendon and nerve repair, aesthetic surgery, breast reconstructive surgery and reconstructive procedures of the ear. Located on the Ground Floor of the Gilgan Family Wing, the Plastic Surgery Clinic at St. Joseph's Health Centre specializes in hand-related injuries, providing assessment and treatment of hand conditions.
Ophthalmology Surgery
Our ophthalmology service provides care for patients requiring cataract extraction surgery. We also offer sub-specialty clinical expertise in glaucoma, strabismus surgery and uveitis (ocular inflammation) care.
Orthopedic Surgery
In addition to providing care to patients requiring hip and knee arthroplasty procedures, our orthopedic surgeons also perform shoulder, knee and foot and ankle surgery. Our team also includes physiotherapists to teach you exercises and help you rehabilitate after surgery. Learn more about Hip and Knee Replacement Surgery.
Otolaryngology Surgery
Our specialists in the Department of Otorhinolaryngology (ear, nose and throat or ENT) evaluate and treat patients with problems of the ear, nose, sinus, and head and neck region. Some of the surgeries and procedures we perform include sinus surgery, nasal septal surgery, tonsillectomies/adenoidectomies and tympanostomy tube insertions.
Thoracic Surgery
The Division of Thoracic Surgery offers comprehensive patient care for benign and malignant disease of the lung, chest wall, mediastinum, airway and upper gastrointestinal systems. Our thoracic surgical specialists diagnose and treat diseases of the chest including lung and esophageal cancer. We also have regional expertise in the surgical management of gastroesophageal reflux disease, hyperhidrosis and congenital chest wall deformities. We strive to stay current with evolving practices by participating in and supporting research, and the education of students, residents and fellows at both the St. Joseph's and St. Michael sites.
Urology Surgery
Our urologists provide consultation, diagnosis and treatment for cancerous (malignant) and noncancerous (benign) diseases of the urinary tract including prostate, kidney and bladder cancer, urinary incontinence, benign prostatic hyperplasia and kidney stones. We perform minimally invasive (laparoscopic) surgery, resulting in less discomfort and bleeding and a faster recovery than conventional surgery.
---
Last updated July 16, 2021