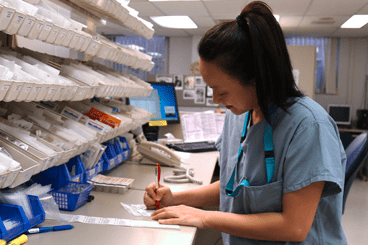 Pharmacy
Vision: Exemplary pharmacy care for all patients

Mission: We provide comprehensive, seamless, and patient-centered care to improve the quality and safety of the medication therapy for all patients we serve. We achieve this through collaboration, education, leadership, and innovation.
Unity Health's inpatient pharmacies provide care to patients who have been admitted to the hospital, while the outpatient pharmacies serve our ambulatory clinic patients, staff and people in the community.
Goals of the pharmacy department are to:
Provide leadership for a medication system which is safe, reliable, innovative, cost-effective and efficient
Provide direct care to patients to ensure they receive optimal pharmacotherapy to achieve their treatment outcomes
Provide current, objective drug information and education to patients and staff
Serve as an exemplary site for for pharmacy and other health disciplines students as well as staff and physicians
Conduct, collaborate in and support medication-related research
Pursue continuous quality improvement
Outpatient pharmacies
Unity Health outpatient pharmacies are open to patients, visitors, staff and family members, and the general public. Our mission is to provide quality pharmacy services in a friendly and professional manner, with your health and safety as our highest priority. Our experienced pharmacy teams work with patients, their physicians and many other allied health professionals to deliver caring and compassionate medication management.
Our products and services:
Specialized services and medication counseling for many areas including Ophthalmology, Asthma, Cystic Fibrosis, Diabetes, HIV/AIDS, organ transplant, oncology, Tuberculosis and heart and vascular conditions
Specialty products such as compounded eye drops, injections, respiratory aids, blood pressure and glucose monitoring devices and natural products (selection may vary by site)
MedsCheck medication reviews and other consult services
Compliance packaging for patients with complex drug therapy needs or for patients and caregivers to help organize and remember to take their medications
Assistive devices and other supportive aids including cold therapy devices
On-site custom fittings for compression stockings and other compression garments
Participation in many patient financial support programs providing assistance to patients requiring high cost specialty medications
Breast pumps available for rental (St. Joseph's) or purchase (St. Joseph's and St. Michael's)
Additional benefits:
Free home delivery within Ontario
Seniors pay just $2.83 per prescription after meeting $100 annual deductible
Accept most direct pay prescription drug plans including Ontario Drug Benefits, Trillium Drug Plan and Interim Federal Health
For Unity Health staff and physicians:
$1.99 dispensing fee difference is waived for all eligible Unity Health plan employees
Staff discounts available on eligible non-prescription products and devices
Refill ordering available by phone, email and our new PharmaConnect web/phone app
Pharmacy at St. Joseph's Health Centre
Ground Floor East Wing, Room GE158
30 The Queensway
416-530-6555
Fax: 416-530-6522
prescription.sjhc@unityhealth.to
Monday to Friday, 8 a.m. to 5 p.m.
Closed weekends and holidays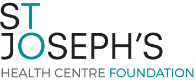 Pharmacy at St. Michael's Hospital
Prescription Care Centre
Ground Floor Donnelly Wing, Room B1-034
30 Bond St.
416-864-5110
Fax: 416-864-1962
prescription@smh.ca
 
Monday to Friday, 8:30 a.m. to 5 p.m.
Closed weekends and holidays

Pharmacy at Providence Healthcare
Providence Pharmacy
2nd Floor Providence Hospital
3276 St. Clair Ave E.
416-285-3805
Fax: 416-285-3806
prescription.phc@unityhealth.to
Monday to Friday, 8 a.m. to 5 p.m.
Weekends, closed until further notice.

Last updated April 23, 2021