Ten great things that happened this week
June 24, 2021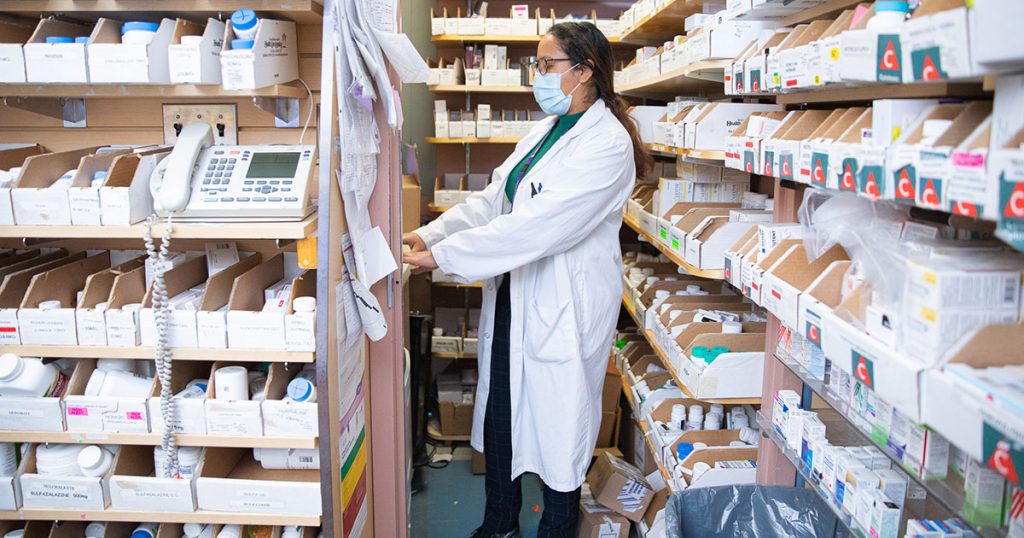 Each week, we're sharing a list of 10 great things that happened at our sites. Do you have a story you'd like to share? Send it to communications@unityhealth.to.
1) Team Vaccine continues their incredible work getting doses into arms
Our homebound vaccine teams in the West and Downtown East have administered nearly 1,000 vaccines. Learn more about the team's work in reaching those who would face barriers coming into a vaccine clinic. Unity Health also supported the community COVID-19 vaccine clinic at Don Bosco Secondary School. A big thank you to those who supported the clinic and to the 6,134 people who rolled up their sleeves.
2) We spotlight how the pharmacy teams at Unity Health deliver medications to patients
Early in the pandemic, the Pharmacy teams at Unity Health realized many of their patients were either unable to or worried about coming to the pharmacy to collect their medications. A free delivery program was already in place for patients with Cystic Fibrosis, and the teams decided to expand their free home delivery service to any patient who requested it. Photographer Yuri Markarov unpacks the journey from order to doorstep in this photo essay.
3) Dr. Suzanne Shoush and Dr. Janet Smylie help run a vaccine pow wow at the University of Toronto
Over the weekend, the University of Toronto's hosted a vaccine pow wow to provide First Nations, Inuit and Métis people with a culturally safe place to receive their vaccinations. Dr. Suzanne Shoush was the clinic's medial lead, and Dr. Janet Smylie volunteered as an observer at the waiting area, where people sat after receiving their shots, and as a performer. Read more about the clinic.
4) We highlight staff across Unity Health who provide stroke care
Most people know that nurses and doctors care for stroke patients. But it takes a whole ecosystem of people leaping into action, from triage to diagnosis to rehabilitation. To celebrate Stroke Awareness Month, we highlight a few lesser known, but equally important, roles in this system of care for stroke patients. Read more.
5) Unity Health marks Fathers' Day
The Neonatal Intensive Care Units (NICU) at St. Joseph's and St. Michael's put together packages for new parents in celebration of Fathers' Day. At St. Joseph's, each parent received a card from their baby, a decoration for their car's rearview mirror and some chocolate cigars. Dads at the St. Michael's NICU were gifted a "Your Baby's First Word Will be DADA" book, a card and some treats.
6) Unity Health experts share how AI is transforming patient care
CHARTwatch, an artificial intelligence-driven tool, is helping improve patient care at St. Michael's internal medicine and intensive care units. Dr. Muhammed Mamdani, Dr. Amol Verma, Dr. Jonathan Ailon and Shirley Bell share how with the Healthy Debate.
7) The CMAJ publishes study led by Dr. Janet Smylie on long-distance travel for birthing among Indigenous people in Canada
A new study led by Dr. Janet Smylie and published in the CMAJ found Indigenous people living in rural Canada are 16 times more likely to have to travel 200 kilometres or more to give birth than non-Indigenous people. Dr. Smylie and Dr. Anna Banerji, who was not part of the study, discusses the findings with Global News.
8) We spotlight Dr. Gaspard Montandon's One Burning Question
Every discovery starts with a question. Dr. Gaspard Montandon, Scientist and Interim Director of the Drug Discovery and Zebrafish Facility at St. Michael's, studying the effects of opioid drugs a decade ago. His One Burning Question is: Can we create pain killers that don't kill? Read more.
9) Dr. Fahad Razak and his co-author pen Toronto Star op-ed on racism and 'extremist' hatred in Canada
"After a horrific terrorist attack killed four members of a Muslim family in London, Ontario, two competing narratives emerged," write Dr. Fahad Razak and his co-author. One was shock and the other is a lack of surprise. Read more in their Toronto Star op-ed.
10) Can COVID-19 vaccines cause post-menopausal bleeding? Dr. Eli Shore and Dr. Tali Bogler weigh in
Thousands of women across the globe have reported menstrual changes after getting their COVID-19 vaccine, but there is not a lot of research that exists on the topic. Dr. Eli Shore and Dr. Tali Bogler share their thoughts on vaccines and post-menopausal bleeding with Global News.
Previous Ten Great Things articles