From triage to diagnosis to rehab: It takes a village of caring professionals to offer excellent stroke care
June 23, 2021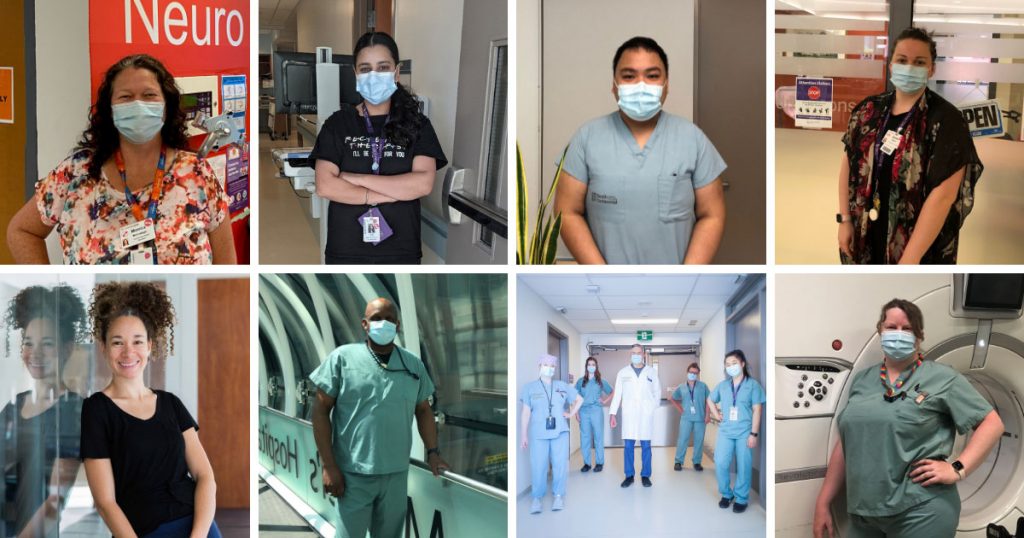 When a stroke happens, every minute counts. The longer a stroke goes untreated, the more the brain can be damaged. At Unity Health Toronto, multidisciplinary teams work around the clock to provide life-saving treatments and therapies for patients who have experienced stroke.
On the east end, Providence Healthcare operates an inpatient stroke rehabilitation unit and an outpatient program for stroke rehabilitation. In West Toronto, a small but mighty team runs a stroke unit on 2L Medicine at St. Joseph's Health Centre. As a Regional Stroke Centre, St. Michael's Hospital provides emergency medical management of stroke, specialized acute care on a dedicated inpatient stroke unit and secondary stroke prevention services.
Most people know that nurses and doctors care for stroke patients. But it takes a whole ecosystem of people leaping into action, from triage to diagnosis to rehabilitation. In recognition of Stroke Awareness Month, we highlight a few lesser known, but equally important, roles in this system of care for stroke patients.
Providing critical information to care teams
Once the emergency departments (ED) at St. Michael's or St. Joseph's are notified that a stroke patient is on their way to the hospital, the ED team moves quickly to prepare for their arrival. Samuel Coleman, Admitting/Registration Clerk at St. Michael's, collects the patient's information from the triage nurse and Emergency Medical Services team and enters it into the health record system. This allows the patient's care team to easily access information about the patient's condition, order diagnostic tests and make decisions about their care.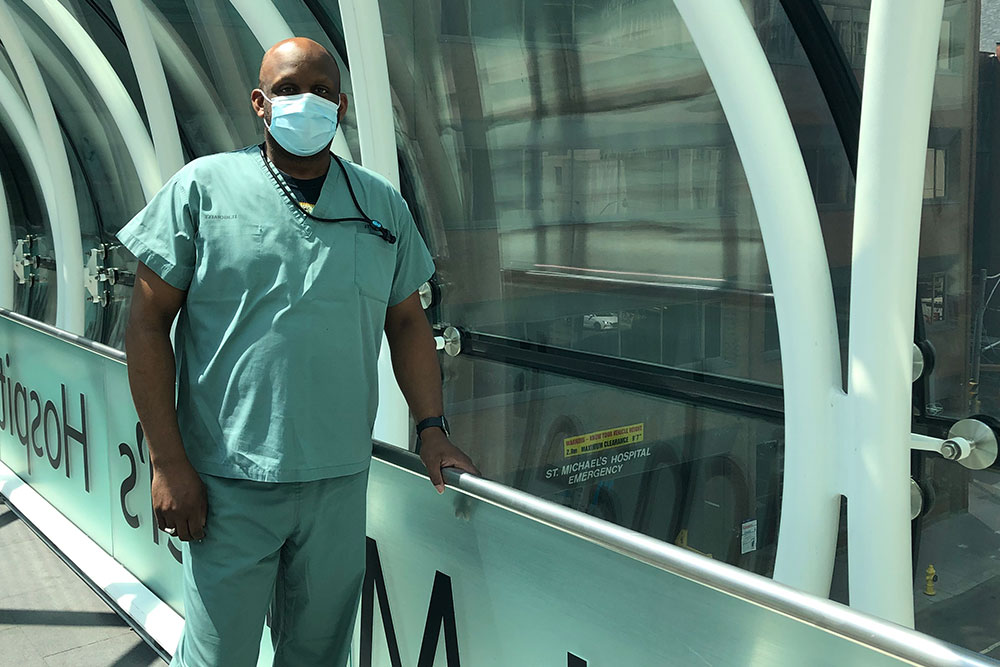 Supporting the stroke diagnosis
Once a patient arrives in the ED, the team works to determine what type of stroke has occurred and rule out other possible causes of a patient's symptoms. "As part of the Medical Imaging department, I provide imaging on a patient's brain as soon as they arrive at the hospital," says Helen Taylor, Senior CT Technologist at St. Michael's. "This crucial step helps identify the area of the brain that is affected and guides physicians on what treatments are possible."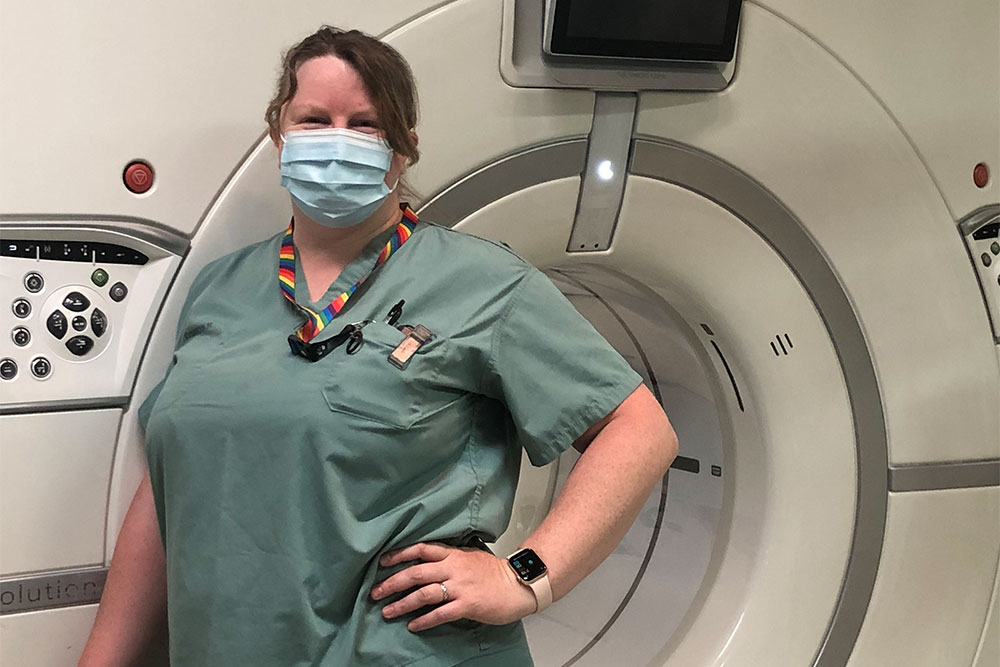 Keeping up-to-date on best practices
As a Clinical Educator – Nursing at St. Joseph's, Peter Dennis Garcellano acts as a resource for frontline nursing staff who care for stroke patients. "I run educational workshops for existing and new nursing staff to learn more about stroke," says Garcellano. "I also create and deliver interprofessional education sessions focused on the care of stroke patients in an acute setting."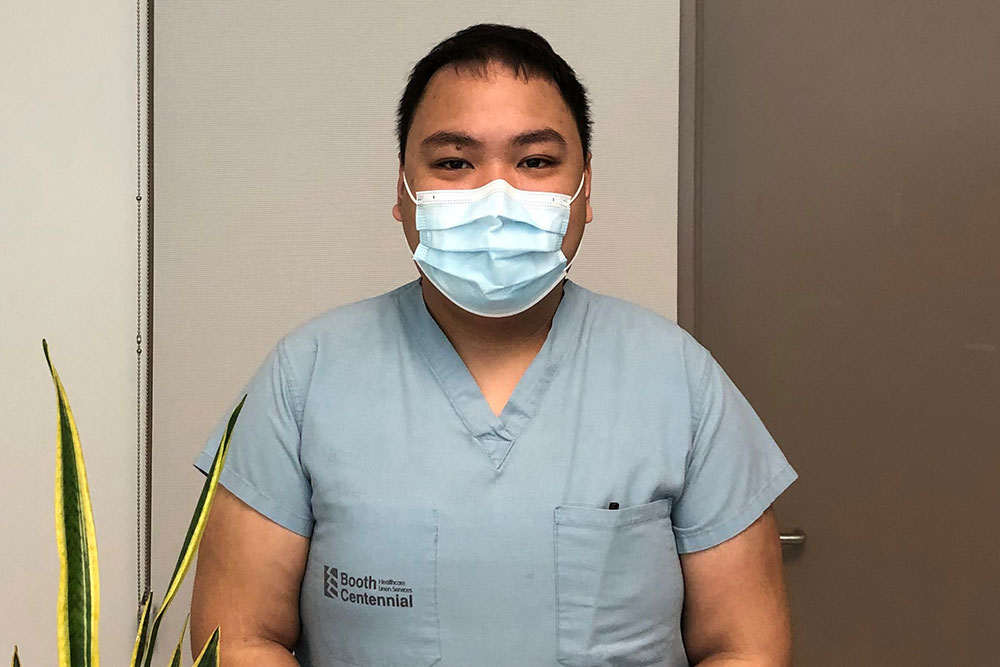 Helping patients move towards their goals
Patients who experience stroke may lose function on certain aspects of their bodies. For instance, they may be unable to walk or perform personal care. The Allied Health Team works closely with each patient to help them regain their independence as much as possible.
"I work with patients who are potential candidates for further rehab outside of acute care to fill out Daily Activity Logs. This outlines what their normal day-to-day at home would be like prior to hospital admission," says Sonia Bajwa, Therapeutic Recreationist at St. Joseph's. "This is used to [help the patient] set goals and so that the Allied Health Team knows what the patient's baseline is in terms of activity and daily life. It could start off with something as simple as trying to write again or to larger picture activities like exercising."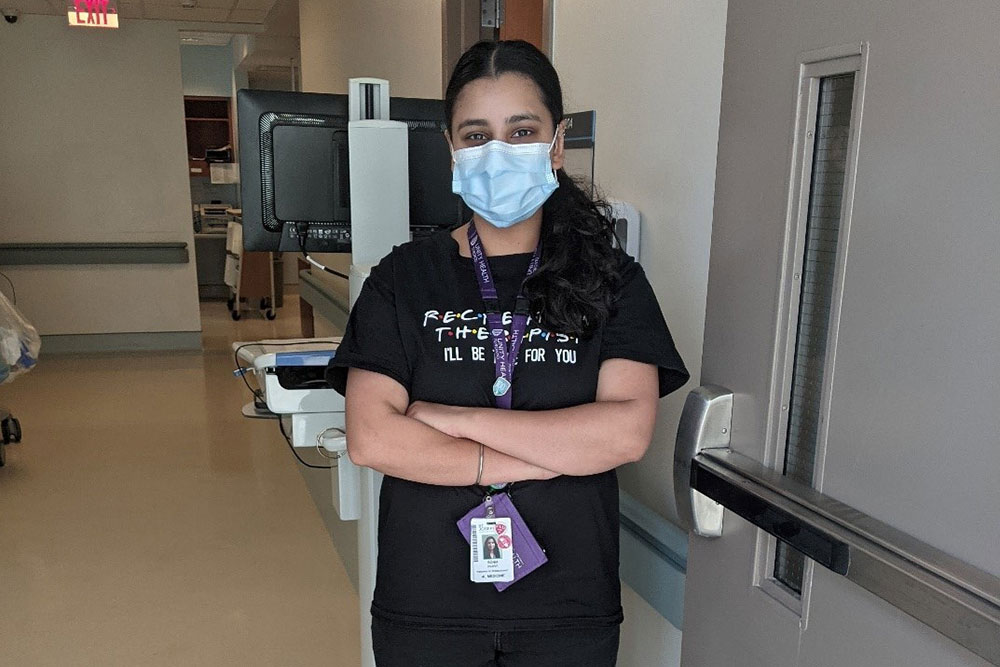 Occupational Therapist Assistants (OTA) and Physiotherapy Assistants (PTAs) are also key members of the Allied Health Team. "We carry out treatment plans to address mobility, balance, strength and participation in activities of daily living,' says the OTA/PTA team St Michael's, "Our role in enabling stroke patients to use meaningful activities and mobility training to work towards their goal, ensure the best possible outcomes for the patients and their recovery."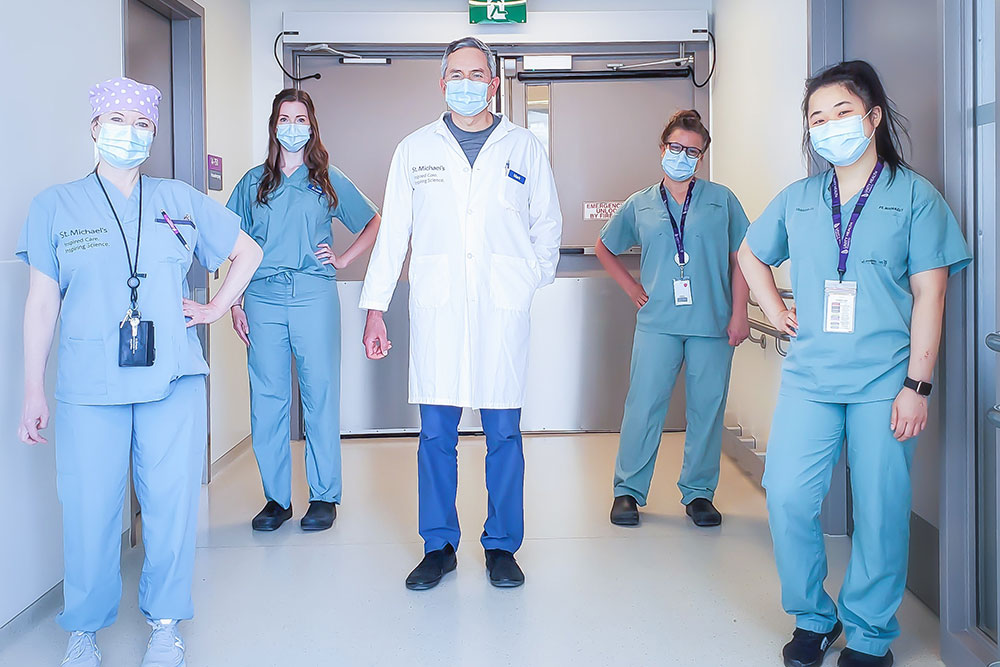 Maintaining the continuum of care
When patients are ready to move to other facilities for rehabilitation or to head home, Unity Health staff support the transition process to ensure they have the resources they need. Janell Mason, Patient Flow Coordinator at Providence, works closely with the stroke team at St. Michael's to facilitate a safe and timely transition. "Prior to the pandemic, we would meet with patients and their families [in-person] to answer questions about the rehab process. Now, we connect teams virtually to provide handovers and discuss complex cases," she says.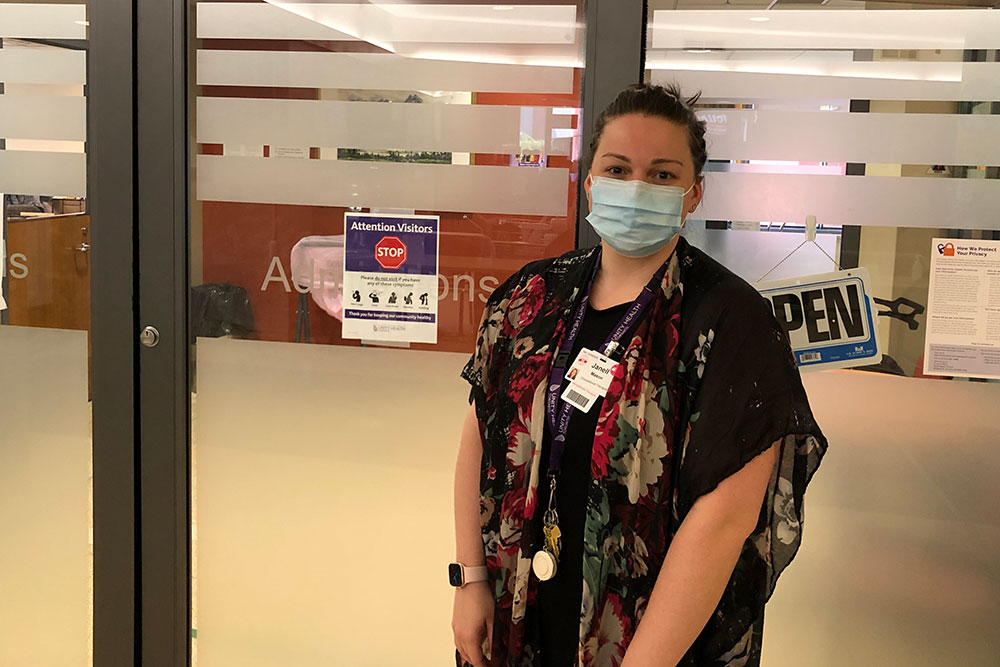 Connecting patients to services
Community Health Navigators (CHN) provide post-discharge telephone follow-up calls to patients after discharge to ensure they have the supports they need and do not end up back in the hospital. "Our follow-up calls provide an opportunity for patients and families to share their challenges and concerns they have once they are home. We can also assist with locating and sharing community support services and providing health care system navigation," says Monica McCullagh, CHN at Providence. "Stroke survivors and families often require information on accessing outpatient programs, in-home supports, stroke education, peer support, and access to our Secondary Stroke Prevention Program at Providence – we are always here to help!"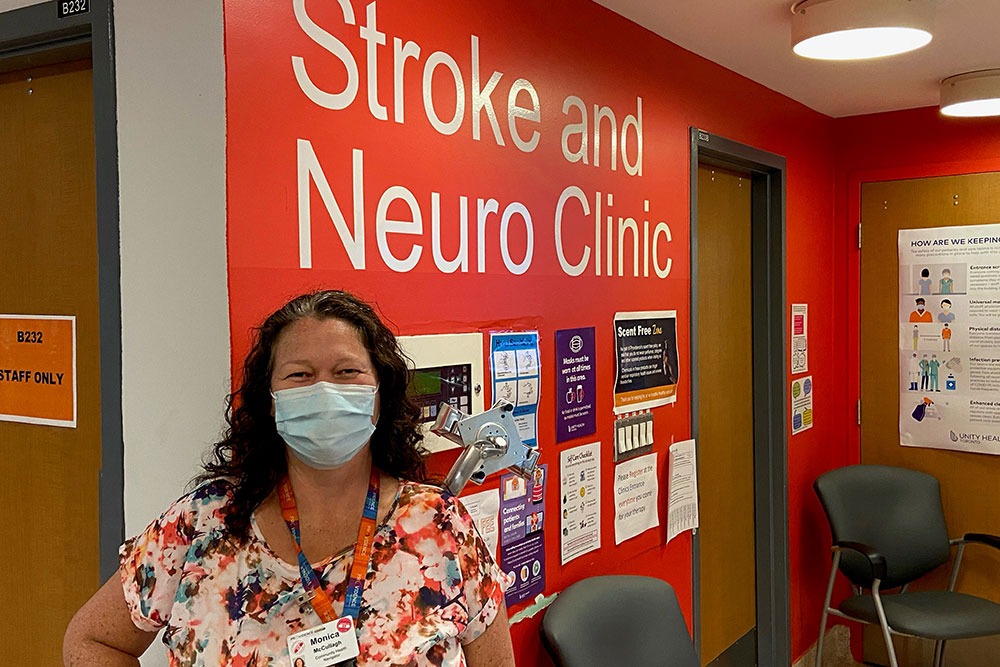 Optimizing system-wide stroke care
Malaika Mvungi takes a systems wide approach to integrated stroke care as the Stroke Program Coordinator for the South East Toronto Stroke Network, which is housed at St. Michael's Hospital. "Although I will not be interacting directly with patients on a daily basis, the work I will be involved in at a regional level – with my clinical lens in tow – will ultimately have a direct impact on patient care. I work on various initiatives to optimize best practices in stroke care in Toronto. This work aims to improve timely and equitable access to best practice stroke care, build capacity for, create, and sustain stroke expertise and build capacity in teams to provide the best care in the community."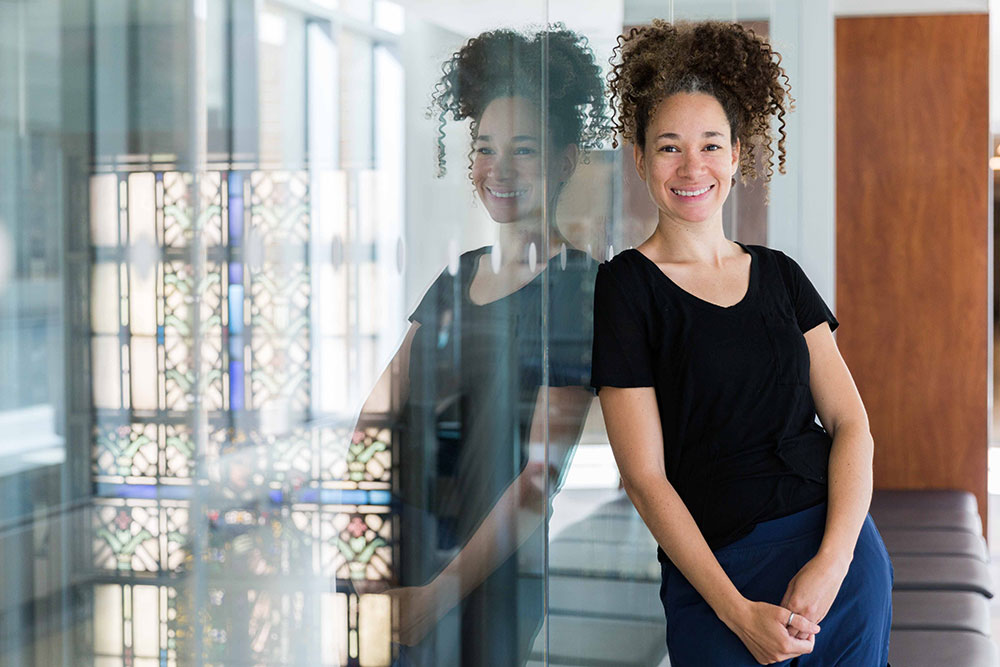 By: Natalie Leung