Ten great things that happened this week
May 20, 2021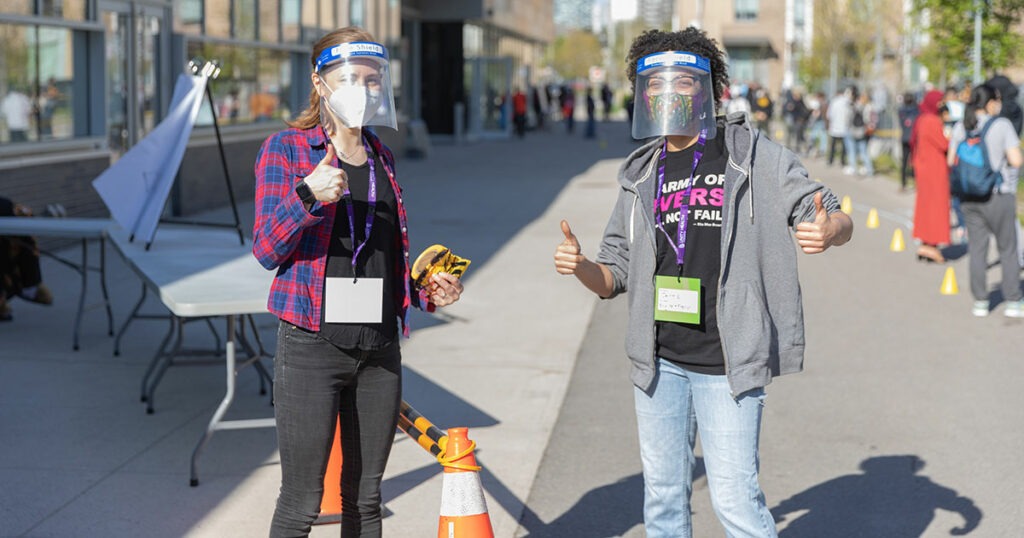 Each week, we're sharing a list of 10 great things that happened at our sites. Do you have a story you'd like to share? Send it to communications@unityhealth.to.
1) Unity Health Toronto launches its brand new website
We are proud to share our new online website – a significant step in the amalgamation of our three sites as Unity Health Toronto. Some of the exciting features include a streamlined, easy-to-navigate design, a comprehensive program, clinic and service directory for our patients and visitors and the latest Unity Health news and events — all in one place.
2) We help provide over 4,000 first doses at the Regent Park Community Centre
Over 4,000 residents and essential workers in Toronto received their first dose of the vaccine at the Neighbourhood COVID-19 vaccine clinic at Regent Park Community Centre between May 14-16. A big thank you to our partners Regent Park Community Health Centre, Toronto Community Housing, the 519, the City of Toronto and the Downtown East Toronto Ontario Health Team for helping achieve this incredible feat. See how the clinic helped get vaccines to Regent Park and Moss Park.
3) Dr. Anne Wormsbecker answers questions about COVID-19 vaccines for children and youth
Now that youth ages 12 to 17 can book their COVID-19 vaccine, caregivers and teens may be wondering if this is the right step for them. Dr. Anne Wormsbecker, a pediatrician based at St. Michael's and current interim chief of pediatrics at St. Joseph's, discusses what every caregiver and teen should know about getting the vaccine. Read more.
4) Unity Health's Behind the Mask series receives IABC 2021 Gold Quill Award
Last year, Unity Health's Communications team created the Behind the Mask series to introduce everyone to the hardworking and dedicated people across our network contributing to the fight against COVID-19. This series was awarded the International Association of Business Communicators (IABC) 2021 Gold Quill Award of Excellence. A big thank you to everyone who shared their stories!
5) Dr. Ripudaman Singh Minhas shares how he is bridging cultural divides using TikTok
Late last year, Dr. Ripudaman Singh Minhas, pediatrician at St. Michael's, noticed that he couldn't find content on social media that was designed for the unique health needs and parenting styles of racialized or marginalized communities. To address this gap, he started Punjabi Kids' Health to cover topics like COVID-19, nutrition, mental health and autism, for the South Asian Community. He spoke to Today's Parent about this initiative. Find Punjabi Kids' Health on Instagram and TikTok.
6) Unity Health marks Multiple Sclerosis Awareness Month
St. Michael's is home to the largest Multiple Sclerosis (MS) centre in Canada, with more than 7,000 patients receiving care from our MS team. For MS Awareness Month, we spoke with some of our staff and physicians in the MS Clinic about their role, the impact of COVID-19 and what they want the public to know about this disease. Here's what Dr. Reza Vosoughi, a neurologist at St. Michael's, and Cecilia Wan, an occupational therapist at St. Michael's, had to say.
7) Dr. Tara Gomes speaks with the Canadian Press on the surge in opioid-related deaths during the pandemic
A report led by Dr. Tara Gomes, a scientist at the Li Ka Shing Knowledge Institute of St. Michael's Hospital and a principal investigator of the Ontario Drug Policy Research Network (ODPRN), shows Ontario saw a 79 per cent increase in opioid-related deaths during the pandemic. It also found that marginalized populations – including people experiencing homelessness and unemployment – were particularly impacted. Dr. Gomes spoke to the Canadian Press and other media about the findings.
8) The Lancet publishes a letter by Dr. Prabhat Jha on vaccine nationalism
In a letter published Friday in the Lancet, Dr. Prabhat Jha writes 'Vaccine nationalism threatens to turn the triumph of science to give the world vaccines against COVID-19 into tragedy.' He outlines three pillars for combatting vaccine nationalism, which is delaying the end of the pandemic. Read more.
9) We recognize Personal Support Workers and Resident Assistants for Personal Support Worker Day
Across Unity Health, personal support workers and resident assistants go above and beyond to provide exceptional care to patients and residents. Your support has been invaluable during these unprecedented times.
10) We spotlight Gillian Brunning in our Behind the Mask series
Redevelopment teams play a big role in setting up many spaces that did not exist in our hospitals before the pandemic, including the COVID-19 Assessment Centres and vaccine clinics. "I was filled with so much emotion, the emotion of contributing to such a major milestone in fighting COVID-19," says Gillian Brunning, project manager for the Redevelopment team. Read her story #BehindtheMask.