Student Centre
The Unity Health Student Centre supports a superior student experience for all students at Unity Health Toronto through the provision of centralized administrative and support hub for all student activity. The Student Centre is a welcoming environment that supports over 6,000 students annually from all student types including Health Disciplines, Nursing, Medicine (undergraduate and postgraduate) and Administrative and Operational. Any student completing a placement at Unity Health Toronto must be registered with the Student Centre prior to starting their placement.
Students may only be placed/complete rotations at Unity Health Toronto where there is a current Academic Affiliation Agreement between Unity Health Toronto and the student's educational institution. If you wish to arrange a placement at Unity Health Toronto please contact your school's placement coordinator.
In addition to the above, all medical students, residents and Clinical Fellows wishing to do a placement at Unity Health Toronto must be registered through University of Toronto, Faculty of Medicine (including visiting electives). For more information, please visit:
Completing Registration for Current Students:
If your placement at Unity Health has been confirmed by your school, you must register with the Student Centre at the site of your placement prior to starting your placement:
St. Joseph's Health Centre
1S-111
416-530-6486 ext. 4272
meded@stjoestoronto.ca
Michael's Hospital
LKSKI 575
416-864-5700
studentcentre@smh.ca
Providence Healthcare
Knowledge Centre
Charmaine.clayton@unityhealth.to
416-285-3666 ext. 53701
The University of Toronto MD Program delivers portions of the curriculum via the academy structure. St. Michael's and St. Joseph's hospitals in Toronto are the anchor sites for the FitzGerald Academy. At our Academy, our students learn clinical skills, participate in case-based learning, and have opportunities to participate in interprofessional educational activities.
Our clinicians are dedicated to excellence in medical education and provide medical students with the hospital-based portions of the curriculum. We bring together amazing students and dedicated, compassionate teachers in a setting that is focused on providing the best clinical care to our patients. We believe that treating students with respect results in students learning how to treat patients well – with expertise, dignity and compassion.
All observerships are suspended at this time.
Unity Health Toronto collaborates with our academic and community partners to offer a wide variety of clinical, non-clinical & research learning opportunities to students requiring experiential placements as part of an academic course. We aim to provide support and resources to ensure that student learning experiences are collaborative, innovative, diverse and positive. We support and enhance the student experience through collaboration with our staff, students and patients and caregivers.
Student placements at our sites must be supported by an Academic Affiliation Agreement between the School and Unity Health Toronto. If you are interested in completing a placement at Unity Health Toronto or pursuing an Academic Affiliation Agreement with Unity Health Toronto, please reach out to us.
Contact
oaa@unityhealth.to
Collaborative Learning (CL), also known as Interprofessional Education (IPE), provides learners with experiences to learn about, from and with another.  Unity Health offers learners, from across our sites, a variety of scheduled accredited interprofessional (IP) opportunities including our CL student series, structured placements (longitudinal weekly curriculum) and peer mentorship.  Through partnership with the University of Toronto, Centre for Interprofessional Education, participating UofT students qualify for IP credit.
Collaborative Learning curriculum is scaffolded by the Interprofessional Collaboration (IPC) Competency Framework.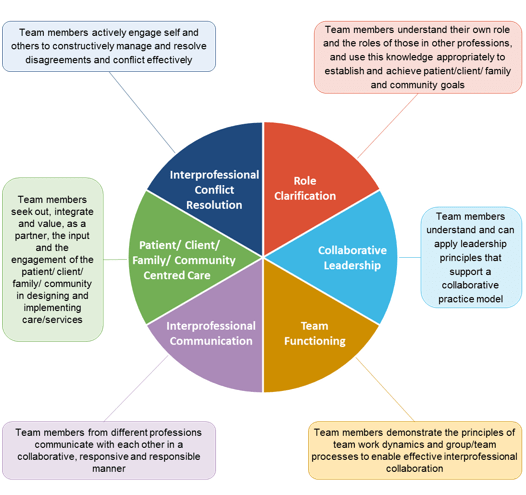 Current curriculum is offered via Zoom, making the activities accessible to learners on-site and working remotely.
Past participants have said:
"This [IPE activity] will enable me to communicate with my future patients in a better way; a more empathetic way."
"I've learned to include the patient as part of the interprofessional team and have actively tried my best to share the patient's voice and concerns with the care team."
"I have thoroughly enjoyed this experience! The facilitators created a safe space for us and I will surely remember what I learned from these four weeks and carry it into professional practice."
Contact
Library Services supports education, research, and evidence-based decision-making in patient care for all physicians, staff, and learners at Unity Health Toronto. Students and residents have unlimited access to library electronic resources (databases, e-journals, e-books, software, clinical decision support tools), borrowing privileges for print collections, interlibrary loan services, dozens of library workshops and custom training opportunities, as well as 24/7 access to library spaces for independent study, computer-use, and printing, scanning, photocopying. Information Specialists are available to support your learning, research support, and information needs.
Contact
At Unity Health Toronto we are developing and championing best practices around virtual supervision so that learners feel confident in any environment. If you are a learner providing virtual care, virtual supervision may be an option to discuss with your supervisor. Your supervisor will explain the modality that will be used for virtual care (phone or video) as well as the modality that will be used for your supervision.
Unity Health is committed to enhancing the student experience by supporting safety and wellness. Our team is here to listen, provide support, and guide those who have experiences or witnessed workplace harassment, discrimination and violence. Students Matter is a step by step process for reporting &addressing issues and complaints.
Contact
Student Centre: 416-864-5700
Last updated May 04, 2021