Ten great things that happened this week
May 27, 2021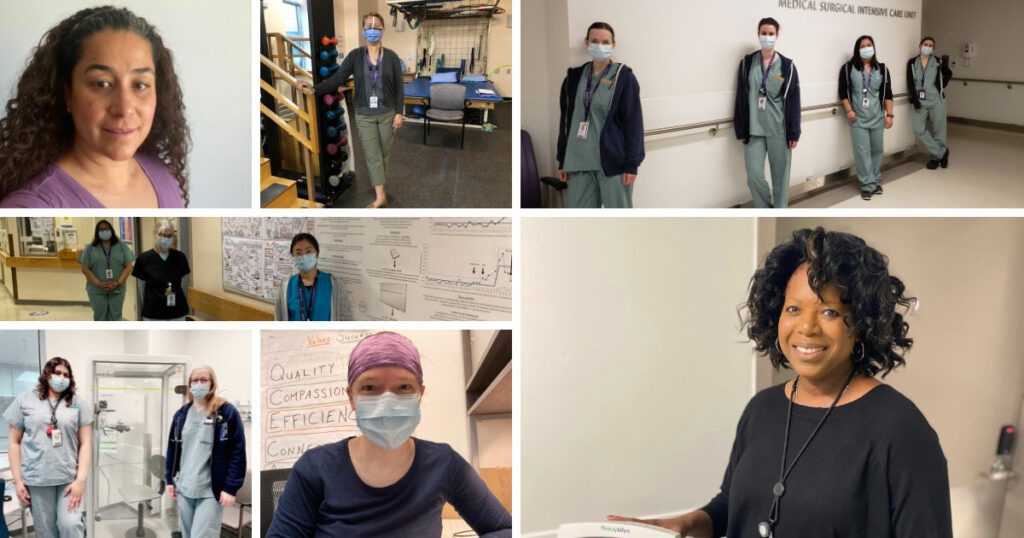 Each week, we're sharing a list of 10 great things that happened at our sites. Do you have a story you'd like to share? Send it to communications@unityhealth.to.
1) A new study led by Dr. Tara Gomes emphasizes the need for low-barrier access to treatment for opioid use
A new study led by Dr. Tara Gomes, a scientist at the Li Ka Shing Knowledge Institute of St. Michael's Hospital and a principal investigator of the Ontario Drug Policy Research Network (ODPRN), shows that over 49,000 years of potential life were lost due to opioid-related deaths that occurred during the first six months of the pandemic in Ontario. The study emphasizes the urgent need for low-barrier access to evidence-based harm reduction services and treatment for opioid use disorder in all communities grappling with both COVID-19 and opioid-related overdose. Read more.
2) Dr. John Marshall shares his insights as Canada's lead on the REMAP-CAP trial
Groundbreaking collaboration on an innovative clinical trial by scientists around the world has led to discoveries at breakneck speeds and changed the treatment of COVID-19 patients globally. We sat down with Dr. John Marshall, a Scientist at the Keenan Research Centre, Critical Care Physician and Canadian lead of the trial to learn more about this important work. Read more.
3) Dr. Malika Sharma shares how critical race theory could help promote equity, diversity and inclusion in health care
Critical race theory helped Dr. Malika Sharma, Staff Physician, Infectious Disease at St. Michael's Hospital, "unlearn" some of the ways in which she was taught about race during medical training. In this CMAJ article, she shares why it could help address racism and promote equity, diversity and inclusion in health care.
4) Two Unity Health physicians write an op-ed for Macleans on six steps to ensure a safe and sustainable reopening
As the third wave of COVID-19 crests in Canada, Dr. Fahad Razak, Dr. Arthur Slutzky and their co-author offer six steps that Canada needs to take to position the country for a good summer and an even better fall in their Macleans op-ed.
5) We celebrate Physiotherapy Month
The pandemic has challenged all of us like never before, but physiotherapy professionals at Unity Health have continued to step up to create the best care experiences for our patients, families and community. In recognition of Physiotherapy Month, we spoke with some of our staff to learn more about how they help people be healthier and stronger. Here's what Julia Filinski, Providence Healthcare; Amber Robertson, Deanna Feltracco, Kara Morrison and Kristen Paguiligan, St. Michael's Hospital; and Kinny Quan Velanoski, St. Joseph's Health Centre, had to say.
6) Two registered nurses share how they support patients with Multiple Sclerosis
St. Michael's is home to the largest Multiple Sclerosis centre in Canada, with more than 7,000 patients receiving care from our MS team. For MS Awareness Month, we spoke with some of our staff and physicians in the MS Clinic about their role, the impact of COVID-19 and what they want the public to know about the disease. Here's what Melodie and Sheryl had to say.
7) We recognize five staff members for Cystic Fibrosis Awareness Month
St. Michael's is home to the largest adult cystic fibrosis program in Canada. CF is a complex multi-organ condition that affects many aspects of an individual's life. This CF Awareness Month, we spoke with two respiratory therapists and three registered nurses to learn more about their roles and what they want you to know about CF.
8) We spotlight Dr. Nav Persaud and the CLEAN Meds Trial
Free access to essential medicines increases patient adherence to taking medication by 35 per cent and reduces total health spending by an average of over $1,000 per patient per year, according to a two-year study led by Dr. Nav Persaud that tested the effects of providing patients with free and convenient access to a carefully selected set of medications. The findings come as advocates urge Canada to carve a path toward single-payer, public pharmacare. Canada is the only country with universal health care that does not have a universal pharmacare program. Read more.
9) Dr. Thomas Ungar joins an Ontario Medical Association panel to discuss mental health and the end of the pandemic
How will people feel when restrictions begin to lift? Dr. Thomas Ungar, Psychiatrist-in-Chief at St. Michael's Hospital, breaks down three post-pandemic reactions based on people's tolerance for risk and personality styles during a panel hosted by the Ontario Medical Association. Read more from CBC Toronto.
10) Dr. Irfan Dhalla and his co-authors pen an op-ed about the importance of getting older adults fully vaccinated
Dr. Irfan Dhalla, Vice President, Care Experience and Equity at Unity Health Toronto, and his co-authors Dr. Nathan Stall and Dr. Allison McGeer write in The Globe and Mail why now is the time to start giving second doses of vaccine to adults who are 70 or older.
Previous Ten Great Things articles