Ten great things that happened this week
April 22, 2021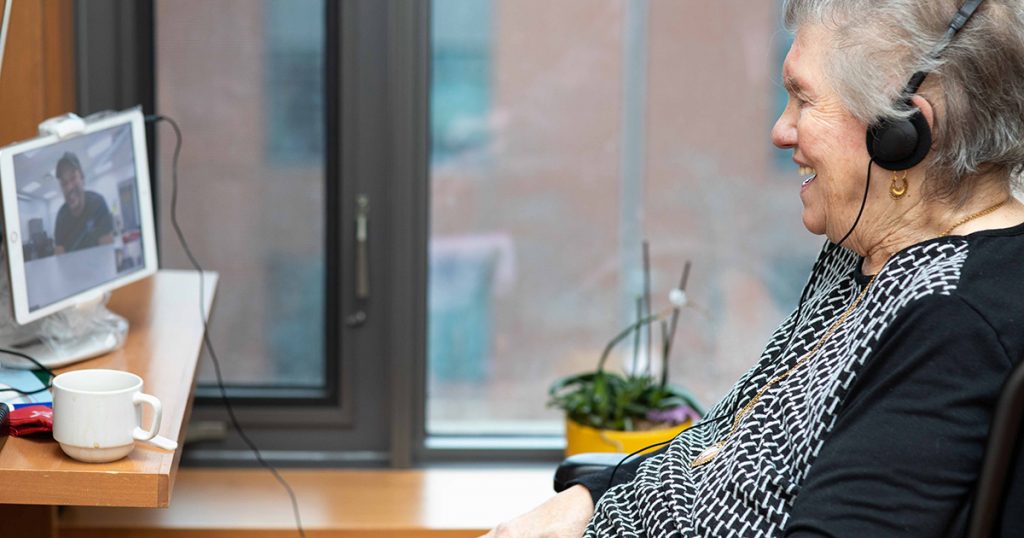 Each week, we're sharing a list of 10 great things that happened at our sites. Do you have a story you'd like to share? Send it to communications@unityhealth.to.
1) Research and Innovation launches bold new Research Strategic Plan
Unity Health has launched a new Research Strategic Plan, mapping out the next five years of research at the organization. "Our new five-year plan, built in consultation with our internal and external stakeholders, will be our compass for the next five years," said Dr. Ori Rotstein, Vice-President of Research and Innovation at Unity Health. Read more.
2) We highlight how our E-visiting team are bringing loved ones into hospital rooms
Early in the pandemic, as COVID-19 led to visitor restrictions in hospitals across the country, the IT team at Unity Health recognized how technology could support patient care. Learn how the E-visiting team at Unity Health has been connecting patients and their loved ones since the beginning of the pandemic in this photo essay.
3) Two clinical recycling programs expand from St. Joseph's to St. Michael's Hospital
Unity Health Toronto took a major step toward improving its environmentalism by introducing two programs aimed at reducing surgical waste at St. Michael's Hospital. These programs were both first implemented at St. Joseph's Health Centre, and have since resulted in significant reductions in landfill waste and associated costs. Read more about the two programs.
4) Unity Health Toronto marks National Volunteer Week
Although it has been over a year since our volunteers have been in our hallways, we want to recognize them for their continued dedication to our patients, residents, family and community. A big thank you to all our volunteers.
5) We spotlight Paul Davis in our Behind the Mask series
Paul Davis, dietary aide at St. Joseph's Health Centre, is passionate about gardening. He learned everything from his father who was a farmer in Jamaica. During the pandemic, he uses his garden as a way to de-stress. "During COVID, as soon as I get home, I'm in my garden. When I'm not working, I'm in my garden. It helps me relax and I don't think about anything else." Read his story #BehindtheMask.
6) Dr. Andrew Baker discusses how hospitals across Ontario are working together to cope with the rise in COVID-19 cases
Dozens of independent Ontario hospital networks are now functioning as one big hospital to tackle the third wave of the pandemic. Dr. Andrew Baker, incident command leader of the GTA Hospital Incident Management System, discusses how hospitals are using patient transfers to ease the burden in hot spots with the Globe and Mail.
7) We celebrate Administrative Professionals' Day
Our administrative assistants, executive assistants, clerical assistants and other staff who perform administrative duties are integral members of our health care community. This week, we marked Administrative Professionals' Day to recognize them for all the incredible work that they do.
8) We spotlight two nurse practitioners from the Stroke Program at St. Michael's
Nurse practitioners in the Stroke Program at St. Michael's are part of an interdisciplinary team that provides care for stroke patients while they are in hospital. They also provide education to staff, patients and families, who become a critical part of the patient's support team while they are recovering. We spoke with Lee Barratt and Krystal Fox to learn more about their roles.
9) St. Michael's Hospital Foundation launches their Mother's Day edition of their Life-Changing gift guide
St. Michael's Hospital Foundation has curated a new selection of products that support the Neonatal Intensive Care Unit (NICU) and maternal care moms and babies in need. Learn more about how you can support our hospital.
10) Dr. Fahad Razak, Dr. Arthur Slutsky and their co-authors pen op-ed on tackling the third wave
How can we break this third wave and mitigate a health care crisis? Dr. Fahad Razak, Dr. Arthur Slutsky and their co-authors write a Globe and Mail op-ed on what needs to be done. "Everyone is frustrated and fed up with this siege. However, the actions of individual Canadians are critical in the weeks ahead." Read more.