Ten great things that happened this week
June 10, 2021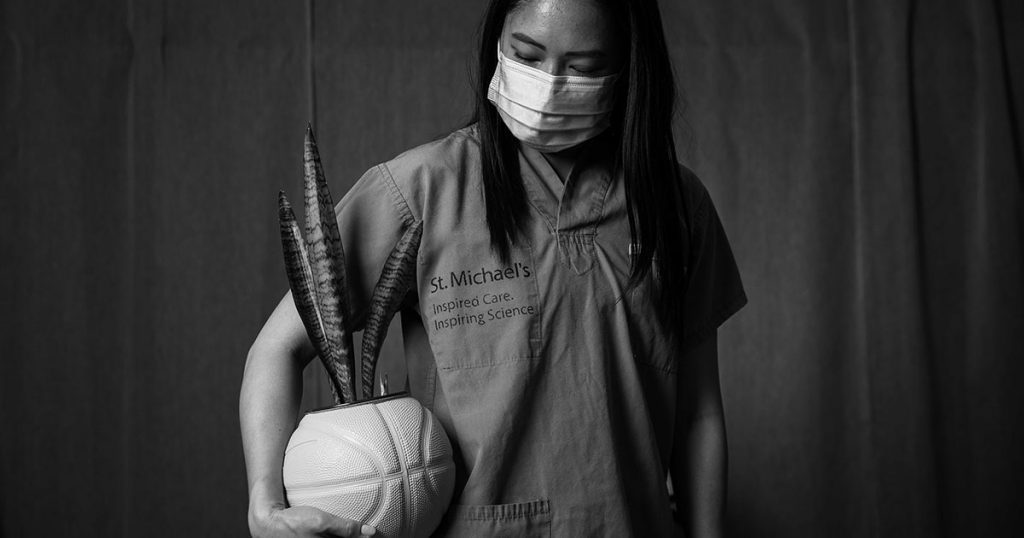 Each week, we're sharing a list of 10 great things that happened at our sites. Do you have a story you'd like to share? Send it to communications@unityhealth.to.
1) Providence Healthcare launches rehab support for people recovering from COVID-19 at home
During the pandemic, rehab support for people recovering from COVID-19 at home has been limited, says Dr. Ashley Verduyn, Medical Affairs Director at Providence Healthcare. To address this, Providence is launching an outpatient and virtual rehabilitation program to help people regain independence. Read more.
2) St. Michael's Neurovascular team performs novel brain aneurysm procedure
The Neurovascular team at St. Michael's Hospital performed the first surgery in North America using a novel stent that may simplify surgical treatments for complex aneurysms and decrease procedural risks for the patient. Learn more about the work led by Dr. Vitor Pereira, Neurosurgeon at St. Michael's, and his team at the RADIS Lab.
3) We host this year's Global Health Innovation Academy event
We were thrilled to host this year's Global Health Innovation Academy (GHIA). The three-day virtual event brought together scientists from around the world to compete in a virtual science and business pitch competition. Among the competitors were winners from this year's Angels Den: Drs. Karen Cross, Jane Batt, Darren Yuen and Kieran McIntyre. Learn more about the event and the pitches.
4) We spotlight Olivia Ho in our Behind the Mask series
To take her mind off the stresses of the pandemic, Olivia Ho, Cardiac Sonographer at St. Michael's Hospital, started making basketball planters for family and friends and did not expect to make money from it. "The Give and Grow started as a craft, but now it is a thriving business. I never planned this. This was never a business plan, it kind of just happened." Read her story #BehindtheMask.
5) Dr. William Guest highlights why you should seek immediate medical attention if you notice a sign or symptom of stroke
Stroke is one of the most time sensitive medical emergencies. The longer a stroke goes untreated, the more damage can be done to the brain. This Stroke Awareness Month, Dr. William Guest, Interventional Neuroradiology Fellow at St. Michael's, shares how to recognize the signs and symptoms of stroke and why you should never hesitate to go to the emergency department if you are experiencing a stroke. Read more.
6) Unity Health experts weigh in on the pandemic's impact on mental health
New parents are vulnerable at the best of times, says Dr. Tali Bogler, Chair of Family Medicine Obstetrics at St. Michael's. She spoke with CBC News about the mental health strain on new mothers and families during the pandemic. Shay Johnson, Social Worker at St. Michael's, and Dr. Ripudaman Minhas, Developmental Pediatrician at St. Michael's, reflect on the challenges children and youth are facing with Global News.
7) We spotlight Dr. Joanna Sale's One Burning Question
Every discovery starts with a question. Dr. Joanna Sale, Scientist at the Li Ka Shing Knowledge Institute, has always been fascinated by the body in motion, and is concerned when a person's ability to move is interrupted by disease or injury. Dr. Sale's One Burning Question is: Can we stop devastating hip fractures? Read more about the discovery and the impact.
8) Dr. Tara Kiran answers questions about NACI's new recommendations
The National Advisory Committee on Immunization recently said that Canadians who have received one dose of the AstraZeneca vaccine can safely get a second dose of either Pfizer or Moderna vaccines. Family Physician Dr. Tara Kiran provides her advice on mix-and-matching vaccines with the Toronto Star. She also spoke with The Local on why family doctors should play a bigger role in the vaccine rollout.  
9) Will Canada experience a fourth wave? Dr. Prabhat Jha weighs in
"It's basically a race between … effective vaccination coverage and the variant that's occurring right throughout Canada and the U.K.," said Dr. Prabhat Jha, Scientist at Unity Health Toronto. He spoke to CBC Manitoba on Canada's vaccination efforts so far and whether the country will see a surge in COVID-19 cases. Dr. Jha was also on CBC The Current to discuss why we need to change how we manufacture vaccines globally to better prepare for future pandemics.
10) Dr. Gary Bloch speaks to the Toronto Star on vaccination rates in prisons
The majority of Ontario's jails have vaccinated less than half of their inmates. Dr. Gary Bloch, Family Physician at St. Michael's Hospital, discusses why this is the case and how peer-led and community-led initiatives can help increase vaccination rates in jails. Read more.
Previous Ten Great Things articles