Ten great things that happened this week
June 03, 2021
Each week, we're sharing a list of 10 great things that happened at our sites. Do you have a story you'd like to share? Send it to communications@unityhealth.to.
1) We celebrate Team Vaccine's incredible work
Over the past five months, Unity Health has supported in providing over 176,000 doses of the COVID-19 vaccine. The Homebound Visiting team reached a milestone – they have administered more than 500 COVID-19 vaccines to individuals in the West and Downtown East who are unable to come into vaccine clinics. St. Michael's Family Health Team and Positive Care Clinic recently collaborated with some community organizations to run a COVID-19 vaccine clinic for HIV positive individuals in our community. And our barrier-free popup clinics continue to reach important populations.
2) Fifty Unity Health frontline workers attend Game 7 of the Leafs' playoff series
Earlier this week, Maple Leaf Sports Entertainment (MLSE) invited fully vaccinated health care workers to attend the Toronto Maple Leafs Game 7 against Montreal Canadiens and staff and physicians entered a draw to get one of fifty seats allocated for Unity Health Toronto. Dr. David MacKinnon, one of the attendees, told the Toronto Star that he felt "very humble and lucky." Maha Hassan told CTV News "the experience was a step towards normalcy." Thank you to MLSE for recognizing those who work in Toronto hospitals and sending some of our people to the game! (Next time, win though).
3) Meet Allison Needham, Unity Health's Director of Anti-Racism, Equity and Social Accountability
Unity Health Toronto is developing and implementing an anti-racism, equity and social accountability strategy – and a key step is finding the right leader to steer this transformational change across the network. We sat down with Allison Needham, the first Director of Anti-Racism, Equity and Social Accountability at Unity Health, to learn about her role, where she draws inspiration and why she needs everyone's help. Read more.
4) A research program led by Dr. Sean Rourke to distribute 50,000 free HIV self-testing kits in Canada
A new research program led by Dr. Sean Rourke is distributing 50,000 free HIV self-testing kits across Canada to reach people who are undiagnosed and get them connected to care, with the goal of identifying factors that affect access to testing and care and ultimately, ending Canada's HIV epidemic. He spoke to CTV News about the I'm Ready research program. Dr. Rourke also co-authored a Globe and Mail op-ed on how to end the HIV epidemic.
5) We highlight the role of Entrance Screeners at Unity Health Toronto
Since March 2020, entrance screeners have been an essential part of the Unity Health team to keep patients, staff, and visitors safe. They are the first point of contact when entering our buildings and carefully balance safety precautions with compassion to everyone they encounter. Get to know the team behind the plexiglass in our latest photo essay.
6) The Houses of Providence open up for outdoor visits
Over the weekend, the Houses of Providence was thrilled to welcome back family members and friends of residents for outdoor visits. A few of those reunions are captured below.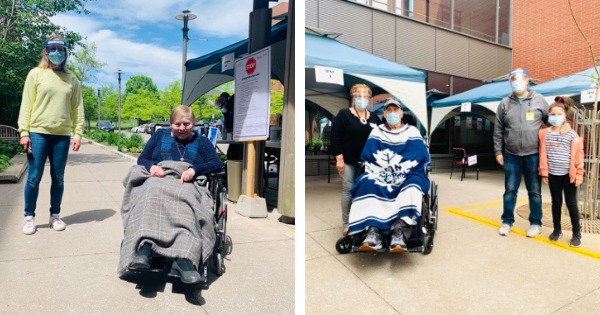 7) Dr. Tara Gomes publishes study on access to family doctors for people who use opioids
People who are treated for opioid use disorder in Ontario are 45 per cent less likely to secure a primary care provider after previously losing access to care compared to people with no recent prescription opioid exposure, according to a new study led by Dr. Tara Gomes. Read more about the study published in PLOS Medicine.
8) We spotlight Kim Reid in our Behind the Mask series
In the fall, Kim Reid wanted to see help the pandemic efforts and support those who tested positive for COVID-19. That's when she joined St. Joseph's as a Contact Tracer. "When I call staff to inform them of an exposure, I think of my own family – my husband, my mother and my two young daughters – and how I'd want to be supported," said Kim. Read her story #BehindtheMask.
9) Unity Health researchers examine how high-profile medical journals report on sociodemographic characteristics
A new study led by researchers at St. Joseph's and St. Michael's suggests clinical trials published in high-profile medical journals rarely report on income or other key sociodemographic characteristics of study participants, potentially creating blind spots when it comes to health care, especially for disadvantaged populations. Read more about the study led by Drs. Nav Persaud, Andrew Pinto and Aaron Orkin.
10) Dedicated experts share their knowledge for Multiple Sclerosis Awareness Month
In recognition of Multiple Sclerosis (MS) Awareness Month in May and World MS Day (May 30), we spoke with some of our staff and physicians in the Multiple Sclerosis Clinic at St. Michael's. Alex Roll, Nurse Practitioner, and Dr. Alex Muccilli, Neurologist, share more about their role, the impact of COVID-19 and what they want the public to know about the disease.
Previous Ten Great Things articles