Ten great things that happened this week
May 06, 2021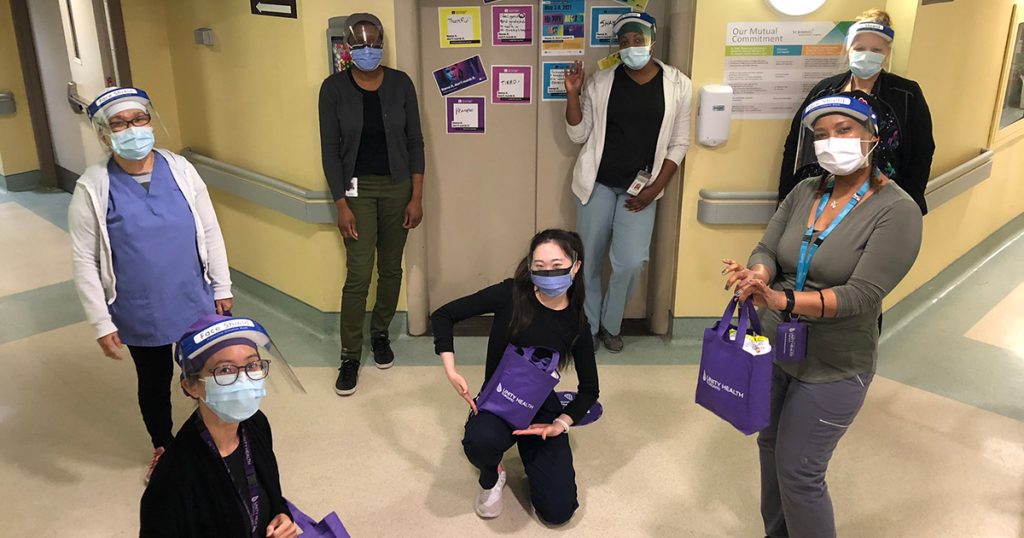 Each week, we're sharing a list of 10 great things that happened at our sites. Do you have a story you'd like to share? Send it to communications@unityhealth.to.
1) Staff and physicians received special wellness kits in recognition of their pandemic efforts
The past year has been challenging, but our staff and physicians have continued to step up and provide the best care experiences for those we serve. As a token of appreciation and to help staff and physicians focus on their well-being, our Board of Directors put together wellness kits for our staff and physicians. The items in the kit were chosen to represent one of the six pillars of wellness – mental, spiritual, occupational, physical, emotional and social.
2) Dr. Anju Anand earns support of Canadian icons in #ThisIsOurShot vaccine campaign
#ThisIsOurShotCA is a movement aimed to rally Canadians and encourage everyone to take the vaccine when it's their turn. The campaign, shared in over two dozen languages, is co-led by Dr. Anju Anand, a respirologist at St. Michael's Hospital. Learn more about how the campaign has received support from many celebrities and Canadian icons and why Dr. Anand says it's capturing the 'Canadian spirit'. Dr. Anand also appeared on CTV News to discuss the movement.
3) Team Vaccine celebrates another milestone
Team Vaccine has delivered over 83,000 doses over the past four months through our clinics, outreach and pop-up clinics ­– including a massive effort at Woodbine Racetrack this week serving the community of Rexdale. Thank you to our partners in the West and Downtown East Ontario Health teams, community providers and our staff and physicians for helping to achieve this incredible feat! See the breakdown here.
4) We mark St. Joseph's Mission Day
This week, we celebrated St. Joseph's Mission Day to recognize the ways in which our staff, physicians and learners have upheld our mission and values over the course of 100 years. To say thank you, members of Unity Health's leadership team were on hand for a special welcome. Nearly 200 staff, physicians, learners and families also gathered online for the Our Shared Values Awards to honour the St. Joseph's people and teams who exemplify our mission and values. Read more about their stories.
5) Nursing and Activation teams at the Houses of Providence bring a 'drive-thru' to residents
Due to pandemic safety protocols, residents at the Houses of Providence have missed their trips to the Tim Hortons inside Providence Healthcare. Our Nursing and Activation teams created a Tim Hortons drive-thru station in the Houses and brought some joy to residents. Pictured here are a few residents enjoying their coffee.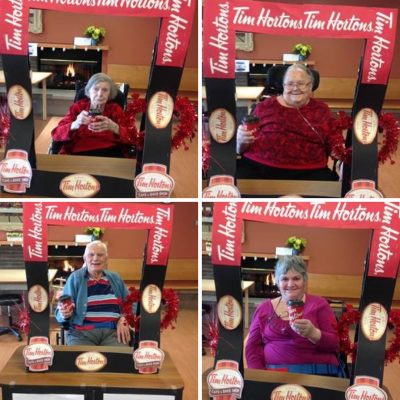 6) Charmaine Coleman shares why she got the COVID-19 vaccine
For Charmaine Coleman, a Resident Assistant in the Houses of Providence, the COVID-19 vaccine was a way to protect the residents in our long-term care home. "It gives them peace of mind to know we're getting vaccinated because that way we won't get sick and will continue to be at work, and they take comfort in knowing that the staff they know are taking care of their loved ones." Read her story on why she got the COVID-19 vaccine.
7) We spotlight how a ground-breaking procedure at St. Michael's helped a woman give a life-saving organ donation
Jennifer was not surprised when her mother Dawn decided to register as an organ donor. This month, Dawn suffered a severe brain injury after an accidental fall in her home. When she arrived at the Trauma and Neurosurgery Intensive Care Unit (TNICU) at St. Michael's Hospital, the family agreed to withdraw life support to allow for organ donation and to honour Dawn's final wish. Jennifer shares the story of her mother for Be A Donor Month. Read more.
8) We mark National Hospice Palliative Care Week at Unity Health Toronto
To mark National Hospice Palliative Care Week, we spotlight some of incredible staff who provide hospice palliative care at Unity Health. Jacqueline Lumsden, patient care manager at the Palliative Care Unit and Medical Home at Providence, Sheila Deans-Buchan, nurse practitioner on the Palliative Care Service team at St. Michael's, and Maria Rugg, clinical nurse specialist, Palliative Care at St. Joseph's, share more about their roles and how their teams have adapted to provide the best care during the pandemic.
9) Unity Health physicians pen op-eds in the Globe and Mail and Healthy Debate
Dr. Tara Kiran and her co-author pen a Globe and Mail op-ed on Canada's shift to corporate-driven health care and its potential consequences. Dr. Fahad Razak, Dr. Arthur Slutsky and their co-authors share their thoughts on how we can end the pandemic's intensity, duration and impact in their Globe and Mail op-ed. Dr. Yuliya Rackal also contributed to a Healthy Debate op-ed on tackling racism in health care, while Dr. Gary Bloch wrote about why the House of Commons needs to prioritize social recovery in his Healthy Debate op-ed.
10) Dr. Prabhat Jha weighs in on India's COVID-19 crisis in TIME Magazine
Dr. Prabhat Jha, epidemiologist at St. Michael's Hospital, spoke with TIME Magazine about India's COVID-19 crisis, how they can get out of it and what needs to be done to prevent a third wave. He also spoke to the Associated Press on why India's COVID-19 case and fatality numbers are likely undercounted.