Who We Are
Unity Health Toronto is one of Canada's largest Catholic healthcare networks serving patients, residents and clients across the full spectrum of care, spanning primary care, secondary community care, tertiary and quaternary care services to post-acute through rehabilitation, palliative care and long-term care, while investing in world-class research and education. We are comprised of:
St. Joseph's Health Centre Toronto is a Catholic community teaching hospital affiliated with the University of Toronto and accredited with exemplary standing by Accreditation Canada. For over 100 years, St. Joseph's has been serving the health-care needs of the diverse communities of southwest Toronto.
Our History
St. Joseph's has a long and proud tradition of serving the diverse and growing needs of a vibrant west Toronto community for more than a century. Founded by the Sisters of St. Joseph in 1921 to serve the needs of the west end, it began as a 25 bed hospital and a school of nursing. Within the year it had grown to 112 beds and within the decade it had an emergency department and operating room facilities. As this neighbourhood grew, so did the need for care. From opening the first pediatrics department in a general hospital in 1949 to becoming the first to open an intensive care unit in Toronto in 1962, the Sisters continued to respond to the needs of the community.
St. Joseph's Hospital and Our Lady of Mercy Hospital merged into a single organization in 1980, becoming St. Joseph's Health Centre to allow for improved patient care, more effective use of scarce resources and continuing service to the community.
Today, St. Joseph's stands as a proud community teaching health centre affiliated with the University of Toronto, serving nearly half a million people. St. Joseph's roots in the west end community continue to run deep, as does its commitment to living the promise first made by the Sisters of St. Joseph when they founded our hospital to care for those in need.
St. Michael's Hospital is a Catholic teaching and research hospital in downtown Toronto. Affectionately known as the Urban Angel, St. Michael's is renowned for providing exceptional patient care. As downtown Toronto's adult trauma centre, the hospital is a hub for neurosurgery, complex cardiac and cardiovascular care, diabetes and osteoporosis care, minimally invasive surgery and care of the homeless and disadvantaged. Fully affiliated with the University of Toronto and home to the Li Ka Shing Knowledge Institute, St. Michael's provides outstanding medical education to health-care professionals in 29 academic disciplines.
Our History
St. Michael's Hospital was the Sisters of St. Joseph's first formal healthcare institution in Canada. Among the few to respond to an 1891 call for volunteers at Toronto's Isolation Hospital during the diphtheria epidemic, the Sisters were asked by the city's medical officer of health to open a general hospital. The Sisters opened St. Michael's Hospital in 1892 with a bed capacity of 26 and a staff of six doctors and four graduate nurses. Within a year, accommodation was increased to include two large wards and an emergency department. By 1912, bed capacity reached 300, and a five-room operating suite was added.
Established in 1892, St. Michael's Hospital School of Nursing was the first Catholic School of Nursing in Canada and was the third in Toronto, behind Toronto General (1881) and the Hospital for Sick Children (1886). Between 1892 and 1974, St. Michael's School of Nursing graduated 81 classes, totaling 5,177 graduates. The school was closed in 1974 when nursing education was moved into the province's community college system.
As early as 1894, St. Michael's received medical students and, in 1920, negotiated a formal agreement with the Faculty of Medicine at the University of Toronto which continues to this day. In 1936, the hospital opened a school for medical record librarians, the first in Canada, and in the same year, was the first hospital approved by the Canadian Dietetic Association for the training of dieticians. The hospital also provided training programs for X-ray and laboratory technologists. As Toronto grew and expanded, so did the hospital. Today, it thrives as one of Canada's most prominent teaching hospitals and research centres.
Providence is a Catholic health-care organization and a leader in rehabilitation, palliative care, long-term care and community programs in Toronto. Providing care through its hospital, long-term care home and adult day program, the organization's innovative approaches benefit more than 5,000 people each year.
Our History
Together with Toronto's Roman Catholic Bishop, Armand F.-M. de Charbonnel, the Sisters of St. Joseph envisioned a house of welcome for all in need. Opened by the Sisters in 1857, the House of Providence was nearly always filled to capacity. It would eventually quadruple in size to provide for about 700 residents, including the elderly, the unemployed, orphans, widows, the homeless, and newcomers to Canada. Some stayed only for a few days; others, for years. At its doors, daily meals were given out to the hungry, particularly during the Great Depression of the 1930s.
The House of Providence was demolished in 1962 to make way for the Richmond Street exit from the Don Valley Parkway. It was then largely a home for the aged, and its residents moved with the Sisters of St. Joseph to Providence Villa and Hospital, a new facility located at St. Clair and Warden Avenues, and known today as Providence Healthcare.
In 2017, Providence celebrated 160 years of providing a culture of community, compassion and innovation in care. From the original House of Providence in downtown Toronto to the sprawling site it is today, the organization has both endured and thrived as a result of its ability to adapt to the changing needs of society.
What does it mean to be a Catholic hospital network?
Every person who comes to Unity Health Toronto will be treated with compassion, dignity and respect. These values are at the core of what we do and have been since our founding by the Sisters of St. Joseph in Toronto more than 130 years ago.
As a Catholic health care organization, we have a deep respect for the intrinsic value and dignity of each and every person. We offer our patients health information, counselling and spiritual support and we understand that they will make decisions about what is right for them based on the best available medical evidence and their own individual needs, rights and values. Our staff, physicians and learners are guided by the Health Ethics Guide, their training and experience, and most importantly, by listening to the people we care for in conversations that are confidential and safe.
We work collaboratively as partners within the provincial health system to deliver key services and to ensure coordinated, timely specialty care. Not every hospital provides every service, and this is true at Unity Health Toronto. We support all patients throughout their journey even if they need to access a service we don't provide at our sites. If a service is not available at our sites, we work with our partners to facilitate the safe and timely transfer of care to another provider. Sometimes, a third-party provider comes to our hospital to offer a service. Thousands of transfers happen every day within the Canadian healthcare system for many different reasons. When transfer of care is required, our teams have conversations with patients and families to address concerns, answer questions and ensure the transfer is timely and seamless.
At Unity Health Toronto, our mission supports learning as an essential part of providing high quality care. We continually seek to incorporate new science and a wide variety of perspectives to better respond to clinical and ethical issues as they emerge. This includes partnering with patients in a collaborative environment to understand what matters to them in order to be responsive to their needs. It also includes listening to staff, physicians, learners and volunteers, who may bring different perspectives and new ways of doing things to improve patient care. Strong organizations create environments that allow for a diversity of opinions and are receptive to new ways of doing things. While there is always room for improvement, inclusivity is one of our core values. Above all, we want all of our patients to feel supported by caregivers whose mission is to provide the best possible care experiences to all in need.
By the Numbers (April 1, 2021 to March 31, 2022)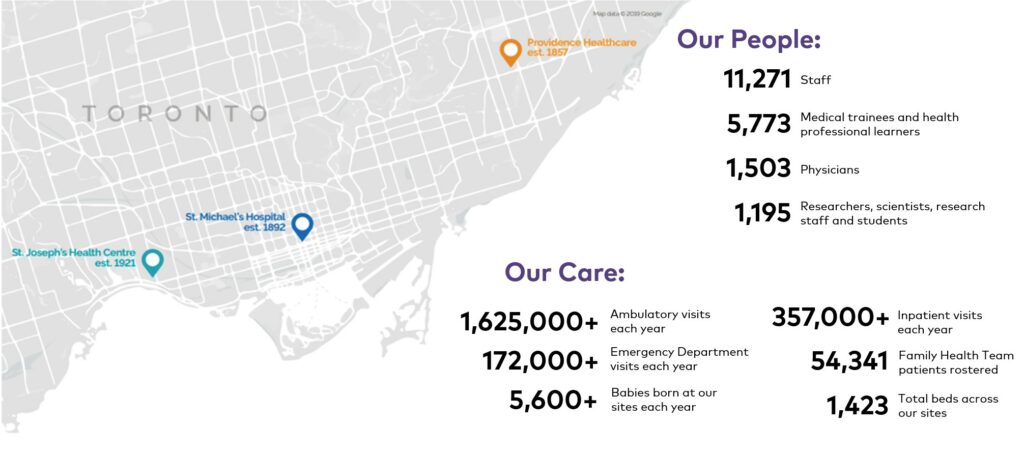 Last updated March 03, 2023