Ten great things that happened this week
May 13, 2021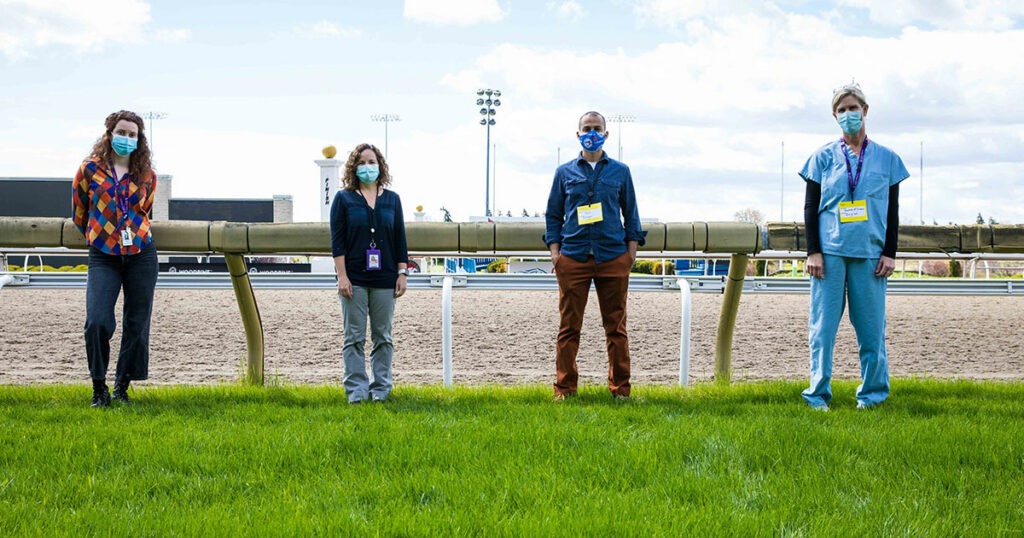 Each week, we're sharing a list of 10 great things that happened at our sites. Do you have a story you'd like to share? Send it to communications@unityhealth.to.
1) Unity Health helps vaccinate over 15,000 people in Toronto hot spots
Over 15,000 residents of Toronto hot spots came out to receive their COVID-19 vaccine at a massive pop-up vaccination clinic on the grounds of Woodbine Racetrack. The clinic was coordinated by Unity Health Toronto in collaboration with partners including the Rexdale CHC, Michael Garron Hospital, UHN, the City of Toronto and Toronto Public Health. Woodbine Racetrack hosted the clinic, providing a spacious and unique venue for those who came for their dose. Take a look inside the clinic.
2) Unity Health marks National Nursing Week
The pandemic has highlighted the courage and commitment of nurses working across our network. This National Nursing Week, we asked four nurses to share what this year's theme #WeAnswerTheCall means to them. Read what Flor Gonzalez, Laura Drygas, Michelle Diego and Murray Krock had to say.
3) Dr. Anju Anand shares why she got the COVID-19 vaccine
"It's been such a dark process and the vaccines offer this shimmer of light and some normalcy," said Dr. Anju Anand, respirologist at St. Michael's and co-lead of the This Is Our Shot campaign. She discusses why she got the vaccine and why she is co-leading a campaign to turn vaccine hesitancy into vaccine confidence. Read more.
4) Unity Health celebrates Mothers' Day
To celebrate Mothers' Day, our St. Michael's and St. Joseph's Neonatal Intensive Care Units (NICU) put together gifts for parents. At St. Michael's, parents received a customized card with a baby photo and their footprints along with a mug filled with treats. Parents at the St. Joseph's NICU received handmade cards and a care package with toiletries, treats and resources for self-care and mindfulness. At the Houses of Providence, a daughter takes us on a visit with mom.
5) At St. Michael's, a cystic fibrosis patient receives a special birthday surprise
Hilary Becker was diagnosed with cystic fibrosis (CF) when she was six months old and became a patient at St. Michael's when she turned 18. When she was hospitalized due to a CF exacerbation close to her 29th birthday, her care team, family and friends found a way to help her celebrate. Read more.
6) Dr. Yvonne Bombard receives the Canadian Cancer Society William E. Rawls Prize
Dr. Yvonne Bombard, scientist at the Li Ka Shing Knowledge Institute, has been awarded the Canadian Cancer Society William E. Rawls Prize. This award recognizes an early career researcher for outstanding contributions to cancer control research. Read more about how her research on cancer genomics has impacted laws, health policies and clinical guidelines in Canada and beyond.
7) Two Unity Health physicians write Toronto Star op-ed on how we can optimize the rollout of the COVID-19 vaccine to children and youth
Last week, the National Advisory Committee on Immunization (NACI) approved the use of the Pfizer-BioNTech COVID-19 vaccine in children and youth 12 years and up in Canada. Pediatricians Dr. Ripudaman Minhas and Dr. Sloane Freeman outline factors to consider when planning the rollout of COVID-19 vaccine to children in their Toronto Star op-ed.
8) We spotlight Dr. Charles de Mestral's #OneBurningQuestion
Every discovery starts with a question. Dr. Charles de Mestral, a scientist at Li Ka Shing Knowledge Institute, set out to study how access and use of health care services impacted amputation rates. Dr. de Mestral's #OneBurningQuestion is: How do we stop the most devastating outcome of diabetes and poor circulation? Read more.
9) Dr. Andrea Simpson publishes new findings on preterm births during the pandemic
There were slightly fewer premature babies born before 32 weeks' gestation in Ontario in the first six months of the pandemic compared to the same period in previous years, according to a study led by Dr. Andrea Simpson. The findings are in line with countries that had comparable strict lockdown measures where a small reduction of very early preterm births were also observed. Read more.
10) Dr. Janet Smylie speaks to CBC News about second doses for Indigenous people living in urban areas
Indigenous people living in urban areas in Ontario will be able to receive their second dose of the COVID-19 vaccine within the interval recommended by manufacturers. Dr. Janet Smylie says this policy change is important because the rate of hospitalization of Indigenous people with COVID-19 is higher than the general population. Read more.