Ten great things that happened this week
April 15, 2021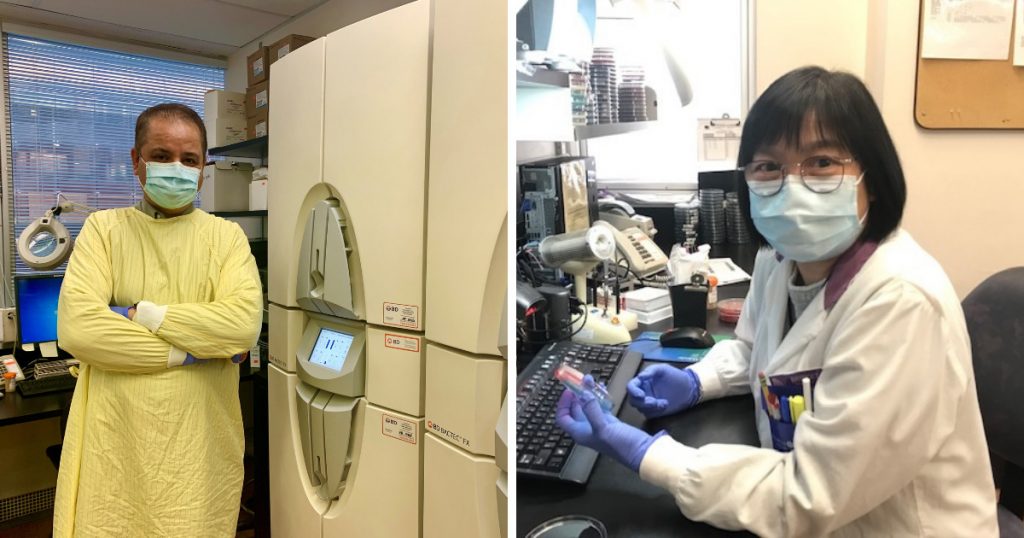 Each week, we're sharing a list of 10 great things that happened at our sites. Do you have a story you'd like to share? Send it to communications@unityhealth.to.
1) Unity Health Toronto's Team Vaccine hits major milestone
As of this week, Unity Health has provided more than 63,000 doses of COVID-19 vaccines. This includes incredible work by our teams at our hospital clinics, mobile clinics and through outreach in long-term care, shelters and other community settings. Alida Devine, nurse practitioner at St. Michael's Hospital, spoke to CBC News about why COVID-19 vaccine outreach is important and learnings so far.
2) Joel Persaud shares why he got the COVID-19 vaccine
For Joel Persaud, a nurse in the Trauma Neuro Intensive Care Unit, the COVID-19 vaccine inspires hope. "When I received my second dose, I felt happy. I was happy that we were taking a step in the right direction. I was happy that there was hope that things will get better." Read why he got his COVID-19 vaccine.
3) We spotlight how a pilot project has improved access to wound care during the pandemic
Patients with chronic wounds also tend to live with severe comorbidities like diabetes and hypertension, which puts them at greater risk of becoming seriously ill should they contract COVID-19. While this vulnerable patient population needs to be protected from the virus, they also require frequent wound care appointments to avoid further complications, illness or death. The St. Michael's Hospital wound care team launched a digital care pilot program in November 2020 to reduce the need for in-person visits while maintaining quality care. Read more about the program's successes.
4) Unity Health Toronto marks National Medical Laboratory Week
Lab professionals help diagnose everything from cancer to diabetes to COVID-19. This year, our labs have installed state-of-the-art instrumentation for COVID-19 testing, performed thousands of tests, trained staff and reached out to external requestors to provide testing services in a timely manner. Adnan Khan, manager of Microbiology, Immunology and COVID Preanalytical teams at Unity Health and Bridget Tam, technical specialist on the Diagnostic Laboratory – Microbiology team, share their thoughts in celebration of the week.
5) We spotlight Baljit Grewal in our Behind the Mask series
When the pandemic started, Baljit Grewal, respiratory therapist at St. Michael's Hospital, moved out to protect her family. While she found gratitude in having some extra time alone, she still found the experience very difficult. "My birthday was during that time and I know it sounds silly, but I wanted to be home with my loved ones." Read her story #BehindtheMask.
6) St. Michael's Hospital researchers publish study on the scope of CPR and AED training for high school students
Just over half of surveyed Ontario high schools reported providing Cardiopulmonary Resuscitation (CPR) and Automated External Defibrillator (AED) training to students despite being mandated by the province to provide training for the lifesaving technique, according to a study led by Dr. Katherine Allan. Learn more about the study published in CJC Open.
7) We recognize the recipients of the Trillium Gift of Lift Network's Hidden Hero Certificate
Behind the scenes, our staff play a critical role in supporting patients and families across Unity Health Toronto with organ and tissue donations. For Be A Donor Month, we are celebrating our staff who received the Trillium Gift of Life Network's Hidden Hero Certificate. Learn more about each recipient.
8) We mark the 9th Annual Faculty Development Week at Unity Health Toronto
Faculty Development Week is an educational event that dives into a variety of themes that celebrate and explore dynamic learning modalities and digital innovations across and beyond our system. This year's theme is Reimagining Digital Teaching & Learning. Participants had the opportunity to attend live virtual workshops and keynote presentations. Follow along with #UnityFDW2021.
9) Can I get the vaccine if I'm fasting for Ramadan? What if I'm pregnant? Unity Health Toronto experts answer questions about the COVID-19 vaccines
During Ramadan, does getting a COVID-19 vaccine break your fast? The answer is no. Dr. Aisha Khatib addresses vaccination questions linked to Ramadan with CityNews. Dr. Tali Bogler, family physician at St. Michael's Hospital and co-founder of the Pandemic Pregnancy Guide, was also on The Current to discuss whether pregnant people should get the vaccine when offered or wait until after birth.
10) St. Michael's Kidney Care Centre celebrates its first anniversary
One year ago, the St. Michael Hospital Kidney Care Centre (KCC) opened its doors to provide renal care closer to home. The satellite location has 21 dialysis stations, six stations for home hemodialysis training, transition and support resources and general nephrology clinics. Read more about the clinic.