Stay Safe While Visiting
You must also follow public health and safety measures while at the hospital.
If you do not follow any of these steps, you will not be allowed to enter or may be asked to leave.
What is infection prevention and control (IPAC)?
Infection prevention and control or IPAC (pronounced: EYE-pack) is a series of measures that help prevent the spread of germs and infections. It includes things like:
Hand hygiene
Physical distancing
Screening people for illnesses
Cleaning
Wearing masks and other protective equipment
Isolating/quarantining
Limiting close contact with others
If you are an ECP, you must review these IPAC measures before visiting the hospital:
Hand hygiene involves washing your hands and following other safety measures that help prevent the spread of germs and infections like COVID-19. To wash your hands properly, you need to clean all parts of your hands and wrists in a certain way. You should also avoid wearing jewelry or fake nails which are hard to clean and can trap bacteria.
To learn how to wash your hand properly, see these resources:
Gloves are not a replacement for good hand hygiene. Even when you wear gloves, you still need to wash your hands.
When should I practice hand hygiene?
You need to practice good hand hygiene:
When you come in or leave the hospital
When you come in or leave any patient room/bed space
Before and after you touch or care for any patient
Before and after you care for yourself (for example, when you use the toilet or blow your nose)
Before and after using gloves
Before and after eating/drinking
You must wear a mask if entering the Emergency Department, waiting areas, patient rooms or other patient care areas. All Unity Health Toronto spaces are mask-friendly. Learn more about our masking policy.
It is important that you wear your mask properly. Before coming to the hospital, please review this poster and look at the image below. The image with the green checkmark is the only correct way to wear your mask.
Thank you for your cooperation.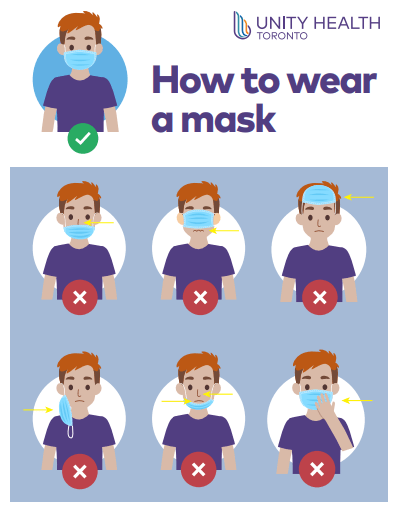 As an ECP, you may be asked to wear other personal protective equipment (PPE) when visiting. This will include things like a gown, face shield and gloves. We will give these to you and show you how to wear them. These steps are important to make sure that everyone is using their PPE properly and stays safe.
Do not put on other PPE without guidance from our staff and do not bring in your own from home.
If you would like to learn more about PPE to help reinforce what our staff will teach you, review these resources:
Last updated July 06, 2023