Ten great things that happened this week
August 05, 2021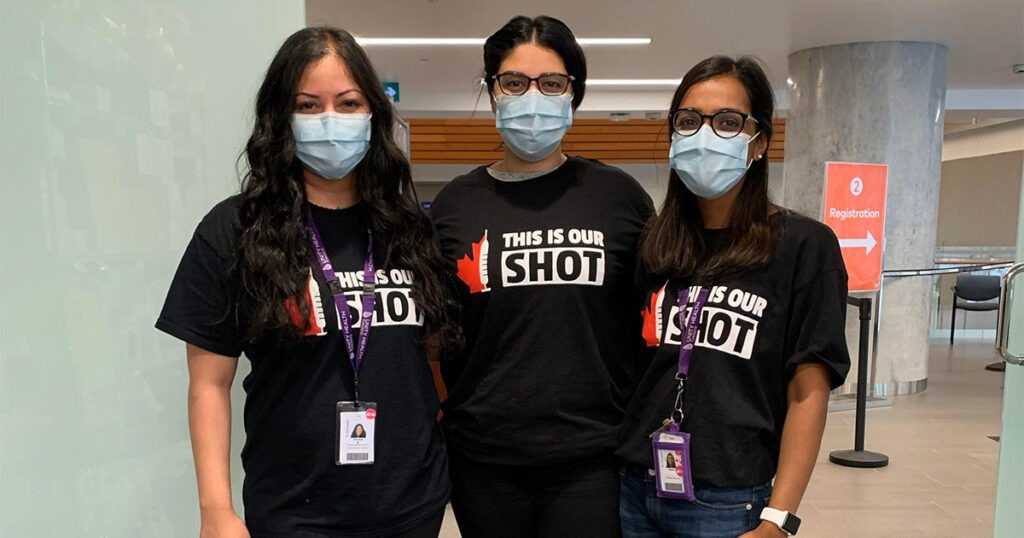 Each week, we're sharing a list of 10 great things that happened at our sites. Do you have a story you'd like to share? Send it to communications@unityhealth.to.
1) Unity Health celebrates the closure of three COVID-19 vaccine clinics
With more than 305,000 doses administered by Unity Health and our community partners, the COVID-19 vaccination clinics at St. Michael's, St. Joseph's and Providence closed their doors on Friday, July 30. Those who worked on our vaccination teams shared their reflections on what being a part of this historic vaccination effort has meant to them. First and second doses will continue to be available in our community through our Ontario Health Team partners, the provincial booking system and participating pharmacies.
2) Unity Health marks its fourth anniversary
Happy fourth anniversary to our incredible team of staff, learners and physicians at Providence, St. Joseph's and St. Michael's! It has been a remarkable year as we navigated a pandemic, advanced existing projects and began our work towards anti-racism, equity and social accountability. Thank you to everyone for your work in creating the Best Care Experiences for those we serve.
3) We celebrate Unity Health researchers who are part of July's Research Honour Roll
Every month, researchers across Unity Health Toronto celebrate important honours, achievements and awards. Read more about our researchers who were recognized in July.
4) Dr. Karim Ladha and Dr. Venkat Bhat speak with the Globe and Mail on the Ketamine Infusion Program at St. Michael's
This March, Dr. Karim Ladha, Dr. Venkat Bhat and their team launched the Ketamine Infusion Program at St. Michael's. Ketamine, an anesthetic drug widely used in operating rooms and listed as one of the World Health Organization's essential medicines, is also an evidence-based treatment for depression. Dr. Ladha and Dr. Bhat spoke to the Globe and Mail on the emerging therapy for depression, the results so far and how they hope to expand access to the treatment.
5) Sonya Booker shares why she got the COVID-19 vaccine
Sonya Booker, Manager of Abilities and Health at Unity Health Toronto, found out she was pregnant in January when vaccines were being rolled out for high-risk health care workers. "We all want what's best for our babies and it can be difficult to know what that is. But for me, it was getting vaccinated," she said. Read why she decided to get the COVID-19 vaccine.
6) Dr. Fahad Razak, Dr. Arthur Slutsky and their co-author pen a Maclean's op-ed on a post-pandemic Canada
How can society reopen safely with the rise of the dangerous Delta variant? Should Canada implement policies similar to those in the United Kingdom? Unity Health's Dr. Fahad Razak and Dr. Arthur Slutsky, and their co-author Dr. David Naylor share their thoughts in their Maclean's op-ed. 
7) What does a better version of health care look like in Canada? Dr. Suzanne Shoush shares her thoughts
"The COVID-19 pandemic swept into our lives bringing distress and chaos, but also many lessons," write Dr. Suzanne Shoush and her co-author Dr. Danielle Martin. In their Toronto Star op-ed, they highlight a few key lessons from the pandemic, how health systems adapted quickly and how these learnings can help build better health care in Canada. Read more.
8) St. Michael's Injury Prevention Research Office raises funds and awareness for Acromegaly
The St. Michael's Injury Prevention Research Office accumulated over 60 kilometres of walking, running and rollerblading to fundraise for and spread awareness about Acromegaly. Congratulations to everyone who participated in this event!
9) Karen McDonald discusses the powerful opioids entering Canada's street drug supply
Canada's street supply of opioids is becoming increasingly toxic, unpredictable and contaminated. Karen McDonald from the Centre on Drug Policy Evaluation spoke with CTV National News and Your Morning on the ultra-potent being found in street drug supply and the implications. 
10) Canada's fourth COVID-19 wave is here. Dr. Fahad Razak discusses what it will look like
How severe will the fourth wave of COVID-19 be? Dr. Fahad Razak was on CityNews Toronto to discuss when we can expect to see a sharp rise in the numbers and the variables we should look out for.
Previous Ten Great Things articles