Ten great things that happened this week
July 22, 2021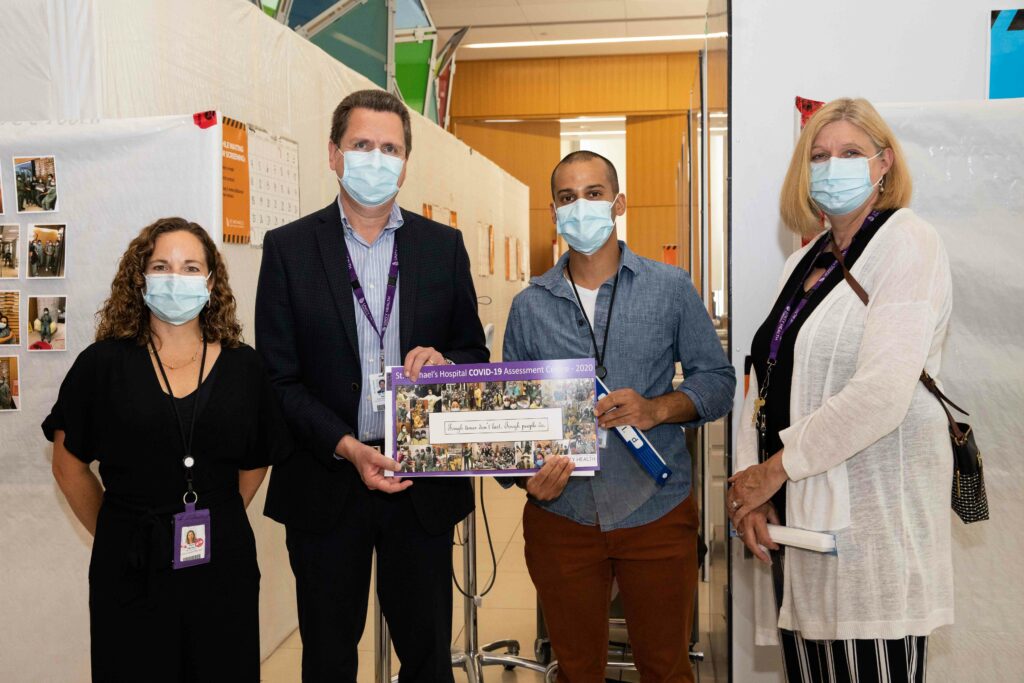 Each week, we're sharing a list of 10 great things that happened at our sites. Do you have a story you'd like to share? Send it to communications@unityhealth.to.
1) St. Michael's COVID-19 Assessment Centre closes its doors
On Friday, after 16 months and 103,000 swabs, the St. Michael's COVID-19 Assessment Centre (CAC) wound down its operations. The teams who built and ran the centre shared what this historic moment means to them. Dana Whitham, Manager of the St. Michael's CAC, also spoke with CTV News about the milestone. Take a look at how the team celebrated this important step towards pandemic recovery.
2) Unity Health staff and physicians cheer on Toronto FC
On Saturday, 80 Unity Health staff and physicians and their plus-ones headed to BMO Field to watch the Toronto FC home game against Orlando City SC. Thank you to Toronto FC for recognizing the efforts of health-care workers during the pandemic and sending some of our people to the game!
3) We publish our 2020-21 Annual Report
It has been a remarkable year for Unity Health Toronto. We navigated a pandemic, advanced existing projects and began our work towards anti-racism, equity and social accountability. Learn more our work in our Annual Report.
4) Unity Health begins third step in a phased approach to reopen hospitals to Essential Care Partners
Family members and loved ones are important to the healing and overall well-being of our patients. On Monday, Unity Health entered its third step in a new phased approach to ease restrictions to Essential Care Partners (ECPs). Read more about the new guidelines. Dr. Fahad Razak, Internist and Epidemiologist at St. Michael's, was also on CBC Radio's The Current to discuss hospital visitor policies and the way forward as vaccinations rise and COVID-19 cases fall.
5) Unity Health experts offer guidance on return to in-person school
Unity Health's Drs. Justine Cohen-Silver, Sloane Freeman, and Kevin Schwartz co-authored a Science Brief from the Ontario COVID-19 Science Advisory Table offering guidance on COVID-19 mitigation measures for a return to in-person school in September 2021. Read more about their recommendations in collaboration with experts from SickKids, CHEO, and other Ontario hospitals.
6) Meet Dr. Joan Cheng, the first East Asian woman to lead an emergency department in the Greater Toronto Area
Dr. Joan Cheng, Chief of Emergency at St. Joseph's, is the first East Asian woman to lead an emergency department in the Greater Toronto Area. She spoke to Metro Morning about her career and why representation matters. She also spoke to the Toronto Sun about the process behind creating a new emergency department at St. Joseph's.
7) We spotlight Clarence Chant as part of our Behind the Mask series
As Senior Director of Pharmacy, Clarence Chant was responsible for receiving and distributing COVID-19 vaccines at Unity Health. When the vaccines first arrived at St. Michael's in December 2020, he said it felt like an early gift from Santa Claus. "This pandemic has demonstrated how interconnected we all are, as a province and as a country." Read his story #BehindtheMask.
8) Cardiology team at St. Michael's reduces hospital visits with new implantable cardioverter defibrillator
A team of cardiologists at St. Michael's Hospital are the first in Ontario to implant a new type of implantable cardioverter defibrillator (ICD) that allows patients to be monitored remotely through an application on their smart phone or tablet. The new ICD gives patients more freedom to enjoy their daily activities and reduce visits to hospital. Read more.
9) How can we protect Canadians from another COVID-19 wave? Dr. Prabhat Jha weighs in
Data shows that only one per cent of people in low-income countries have received any COVID-19 vaccine. Dr. Prabhat Jha says richer countries like Canada need to help developing countries ramp up their vaccine rollout. "This is a global war. You can't simply say we're going to vaccinate Canadians and we'll be safe," he told CBC News. Dr. Jha also commented on why India's COVID-19 death toll could be ten times higher than the official count. Read more.
10) Why are children starting to catch colds again? Dr. Eddy Lau shares his expertise with the Toronto Star
Hospitals and clinics are beginning to see an increase in children catching the common cold and other non-COVID-19 viruses. Dr. Eddy Lau, Pediatrician at St. Joseph's, discusses reasons for the uptick, how parents can help their kids stay physically and mentally healthy. Read more.
Previous Ten Great Things articles