Ten great things that happened this week
June 30, 2021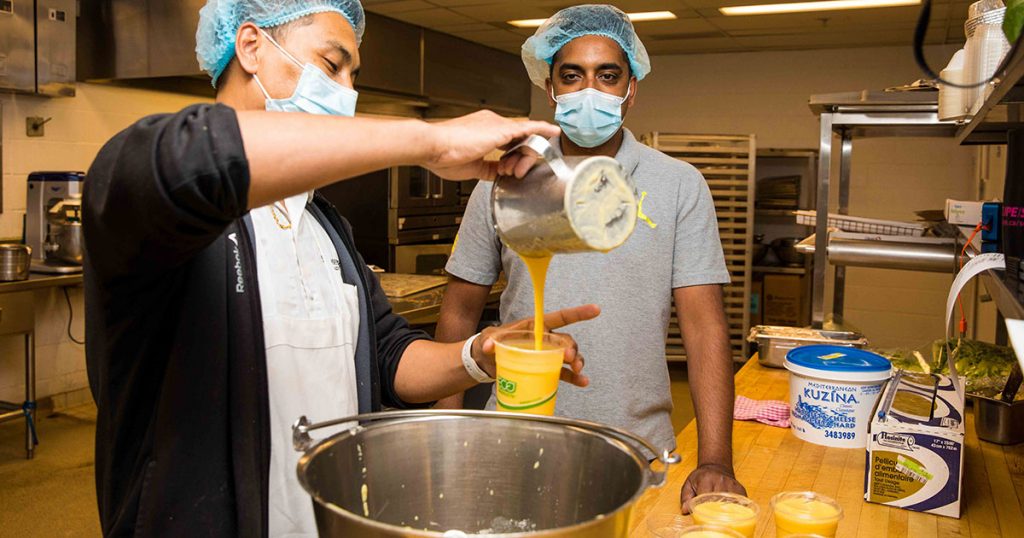 Each week, we're sharing a list of 10 great things that happened at our sites. Do you have a story you'd like to share? Send it to communications@unityhealth.to.
1) Unity Health delivers over 250,000 doses of the COVID-19 vaccine … and counting
Unity Health has supported the administration of over 250,000 doses of the COVID-19 vaccine. Kudos to the West and Downtown East Ontario Health Teams, community providers and our staff and physicians for all of your efforts in achieving this milestone. We also want to thank the 35 staff and physicians from Unity Health who volunteered their time at the record-breaking "Our Winning Shot" clinic on Toronto Vaccine Day.
2) Providence Healthcare lays groundwork to become a Campus of Care
Providence has a bold new vision to become a Centre of Excellence for Rehabilitation Science and Healthy Living. Dr. Ashley Verduyn, Chief and Director, Medical Affairs at Providence, and Melissa Morey-Hollis, Vice President of Clinical Programs at Providence, share more about the expansion plans with the Catholic Register.  
3) Surgical oncologists at St. Michael's advance care for older adults with complex cancer
A team of surgical oncologists at St. Michael's Hospital performed a total gastrectomy, distal pancreatectomy and splenectomy on a patient, marking the first time these operations were performed at the hospital and advancing the type of care older adults with complex cancer can receive at St. Michael's. Read more.
4) Meet the team at St. Joseph's Lakeside Café
From holiday menus to fish taco Thursdays, the Lakeside Café at St. Joseph's Health Centre is always dreaming up new menus that reflect the diversity of the workforce and the community they serve. We introduce you to the team who keep our staff and physicians coming back for seconds in our latest photo essay.
5) We spotlight how Unity Health teams are bringing COVID-19 vaccines to homebound patients
Individuals who are homebound face significant barriers to receiving a COVID-19 vaccination. Though these individuals are not able to leave home for a variety of reasons, they can still be exposed to the virus through the family members, friends or support workers who care for them. Physician leads Dr. Amy Freedman and Dr. Elizabeth Niedra discuss their work and why it is critical to reach the hard to reach. Read more.
6) St. Joseph's NICU and Paediatrics department mark Pride Month
In celebration and solidarity with 2SLGBTQ+ staff, physicians, learners and patients, the St. Joseph's Neonatal Intensive Care Unit (NICU) and Paediatrics department decorated their spaces with Pride flags. The NICU also gave patients rainbow blankets. See the photos.
7) We launch our weekly News Makers series
Each week, journalists turn to Unity Health Toronto's experts and programs to help make sense of our world. In case you missed it, here is a recap of the headlines for the week of June 19 to 25.
8) Unity Health experts discuss ways to help increase COVID-19 vaccine uptake
Vaccination rates in younger Ontarians are lagging behind other groups. Dr. Tara Kiran spoke with the Toronto Star on how strategies like involving family doctors can help increase vaccine uptake. Dr. Suzanne Shoush shares how pop-up clinics like Auduzhe Mino Nesewinong testing and vaccine clinic are building trust around COVID-19 vaccines for Indigenous people with the Healthy Debate. Dr. Shoush also spoke with Maclean's on how she addresses vaccine hesitancy with her patients.
9) We check in on Dr. Christine Fahim's research project on racism and COVID-19
Early in the pandemic, a team of researchers at Unity Health Toronto noticed an increase in stigma and racism faced by Asian communities. They partnered with Chinese Canadian advocacy organizations and set out to study the link between racism and COVID-19. Dr. Christine Fahim, the scientist leading the Team for Implementation, Evaluation and Sustainability at the St. Michael's Hospital Knowledge Translation Program, who spearheaded the research, shares more about the project. Read more.
10) We reveal new items from the St. Joseph's 100th anniversary time capsule
Twenty-five years ago, staff and physicians from St. Joseph's sealed a time capsule to be opened during St. Joseph's 100th anniversary. Take a look at some of the new items.
Previous Ten Great Things articles