Ketamine Infusion Program launching soon at St. Michael's for people with treatment-resistant depression
January 28, 2021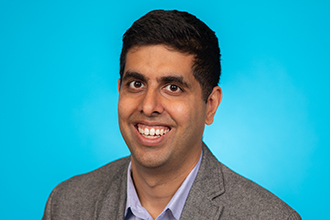 By Selma Al-Samarrai
People living with treatment-resistant depression will soon have a new therapy option available to them at St. Michael's Hospital.
The Ketamine Infusion Program is launching at St. Michael's next month and will be the first program in the Greater Toronto Area to offer this treatment through publically funded hospital programming.
Ketamine, an anesthetic drug widely used in operating rooms and listed as one of the World Health Organization's essential medicines, is also an evidence-based treatment for depression.
"We knew two things about Ketamine – first that it's known to be a rapid antidepressant, and the second is that we don't have a public program set in place to help administer it to patients living with depression," explained Dr. Karim Ladha, Staff Anesthesiologist at St. Michael's, Associate Scientist at Li Ka Shing Knowledge Institute (LKSKI) and the co-principal investigator of this study.
"So our main goal was to create the first public Ketamine Infusion Program in the GTA and one of the first in Ontario, where we administer ketamine to patients with treatment-resistant depression."
The Ketamine Infusion Program is available for patients referred from the hospital's newly developed Interventional Psychiatry Program. Patients are assessed against specific criteria to see if Ketamine infusion is a suitable treatment plan for them.
"We know that Ketamine makes a difference for patients with treatment-resistant depression for which other therapies didn't work, so we established a program to ensure those who need it can get it," said Dr. Venkat Bhat, Staff Psychiatrist at St. Michael's, Director of the Interventional Psychiatry Program and Associate Scientist at LKSKI.
"Our hospital focuses on serving the underprivileged and people who can't access private treatments, so this program is really based on the population we care for."
The clinical program is a pilot, which the four investigators hope will become a successful model that can be replicated in other hospitals and health centres.
The co-principal investigators who developed the Ketamine Infusion Program at St. Michael's are Dr. Ladha; Dr. Bhat; Dr. Sidney Kennedy, Scientist at LKSKI and the Arthur Sommer Rotenberg Chair in Suicide and Depression Studies; and Dr. Duminda Wijeysundera, Staff Anesthesiologist at St. Michael's Hospital, Scientist at LKSKI and the Endowed Chair of Translational Anesthesiology Research.
"Obviously anesthesia doesn't really deal with mental health conditions on a day-to-day basis, but here we have an opportunity to really help people who have little or few other treatment options, so we jumped at the chance to do it. This is a great opportunity to take our skills outside the operating room and help tackle a huge public health problem," said Dr. Ladha.
The pilot was funded by the St. Michael's Hospital Medical Services Association AFP Innovation Fund, and supported by the Perioperative Services and Mental Health and Addictions Services at St. Michael's.
"This program is in keeping with our mission and values at Unity Health Toronto in that it advances access to innovative and effective treatments and improves health equity for all," said Tasha Osborne, Senior Director of Surgery and Critical Care at St. Michael's.
More information on the Interventional Psychiatry Program will be available in a new website which will be launched in February.
About St. Michael's Hospital
St. Michael's Hospital provides compassionate care to all who enter its doors. The hospital also provides outstanding medical education to future health care professionals in more than 27 academic disciplines. Critical care and trauma, heart disease, neurosurgery, diabetes, cancer care, care of the homeless and global health are among the Hospital's recognized areas of expertise. Through the Keenan Research Centre and the Li Ka Shing International Healthcare Education Centre, which make up the Li Ka Shing Knowledge Institute, research and education at St. Michael's Hospital are recognized and make an impact around the world. Founded in 1892, the hospital is fully affiliated with the University of Toronto.
About Unity Health Toronto
Unity Health Toronto, comprised of Providence Healthcare, St. Joseph's Health Centre and St. Michael's Hospital, works to advance the health of everyone in our urban communities and beyond. Our health network serves patients, residents and clients across the full spectrum of care, spanning primary care, secondary community care, tertiary and quaternary care services to post-acute through rehabilitation, palliative care and long-term care, while investing in world-class research and education. For more information, visit www.unityhealth.to.