"It's been a privilege to be part of this heroic effort": Unity Health closes its COVID-19 vaccine clinics
July 30, 2021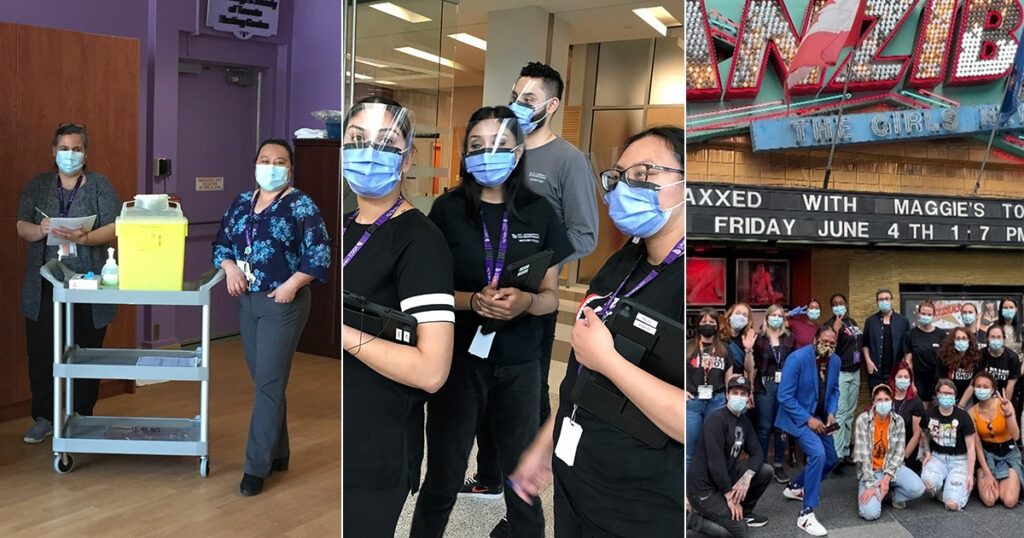 Last December, as many Ontarians were settling in for a quiet – if unusual – pandemic holiday season, St. Michael's Hospital was a hive of activity as teams pulled out all the stops to assemble a COVID-19 vaccination clinic in a matter of days. First doses, accompanied by a police escort, went into arms on Boxing Day, kicking off a historic vaccination effort across the province.
Unity Health's Team Vaccine went on to add two more hospital vaccination clinics at St. Joseph's and Providence. Their efforts stretched far beyond our sites: They supported numerous pop-up clinics, visited 217 community sites and shelters to provide on-site vaccination, vaccinated approximately 1,500 homebound adults, provided nearly 7,200 vaccinations at long-term care facilities and partnered with Ontario Health Team members to establish community clinics in the Downtown East and West Toronto. Through it all, Unity Health's vaccination teams have provided a welcoming space to support those coming to the clinics with their questions, fears and hesitancy.
Unity Health COVID-19 vaccination clinics at St. Michael's, St. Joseph's and Providence will have their final day of operations on Friday, July 30. Thank you to all the staff, physicians and community partners who have supported Unity Health's vaccination clinics and outreach.
Now, with more than 305,000 doses administered by Unity Health and our community partners, the COVID-19 vaccination clinics at St. Michael's, St. Joseph's and Providence will close their doors Friday, July 30. Unity Health will continue to support vaccination for its inpatients and residents, as well as targeted community outreach to ensure local access, especially for areas of greatest need.
For many, supporting the COVID-19 vaccination efforts marks a rare moment in Canadian healthcare.
"It's rare when an opportunity comes along to truly give back to your community and be part of a shared global initiative such as the vaccine response," says Brian Duffy, Logistics Manager at St. Joseph's, of his role supporting the vaccination clinic. "It's something that every healthcare professional will look back on with a sense of pride and achievement."
Others said they will come away with new friendships and a sense of comradery.
"Closing the clinics is bittersweet because our team at Providence has found laughter, friendship and comfort in each other during this pandemic," says Tiffany Wu, Operations Leader at the Providence vaccine clinic. "I loved working with colleagues from all medical backgrounds to get the vaccine rolled out as quickly as possible."
As our clinics wind down, those who worked on our vaccination teams shared their reflections on what being a part of this historic vaccination effort has meant to them. Here is what they said:
"I am so lucky to have been a part of this amazing vaccination team, I always woke up energized knowing that I got to administer vaccines for the day. I loved speaking to all the people excited to receive their vaccines and was able to provide education on the importance of protecting our community.
One patient was so grateful to receive his dose because he shared that he and his spouse had been in the ICU and his spouse passed away.
I am so proud to have been a part of the vaccination team as well as the efforts to return to some semblance of normalcy. We were able to reach hundreds of people including staff, patients and essential caregivers across Providence and that is an important part of protecting our loved ones and neighbours."
Baan Al-Shalchi, Registered Nurse, Bariatric Clinic
"The Providence Healthcare pharmacy technicians stepped up to meet the need for weekly vaccine production with such a positive and professional attitude. Their speed, accuracy and accommodation of time were impressive as this was above and beyond regular duties. They will remember working as an inter-hospital team with St. Michael's and St. Joseph's seamlessly with deliveries and preparation of vaccine for administration. They felt that at all times we were contributing to bringing hope and light to the end of a dark pandemic tunnel."
Paul Karakolis, Pharmacy Site Manager
"Even though I have worked remotely throughout the pandemic I have been able to contribute with the daily/weekly compilation of stats of new admissions that required vaccination as well as all of those patients and staff that we served in our Providence clinic. As the weeks progressed it felt good to see the vaccination rates of our patients and staff climbing! I know I had a very small part to play but I am very proud that I was able to help and given the opportunity to help."
Wanda Inwood, Pharmacy and Infection Prevention and Control Coordinator
"It was very humbling to have had the chance to work with such an incredible multidisciplinary team to operationalize the COVID-19 Vaccine Clinic at Providence. Exceptional teamwork is nothing new for Providence, but it really shone through when bringing this clinic to life.
We had a practice code blue during our simulation, and one of our nursing colleagues truly ran to the PPE cart. I was overjoyed to see that our finalized layout enabled effective emergency response and that the PPE cart was in a central, accessible location with effective signage. Our Infection Prevention and Control team was also beaming from the PPE enthusiasm.
I'm most proud of how dynamic our efforts were. We ran through many location and layout options and although we ended up in a classroom, we really did make it work well. I think this clinic really speaks to the collaborative environment at Providence. It really is something special."
Maisie Brown, Project Manager II, Planning & Redevelopment
"It has been an honour to be involved with this instrumental milestone in the fight against COVID-19. It has been inspirational to see people doing their part and getting their shots. Myself included!
A fond memory I have is of people reaching out to vaccine clinic staff with excitement requesting to take photos on their phones of them getting their jabs to capture this moment for sharing/reflection.
I am proud to have been given the opportunity to work with such an amazing crew. I appreciate you. I'm grateful to have played a role in this successful initiative and lastly and most importantly I am proud to be part of history in the making!"
Tracey Sanford, Community Health Navigator
"Every vaccine clinic day was full of energy, excitement and a sense of making a real difference in people's lives. There is no better feeling than giving someone their COVID-19 vaccine and seeing this wave of relief, happy tears and a hope for a return to normal soon. I arrived to vaccinate a patient one morning. It was clear he was unsure about whether it was a good idea or not. I gave him my usual vaccine blurb. He replies; "OK, yes, I'll get vaccinated but only if my attending doctor does it; I trust her." And not a moment later, she happens to come in on her daily rounds. So I pass her the syringe, she gives it without hesitation and the three of us are beaming with joy. It is truly a team effort! Here at Providence we are a small team, but our strength has been in eliminating barriers to vaccination for our staff and patients, and taking the time to have one-on-one conversations with people who are hesitant or nervous about the vaccine. Staff and patients appreciated having a familiar and trusted provider vaccinate them, and not having to take time off work to do this."
Katrin (Ekaterina) Dolganova, Care of the Elderly Physician
"It's been exciting to be involved in something so important, so big and so new! Closing the clinics is bittersweet because our team at Providence has found laughter, friendship and comfort in each other during this pandemic. I loved working with colleagues from all medical backgrounds to get the vaccine rolled out as quickly as possible. It has been incredibly rewarding seeing how eager people are to be vaccinated and I am proud to be a part of the vaccine response!"
Tiffany Wu, Operations Leader – Vaccination Clinic
"The Outpatient Pharmacy Team at Providence Healthcare have always enjoyed a strong partnership with the Ambulatory clinics on site.  Given the unprecedented challenges of the pandemic, particularly the burden on healthcare providers, Sean Chai-Chong (Manager) and Ben Choi (Technician) were eager to assist in the vaccination efforts by volunteering as injectors for the onsite COVID-19 Vaccine Clinics.  As the combat against COVID-19 continues as variant strains emerge, the Pharmacy Team is proud to contribute and go above and beyond to make this difficult time more manageable for all staff and patients.  
The Outpatient Pharmacy is especially proud of our Registered Pharmacy Technicians for promptly and successfully obtaining their injection training when Injection Certification was extended to all Technicians; we wish to particularly recognize Ben Choi for being the first and only Technician at Unity Health to be involved in the administration of the vaccine during the COVID-19 vaccination campaign at our clinics."
The Outpatient Pharmacy Team at Providence Healthcare
"We had closed down and cleaned up the vaccine preparation area at a community pop-up vaccine clinic, and a few pharmacy staff were sitting in the community garden outside the community centre enjoying a rest and the nice weather after the clinic had closed.
Someone came by and asked us if they could still get a vaccine; we said we thought there still may be a dose and a vaccinator left so to give it a try, and if not to let us know as we could likely still make up another dose as long as there was still someone there to give it.
About 20 minutes later, we saw the same person leaving, so we asked them if they were able to get a dose. The person had an ear to ear grin and enthusiastically said they did, and that the clinic staff were the best. I told this person they were the best for getting the vaccine.
This experience allowed me to see the benefits of working at a vaccination clinic on a very personal level; since this encounter happened in the community it felt like we had integrated into it, and the smile on that person's face allowed me to see the difference in someone's life you could make by facilitating vaccinations."
Brendan Yeats, Clinical Pharmacist
"I'll always remember being in the clinic on opening day, puncturing the first vial and drawing up the first doses to be administered at St. Joseph's. When the pandemic started everyone felt so powerless, but working in the vaccination clinic had a tangible impact and made me feel like I was making a difference. Looking back, it makes me proud to say that I was involved from day one and have personally prepared thousands of vaccines. I've helped vaccinate family, friends, and co-workers here. Every time I hear about their positive experiences I'm happy that I played a part."
Cailin Sperling, Inpatient Pharmacy Technician
"The feeling is just overwhelming joys when seeing how thankful the clients was after receiving their vaccines whether in the clinic, outreach and in patients. All their expressions are the same. Being part of this COVID-19 Vaccination Clinic at St. Joseph's is a great blessing and a history that my children and great grandchildren will be proud of sharing to everyone and I will cherish this experience for the rest of my life.
The memory that I will remember to look back years from now is the awesome team at the Vaccine Clinic that was formed in 2021 who worked hard to help the communities of west end to fight against COVID-19 by inspiring and educating them to get vaccinated. Receiving massive thank yous from people across all walks of life is just such a great joy in my heart that I thank God forever.
I am proud of this awesome team that I worked with, from the interview phase, orientation and the weekly schedules. Coming to the clinic was such a great blessing. Clients are appreciative to all health care heroes and not stop thank you all days during the clinic hours."
Robina Ranganathan, Registered Practical Nurse/Vaccinator
"I'd like to highlight Julian Harney and Marc Mayayu specifically from the Supply Chain team. Both left their regular roles to take on vaccine delivery roles for our three clinics along with the community outreach locations, (70+ different areas across the GTA). They often worked six or seven days a week to fight this battle, their personal sacrifices and willingness to step up when needed is admirable.
It's rare when an opportunity comes along to truly give back to your community and be part of a shared global initiative such as the vaccine response. It's something that every health-care professional will look back on with a sense of pride and achievement. The one thing the team has said to me is they appreciated how everyone pulled together and worked together on the roll out. Title or position in the organization didn't seem to matter, all ideas were welcome and each person's opinion and piece of the puzzle was equally important to make sure the clinics ran smoothly.
An example would be working closely with the pharmacy techs on weekend deliveries to pop-up clinics, sometimes they had to be turned around in less than an hour, but the teams pulled together to make sure each clinic had what they needed when they needed it.
The team has repeatedly stressed they are proudest of the fact they showed up every day to do the work. If it was 6 a.m. or 8 p.m., the team knew what needed to be done and did it with pride and a sense of purpose. Hopefully we never have to go through this again but if we do the Unity Health team is as prepared as any to meet the challenge."
Brian Duffy, Logistics Manager
"Looking back, it was a whirlwind experience – from the direction just before Christmas of the need to create the clinic to opening up to the first clients a short three weeks later. Just thinking back about the whole process and the impact that it has had on our hospital and our community gives me goosebumps. I was honoured to play a leading role in the setup of such a transformative milestone in this pandemic.
The collaboration amongst people from across the network to get everything pulled together successfully was an incredible feat. It was the debrief meeting on Zoom after day one, Saturday, January 9 – everyone who had played a part in setting up the clinic or running that first day jumped on a call at 6 p.m. to talk about what worked and where the opportunities were for improvement. Even though it had been a very long day, one that had followed an extremely intense week, we wanted to get that feedback as quickly as possible to implement any needed changes. And though you could see how tired everyone was, the joy and the sense of accomplishment and all around comradery on every one of our faces was unmistakable and unforgettable. I'm literally tearing up as I write this.
On top of the initial construction and set up of the clinic, one thing that I'm proudest of is the wall of art that I installed after receiving hundreds of submissions from students in our local schools, along with members of our community. To liven up the space we requested messages of thanks and images of hope and inspiration to adorn the walls. The result was a beautiful collection of artwork that those attending the clinic could look through while waiting for their turn to be vaccinated."
Gillian Brunning, Project Manager II Redevelopment
"Working at St. Joseph's as a vaccination nurse during the pandemic was an experience that I will never forget, and is a memory that I will cherish forever. From working with amazing coworkers who felt like family, to meeting wonderful clients at our hospital and in the community all across the city, I am both honoured and proud to say that I was part of the fight against COVID-19."
Sofia Paravalos-favrin, Vaccination Clinic Registered Practical Nurse
"It has been an absolute privilege to be part of this heroic effort. As a team, we had to be strong, adaptable, equitable, kind, compassionate and empathetic. Navigating vaccines was a challenge for so many people and our team approached each encounter with a genuine desire to make it as easy as possible for everyone. 
What stands out the most is the kindness that people showed our team. So many people were grateful for the work we were doing and their kind words and genuine appreciation will stay with me forever.
I am most proud of this team of exceptional individuals who worked within the vaccine clinic. No day was the same, experiences ranged from weathering the days of limited access to the days of vaccine abundance. We supported one another in tough moments, we showed caring and compassion in each outreach and we never stopped trying to find ways to increase vaccine uptake. If a clinic or group couldn't come to us, we'd go to them.
Even in our last week, we closed out with two pop-ups and two outreach to community housing and shelters. The dedication of this team was clear and never waned from the day we opened.  I think I speak for all of the team when I say that we will forever remember not just the impact that our team had in the vaccination efforts, but in how we accomplished what we did. We did it together with a group of people who are now not just colleagues, but also friends."
Dana Whitham, Clinical Leader Manager of the St. Michael's COVID-19 Vaccine Clinic
"It was a very rewarding experience to be able to be a part of the vaccine clinic at St. Michael's Hospital. The experience I had working as a student in the clinic and then eventually becoming a registered pharmacy technician has made me appreciate this experience so much more. It was an honour to be part of a team consisting of many different health care professionals who work tirelessly to bring the best care to the community during such a difficult time.
Being able to be a part of the pop-up clinics and meeting different people from all walks of life will always be very memorable to me. As health care professionals, it is a no-brainer for many of us to want to get vaccinated. In one particular event, a person came back three times just to walk away because they were hesitant on getting the vaccine. Ten minutes before we closed, that person returned and got the first dose! This experience has shown me that our jobs are not only to provide a safe place for people to get vaccinated, but also provide them reassurance and hope.
Being in the clinic everyday puts into perspective how lucky we all are to have health care professionals that put patients first. I wish I could name every technician, pharmacist, clinical and non-clinical staff who contributed to this remarkable effort, but the list will be never end. The truth is, every single one of them went above and beyond to not only ensure everyone gets vaccinated efficiently but they all handled everyday operations with a with smile on their face regardless of the circumstance. It is their efforts and their sacrifice that our community will always remember and I feel so proud and honored to be able to work and learn from them."
Jennifer Chan, Inpatient Pharmacy Technician
"It has been a truly wonderful experience to be part of the team fighting against COVID-19. I was honoured to be able to give back to the community and be part of the solution. The staff at the vaccine clinic came from varied backgrounds and everyone worked extremely well together, with many new friendships formed from this experience.
One memory that I will recount for years to come was being part of the Toronto Vaccine Day at Scotiabank Arena. It was a tremendous opportunity to be part of history where we set a North American record in vaccinating the most people in one day. The positivity and energy at the venue was incredible.
I am proud of being part of a such a tremendous team working towards making everyone safe. It felt great knowing that I was contributing to overcome one of the greatest health crisis of our generation."
Rose Pantalone, Vaccination Clinic Registered Nurse
"Being part of the team in the vaccine clinic has been one of the most amazing experiences in my 16-year career at St. Michael's. I was involved in the clinic at the hospital and was able to be part of the group that went to the community pop-up clinics. I am so proud of the Pharmacy team and how we came together to provide such an important service to the hospital and community.
One memory that I reflect on often is working at the Woodbine pop-up clinic in the spring. It was a time when vaccines were not readily available and people would line up for hours just to get a dose. I was the team lead for the vaccine preparation group. In order to keep up with demand, we needed to prepare 300+ doses an hour. The pace was quite intense but we managed to work as a team to keep up. One day we prepared over 3,200 doses! Seeing the line of people waiting to receive the vaccine and the look of relief on their faces afterwards made the experience quite memorable.
Every person involved went above and beyond to ensure anyone who needed a vaccine would be able to get one. It was such a great experience working with other health care workers with one common goal. I am proud to be part of Unity Health and the pharmacy team. As a Registered Pharmacy Technician I would have never thought I would be adding mass vaccine preparation to my list of skills but here we are. I am looking forward to moving on from COVID-19 and vaccines but will always remember this challenging time and equally rewarding time in my career."
Melissa Hyde, Lead Pharmacy Technician
"It has been an honour and a privilege to be able to call myself the Operations Leader for the COVID-19 Vaccination Clinic at St. Michael's. It has been amazing to work alongside a team of allied health-care professionals from various different backgrounds to aid in the fight against COVID-19. For many individuals, this vaccine represents a light at the end of the tunnel and it has been very rewarding to contribute to that. From our mobile vaccination outreaches, to community pop-up clinics, inpatient vaccination efforts and driving vaccines into the arms of many in our hospital clinic, this has truly been a remarkable effort to combat the pandemic.
One memory I will remember for years to come includes when we modified our clinic one afternoon for a small group of adults with special needs and their family members. Our team was able to come together and deliver a positive experience for many individuals that typically face numerous barriers in clinic settings.
I am proud of my team members and how we have all grown together throughout this experience. Rolling out the vaccines has posed many challenging situations in regards to being equitable in vaccine distribution. This role has certainly required thick skin, conflict resolution, compassion, patience and strong communication skills that we have all been able to foster and improve upon further."
Savanah Mian, Operations Leader, Vaccination Clinic
"There are few opportunities where it feels like you can make an impact and contribute to work that has a greater (if not global) sense of purpose. Being part of the COVID-19 vaccination rollout is one of those experiences. I felt like I was making a tangible difference in the lives of individuals within our community and across the city. Through our hospital, pop-ups, and community sites we have administered more than 300,000 vaccine doses. Only now as we wind down, do we truly get to take a moment to appreciate the magnitude or our efforts.
One memory that will stick with me forever is the excitement around releasing new appointments weekly to the public and watching spots get booked within minutes. It was mind-blowing to see how many people were relying on this system and looking for vaccines as a means to return to normalcy. To those people, a vaccine meant being able to hug your family and friends without fear. I'm lucky to have helped play a role in making that possible.
Seeing my friends and family book vaccines appointment through a tool that I personally helped design and enable, not only at our site but across the province, was an extremely proud moment for me. This was made possible by working with such a varied and committed group of individuals both across the organization and external to Unity Health. There were days when we had to move mountains and pivot on a dime. This was an incredible learning experience and one that I'll never forget."
Alexandra (Lexie) Brand, Project Manager
 "Each week releasing vaccine appointments, particularly when supply was constrained, is something that sticks out for our team. New appointments would always bring a multitude of emails and social media messages to our team and we're proud of the efforts we made to work quickly to find answers and help address some of the frustration and desperation the public was feeling.
We are very proud to have contributed to a total team effort in getting our communities vaccinated. While our team does not work on the frontlines, it felt good to know we were contributing, if even in a small way, to helping people find our vaccination clinics, book appointments, find their way through our clinics, etc. with the communications materials we helped to produce.
We're also proud of how working on this rollout brought our team closer. With so many elements to communicate, we came together and often felt like we were working as one. We are proud to have been part of something bigger than ourselves and proud to have done it together."
Robyn Cox, Ana Gajic and Danielle Pereira, Senior Communications Advisors
"Surreal. That is how I would describe my feelings towards being part of this effort. Twelve months ago, I would not have thought that we would have a vaccine against COVID-19 this quickly, let alone been part of the vaccination team to help vaccinate majority of Toronto's population. Our team banded together from all different departments in the hospital and external hires from completely different fields. We were able to form a strong cohesive team to vaccinate hundreds of patients everyday across the city, working at the main site, shelters and pop-ups. Not a day has gone by where I did not think about how grateful I was to be part of this effort – it truly has been the privilege of a lifetime.
The outreach work that Unity Health has done has been the most special. I will always remember how Unity Health made the extra efforts to support low-barrier vaccinations and facilitate vaccines to vulnerable populations that had been further marginalized by the pandemic and how as team we tried to breakdown the barriers and address vaccine hesitancy every single day.
I am most proud of our efforts to vaccinate Toronto's most vulnerable and marginalized populations. Our team worked with shelter and housing sites across the city to try and provide low barrier vaccinations and over 5000 doses later, I can confidently say we did just that! Working with these populations and staff from these sites to provide vaccines in a respectful and inclusive manner is something that will stay with me for the rest of my career."
Bianca Chauhan, Operations Leader Vaccination Clinic
By: Danielle Pereira, Ana Gajic and Robyn Cox; Video By Katie Cooper and Yuri Markarov