Ten great things that happened this week
July 29, 2021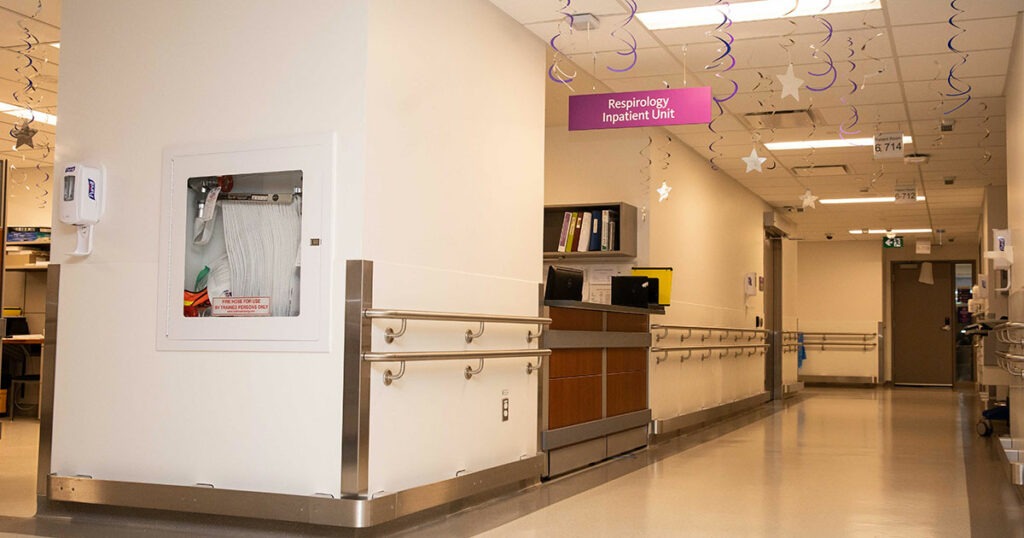 Each week, we're sharing a list of 10 great things that happened at our sites. Do you have a story you'd like to share? Send it to communications@unityhealth.to.
1) Unity Health delivers more than 300,000 doses of the COVID-19 vaccine
More than 300,000 vaccine doses have been delivered in our community by Unity Health's incredible Team Vaccine. Thank you to the West and Downtown East Ontario Health Teams, community providers and our staff and physicians who helped us achieve this milestone. The work continued this week as we supported the Shopping Mall COVID-19 vaccine clinic at CF Toronto Eaton Centre and walk-in Neighbourhood COVID-19 vaccine clinic at Woodbine Racetrack.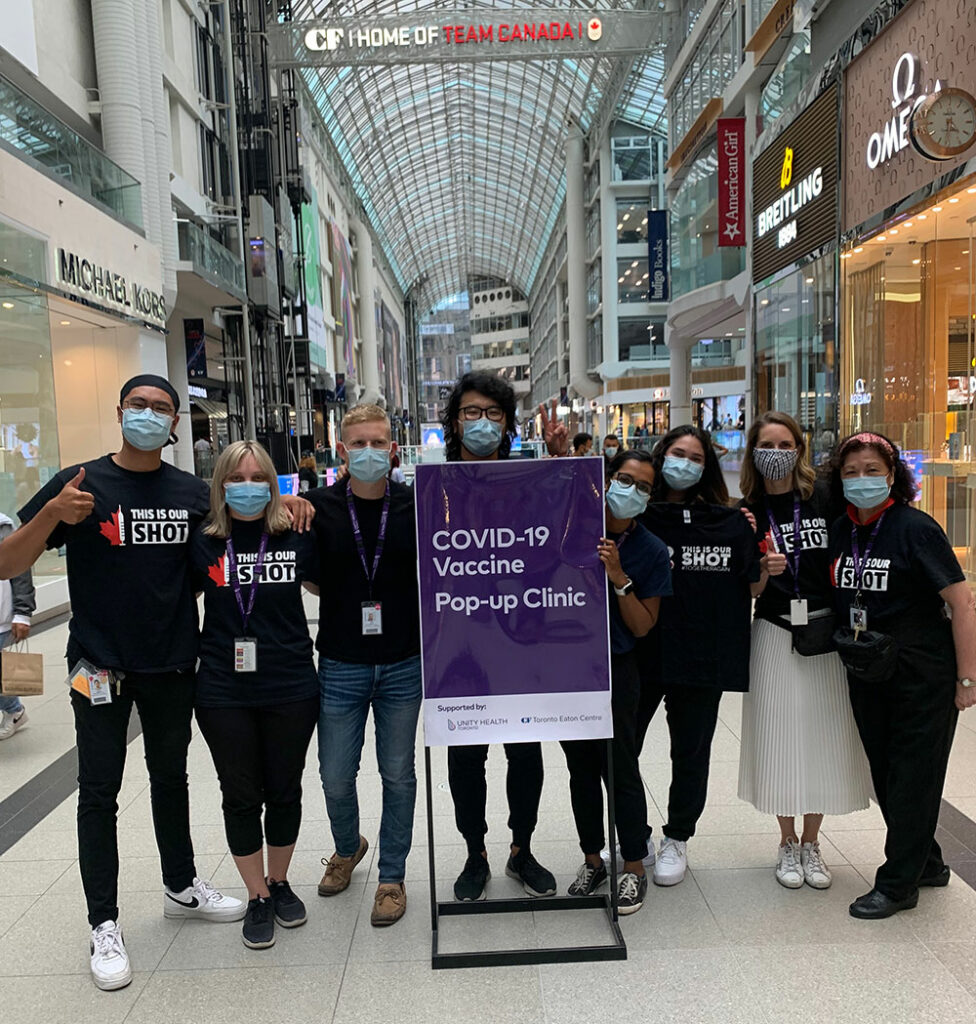 2) We announce the upcoming closure of our COVID-19 vaccine clinics
With high vaccination rates across Toronto, the COVID-19 vaccination clinics at St. Michael's, St. Joseph's and Providence will have their final day of operations on Friday, July 30. The closure of our clinics will mark another significant step towards pandemic recovery. First and second doses will continue to be available in our community through our Ontario Health Team partners, the provincial booking system and participating pharmacies. Read more.
3) The St. Michael's Respirology Unit moves into the Peter Gilgan Tower
Last month, the Respirology Unit made its highly anticipated move to the sixth floor of the Peter Gilgan Patient Care Tower. Patients staying in the unit have access to private rooms with a full bathroom, fridge and exercise bike – all situated in a brand new space with wide corridors, big windows and equipment to support safe infection control practices. Emily Gray, a Respirology patient, shares her thoughts on the recent transition to the Peter Gilgan Patient Care Tower. Read more.
4) Unity Health supports students pursuing a career in Spiritual Care
Five students from the Toronto School of Theology at the University of Toronto recently completed a unit of Clinical Pastoral Education (CPE) through Unity Health's Spiritual Care Department. This education is a requirement for individuals wishing to pursue a career in professional Spiritual Care. Students were placed across our three sites, marking the first time the CPE has been offered at Providence. Join us in congratulating the students on their progress and thanking the Spiritual Care team for their leadership and support.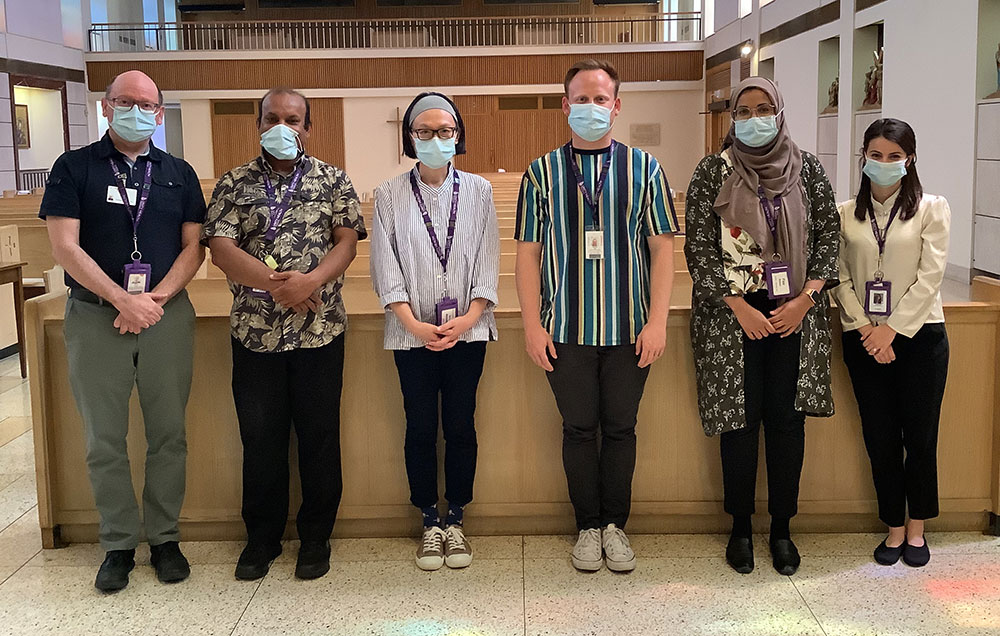 5) Three Unity Health experts share their thoughts on the powerful opioids entering Toronto's street drug supply
Toronto's street drug supply is being increasingly contaminated with new "ultra-potent" opioids, according to data from the Centre on Drug Policy Evaluation. Karen McDonald, Dr. Daniel Werb and Dr. Daniel Beriault discuss the findings and Toronto's overdose crisis with the Toronto Star and the Investigative Journalism Bureau. They also spoke with CBC News, Global News Morning Toronto and Global News.
6) We spotlight Dr. Jane Batt as part of our Behind the Mask series
After working through the HIV epidemic and SARS, Dr. Jane Batt, Respirologist at St. Michael's and a Scientist in the Keenan Research Centre for Biomedical Science, said, "I vowed never, ever to walk away from a sick person regardless of what they had." During the pandemic, she is particularly concerned about what is happening with young people. Read her story #BehindtheMask.
7) We reveal new items from the St. Joseph's 100th anniversary time capsule
Twenty-five years ago, staff and physicians from St. Joseph's sealed a time capsule to be opened during St. Joseph's 100th anniversary. This month, we share some of the new items, which includes computer accessories from 1996 and photos of what St. Joseph's looked like 25 years ago. Take a look.
8) Dr. Sean Rourke publishes study on increasing HIV testing rates in Canada
Research led by Dr. Sean Rourke found that introducing a regulatory-approved self-test into the Canadian HIV testing landscape could significantly increase HIV testing rates. The cross-Canada clinical trial was led by REACH Nexus and tested the INSTI rapid HIV self-test. The results provided Health Canada with the data required to license the device in Canada. Read more about the study.
9) Dr. Prabhat Jha speaks to the Associated Press about Canada's high vaccination rate
With over 70 per cent of Canadian adults receiving at least one dose of a COVID-19 vaccine, Canada has among the world's highest vaccination rate. Dr. Prabhat Jha says the country's purchasing power to procure vaccines helped make this possible. Read more in the Associated Press.
10) St. Michael's Academic Family Health Team explores caregiver burnout, gaps in care, and COVID-19
In a new case study published in Canadian Family Physician, members of the St. Michael's Academic Family Health Team explore the disproportionate impact of COVID-19 on families and caregivers of individuals with autism and intellectual disability. Read more.
Previous Ten Great Things articles