Ten great things that happened this week
July 08, 2021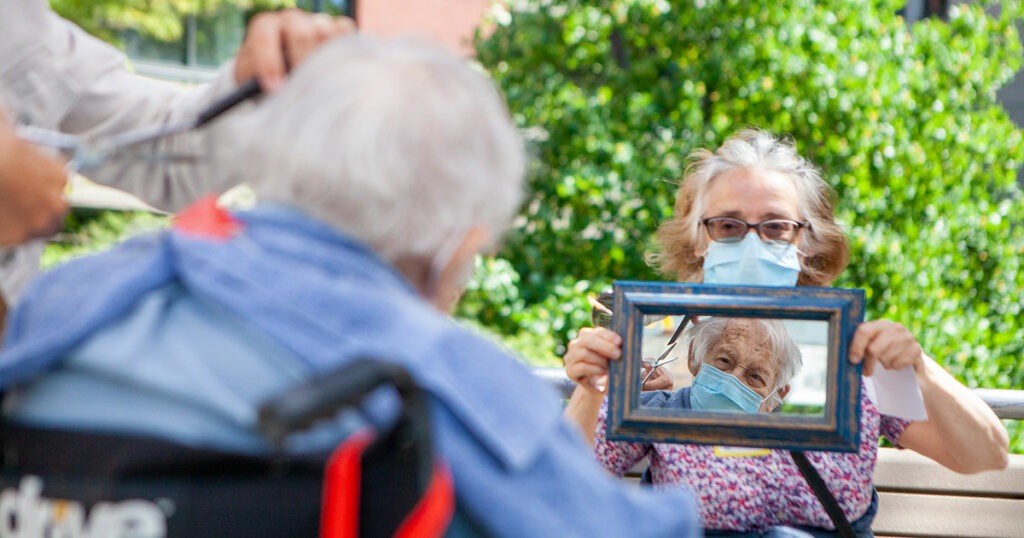 Each week, we're sharing a list of 10 great things that happened at our sites. Do you have a story you'd like to share? Send it to communications@unityhealth.to.
1) Providence welcomes essential visitors back
For some families, it has been months since they have met face to face with their family members and loved ones. While virtual visiting has helped bridge the gap and bring some comfort, a screen cannot replace the experience of seeing someone in person. In June, Providence began allowing outdoor visits with essential visitors. Take a look as residents and patients like Veronica Bergl and Gareth Evans reunited with their loved ones.
2) We spotlight how Unity Health teams are improving resident care with home-grown research
During the pandemic, the Houses of Providence were dealing with heightened resident stress and anxiety. Dr. Ashley Verduyn, Medical Director at the Houses of Providence collaborated with Dr. Jennifer Watt, a Unity Health geriatric researcher, and apply her findings to improve resident care at the Houses. Staff were able to improve resident well-being and decrease the use of anti-psychotics. Read more.
3) We celebrate Unity Health researchers who are part of June's Research Honour Roll
Every month, researchers across Unity Health Toronto celebrate important honours, achievements and awards. Read more about our researchers who were recognized in June.
4) St. Michael's marks its 129th anniversary
129 years ago, St. Michael's Hospital officially opened its doors to the public. Founded by the Sisters of St. Joseph of Toronto, the original hospital consisted of a one-room emergency, a simple outpatient's clinic and 26 beds. The leadership team included Mother de Chantal McKay, the first superior (President/CEO) of St. Michael's, and Dr. Robert J. Dwyer was the first medical superintendent of St. Michael's. Learn more about St. Michael's history.
5) We spotlight Michelle Diego as part of our Behind the Mask Series
When the pandemic began, Registered Practical Nurse Michelle Diego was very anxious and afraid, but her perspective changed after she recovered from COVID-19. "When I heard about a COVID-19 unit opening at Providence, I wanted to join the team. Something changed in me and I wasn't as scared anymore." Read her story #BehindtheMask.
6) Dr. Ripudaman Minhas bridges cultural divides with Punjabi Kids' Health
Punjabi Kids' Health is an online resource for parents of South-Asian descent for culturally adapted children's health content. Pediatrician Dr. Ripudaman Minhas spoke with Desi News on why he started the promotional health campaign.
7) Sally Yousef shares why she got the COVID-19 vaccine
Sally Yousif, a Pharmacist at Providence, got her COVID-19 vaccine in hopes of being able to hug her loved ones again. "Last year in April, my grandma passed away. I was not able to be with my family and be there for my dad. I never thought that I would not be able to spend time with my dad and comfort him – just be there for him," she says. Read her story.
8) Dr. Tara Kiran discusses how family doctors can help boost vaccination rates
Family doctors in Ontario will soon have access to a tool that will provide them with information on which patients have been vaccinated against COVID-19. Dr. Tara Kiran says these changes will help family doctors find those who may be falling through the cracks. "If we're each just catching a few of these people who, for lack of a better term have been left behind, every week, then that gets us closer to the 90 per cent," she told the Toronto Star.
9) We highlight recent studies and reviews led by Unity Health researchers
A study led by Dr. Michael Cusimano and published in Frontiers of Neuroscience explores the role of growth hormone in depression, focusing on patients with Acromegaly, a condition that causes enlarged hands, feet, head and face. A review led by Dr. Andrea Tricco and the Knowledge Translation team examined the efficacy and safety of ultra-long-acting, long-acting, intermediate-acting, and biosimilar insulins for Type 1 Diabetes. They hope the results can be used to tailor insulin treatment according to the desired results of patients and clinicians. Read more in the National Library of Medicine.
10) Dr. Jonathon Maguire shares how he incorporates parent and family voices in his research
As the Lawson Chair in Patient Engagement in Child Nutrition, Dr. Jonathon Maguire has established a patient and clinician team as part of TARGet Kids! research. This team ensures child health and nutrition research is relevant, accessible and led by families across the GTA and beyond. Learn more in this University of Toronto feature.
Previous Ten Great Things articles