Not your average hospital food: At Lakeside Cafe, the menu is anything but bland
Meet the team who keep St. Joe's staff coming back for seconds. Story and photos by Katie Cooper.
June 29, 2021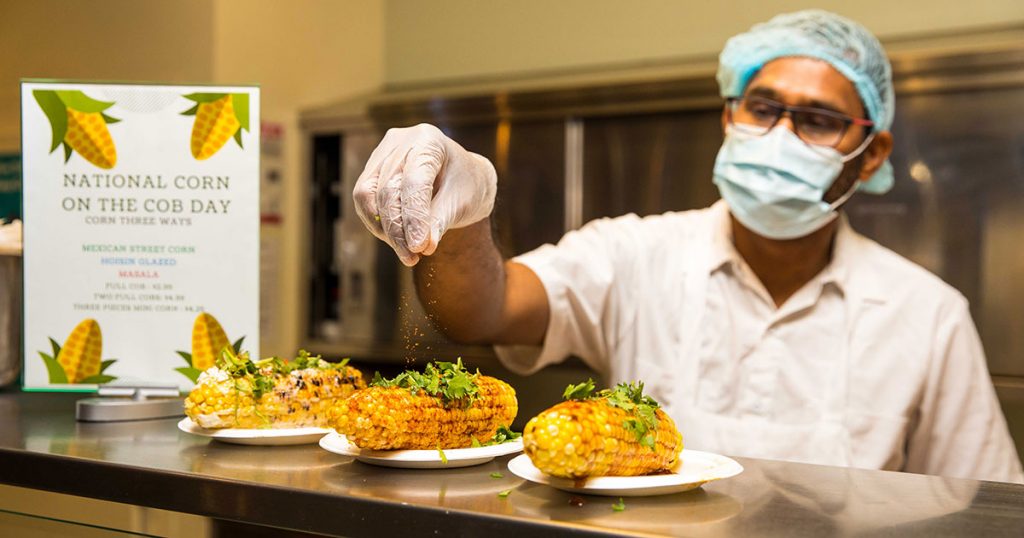 Lakeside Cafe at St. Joseph's is one of the last hospital cafeterias in Toronto where all employees are on staff — most hospitals rely on a food court model or contract out their food services.
The team of 16 is serious about that distinction. From special holiday menus to fish taco Thursdays, they are always dreaming up new menus that reflect the diversity of the workforce and the community they serve, from el chavito sandwiches to Portuguese chicken to West Indian doubles. During the height of COVID-19 the cafe created family take-home meals for staff, recognizing the challenges they faced getting groceries. Other events include National Corn on the Cob Day, pictured here.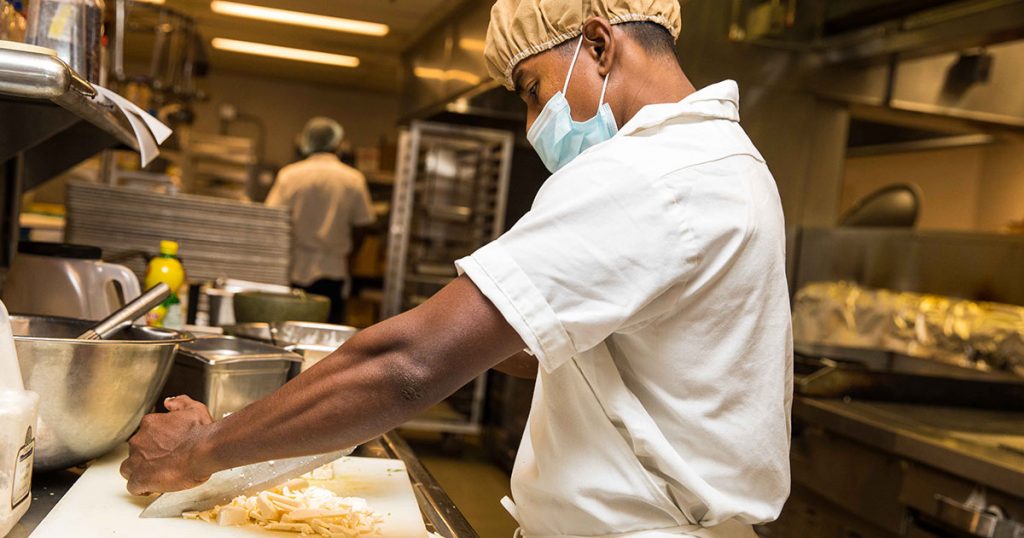 Kitchen staff begin their day as early as 5:30 a.m. to serve breakfast by 7:15 a.m. — the breakfast sandwiches are a staff favourite. Lunch is ready at 10:30 a.m. with the rush hitting around 12:30 p.m. "On fish taco day it's pretty much a rush the entire time," says Manager Dayalan Thevathasan. "We easily go through 200-300 orders." Lakeside often takes feedback from customers for new dishes to add to their roster. "One of the great things about us is that we don't have to stick to corporate menus. Every week our menu is different and that's what I love."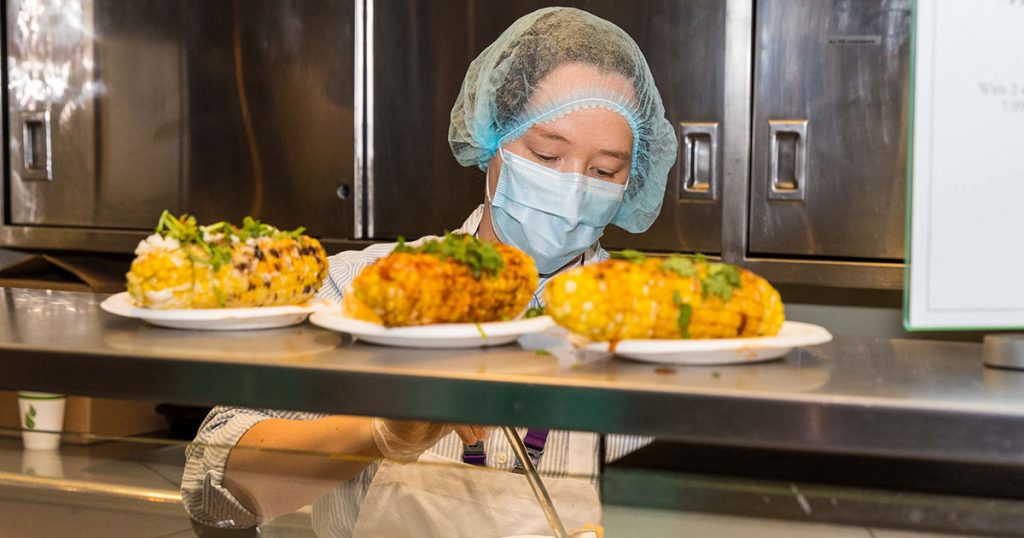 The staff is always looking for ways to spice things up, celebrating national holidays and cultural events through food. This month, Food and Nutrition Management student Jenna Poole, shown above, created the menu for National Corn on the Cob Day. "We decided to do corn three ways – Mexican street corn, Indian masala corn and Asian hoisin glazed corn. I like working here because everyone is really great, very friendly and helpful. It's a nice community feeling."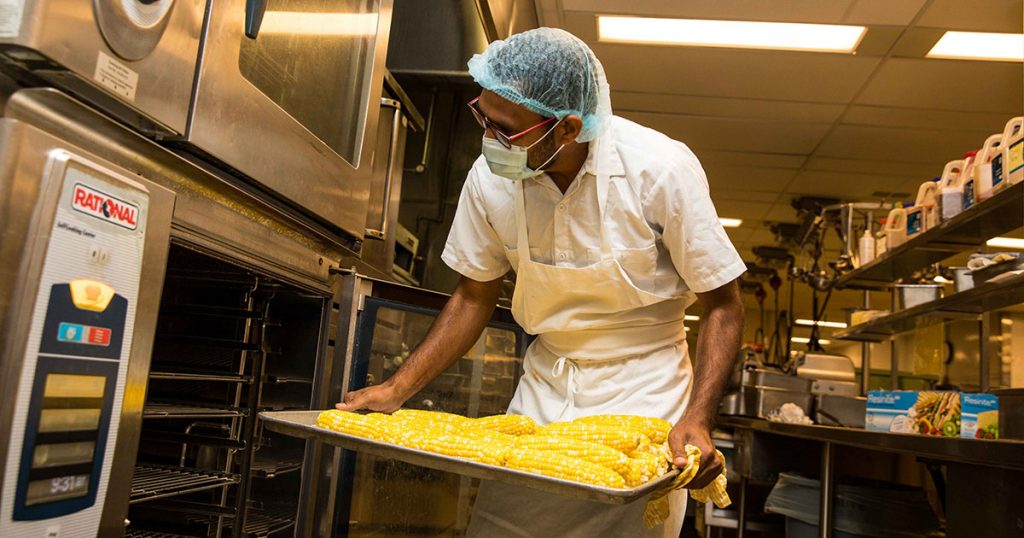 "Our other specials today are butter chicken and crispy lemon baked fish with mango salsa," says Mukesh Patanwadia, shown above. He has been baking, grilling and sauteing as a cook at the Cafe for five years. "This is one of the best places I've ever worked. The management and the team as a whole are really awesome. My favourite thing to eat here is the pizza, we make it very fresh."
The cafeteria has many devoted customers among St. Joe's staff. "Today I ordered the fish with mango salsa and the Mexican corn and I've been looking forward to this all week," says Lucy Boadway in Diagnostic Imaging, shown above left. "I buy lunch here 2-3 times a week. I like how the food is all international and very fresh."
Brian Dearden, above right, from the COVID Screening Team agrees. "I eat at the caf every day I'm at work," he says. "You can't beat the price and every single special they have is delicious."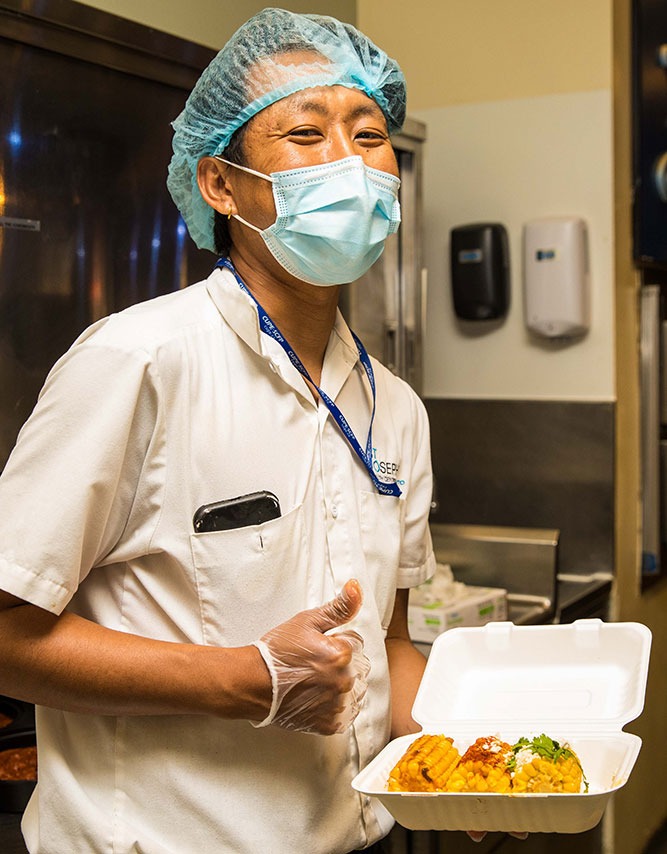 The team includes a manager, cook, baker, servers, dishwashers, and cashiers. "What I love the most about working here is that it doesn't feel like work," says Pema Dorjee, a dietary aide and cook who helps with serving shown above. "I'm always learning something new and I feel like part of a family. My manager Dayalan is one of the best. He's very calm, cool, and collected. We're always busy and I don't know how he does it, he never falls under pressure."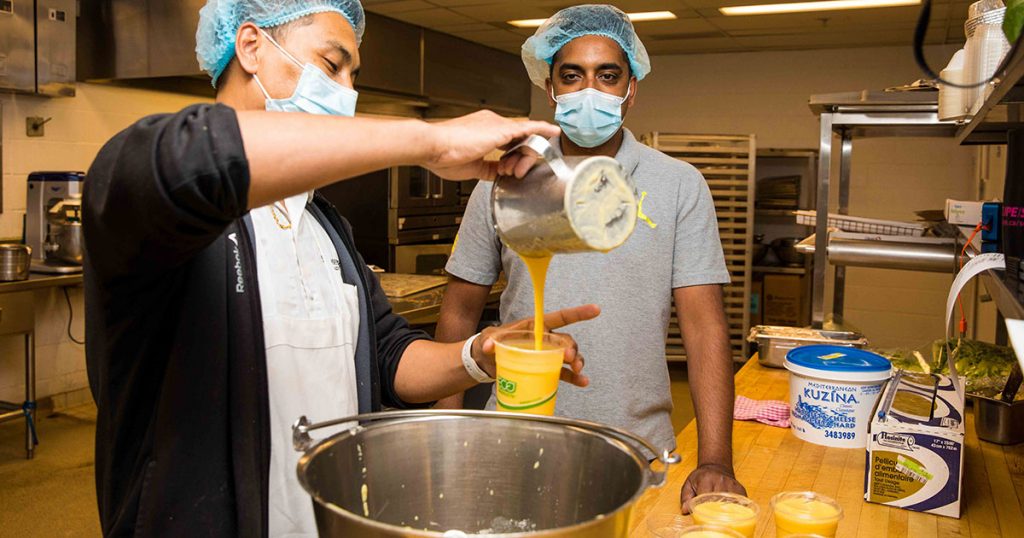 Dayalan, shown on the right, has been working at the Health Centre for 21 years.
"I love my job, but more than that I love the team that I work with and the people throughout the health centre," he says. "I've made a lot of friends over the years."
Loyalty to Lakeside Cafe extends beyond the hospital walls. "Pre-COVID we had 3 or 4 regular customers from the community that would come just about every day for lunch. One lady would sometimes come for breakfast as well. We definitely miss her and hope things open up soon so we can have her back."