News Makers: Week of June 19-25
June 25, 2021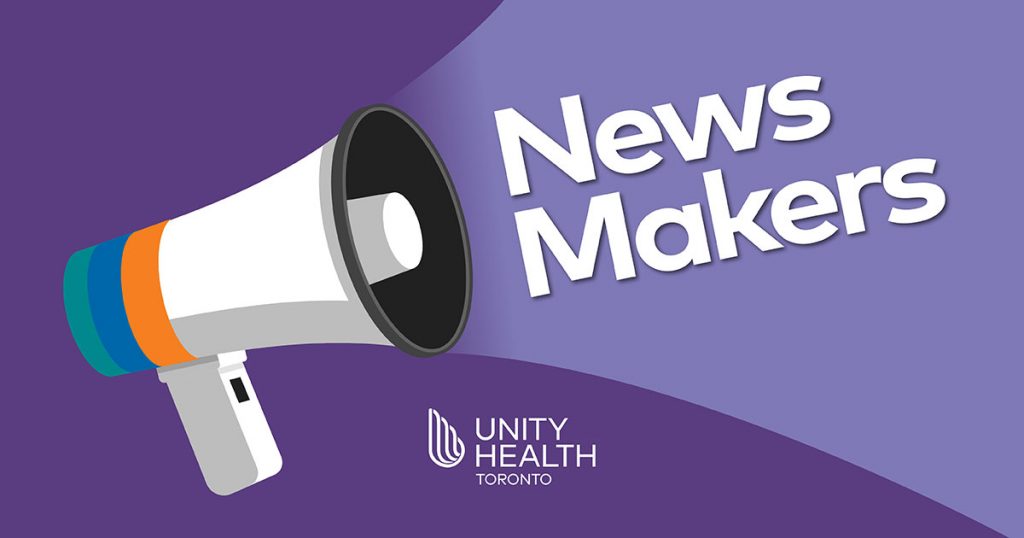 Each week, journalists turn to Unity Health Toronto's experts and programs to help make sense of our world. In case you missed it, here's a recap of the headlines for the week of June 19-25.
'Staggering disparity': Study finds Indigenous people travel farther to give birth
Global News on June 21, 2021
Feature of research led by Dr. Janet Smylie
Indigenous people living in rural Canada are 16 times more likely to travel long distances — sometimes hundreds of kilometers more — than non-Indigenous people to give birth, according to a new study. The findings, published June 21 in CMAJ, were found through a review of data from a federal survey on maternity experiences in Canada. The results of the review, which included 3,100 mothers living in small and rural towns across Canada, revealed a staggering disparity between the experiences of those across several different communities — that 23 per cent of Indigenous women had travelled 200 km or more to give birth compared to only two per cent of non-Indigenous. "I knew there would be a disparity, but I never imagined that the disparity would be so extreme, particularly since we weren't including First Nations women on reserves," says Dr. Janet Smylie, who is Métis-Cree and is a family physician at St. Michael's Hospital and the lead author of the study.
Expansion plans to Providence Healthcare include quality of life
The Catholic Register on June 25, 2021
Feature of Providence Healthcare's Campus of Care; interviews with Melissa Morey-Hollis, Dr. Ashley Verduyn
Adding 180 new long-term care beds and a whole new building to Unity Health Toronto's Providence Healthcare site is just the beginning of the hospital's plans for seniors in Toronto's east end. "It's a little bit bigger than just the beds," says Melissa Morey-Hollis, Providence's vice president of clinical programs. "It's really about creating a system that helps to support people to live in place and to age in place." The new long-term care building adding 180 beds to Providence Healthcare's existing 288 is part of a provincial plan to add 30,000 new long-term care beds by 2028, and to upgrade another 15,918 existing spaces that were built to standards set in the early 1970s. Given Canada's rapidly aging population, the mere addition of beds won't come close to meeting the health care challenge, says Providence chief and director of medical affairs Dr. Ashley Verduyn. "The government really does need to step up and enhance home care and enhance programming, to really help our population, our seniors to really have the best quality of life wherever they choose to live," she says. "A lot of our vision will also support healthy aging at home," adds Dr. Verduyn. "Most seniors actually want to stay at home."
How long will immunity to COVID-19 last after vaccination? Study offers clues
The Globe and Mail on June 20, 2021
Feature of research led by Dr. Prabhat Jha
One year ago, thousands of Canadians were eager to sign on to the country's first large-scale study of COVID-19 prevalence and immunity. Led by Prabhat Jha, an epidemiologist at the University of Toronto and Unity Health Toronto, the study sent out test kits that asked participants to prick their fingers and mail back the dried blood spots for testing. Dr. Jha had been eager to collect samples from participants before their antibody levels waned. At that point, the large-scale testing methods that the study required were still being developed. Dr. Jha's results suggest that no more than 2 per cent of Canadians had COVID-19 by last September, including asymptomatic cases. On June 18, Dr. Jha released results from the second phase of his study, which found that after the second wave of the pandemic about 5 per cent of Canadians had been infected with COVID-19. The question now is how long vaccine-induced immunity will last relative to immunity acquired through direct exposure to the virus. In the third phase of his study, set to launch this month, Dr. Jha says he hopes to get at this question and inform the discussion about when vaccine booster shots may be needed.
Dr. Jha's own immunity odyssey took an unexpected twist last month when he travelled to Sierra Leone to help set up a COVID-19 surveillance study in the West African country. Despite having had two doses of a vaccine, he was surprised to discover that he had an active but asymptomatic case of COVID-19, which was flagged during routine testing on his return trip. We may not be able to eliminate COVID-19 entirely in the years ahead, but the immunity that we acquire through vaccines can still turn a mortal danger into a non-event.
'Extremist' hatred reveals Canada's darker, unsettling narrative
Toronto Star on June 21, 2021
Opinion piece co-written by Dr. Fahad Razak
After a horrific terrorist attack killed four members of a Muslim family in London, Ont., two competing narratives emerged, writes Dr. Fahad Razak, internist at St. Michael's Hospital and co-author Dr. Lisa Berkman. One was shock at these events: people asked, how could this happen in Canada? This is not the Canada we know. But there was another darker, unsettling narrative, they write. A lack of surprise. A weary sigh. A recognition that these murders built on other forms of racism and hate, sometimes overt but often subtle. This past year has only highlighted Canada's dark underbelly of anti-Asian racism, antisemitism, and ongoing horrors in the ways our Indigenous and Black populations have been treated, they say. There is no easy solution to the problems of prejudice. But when these horrific attacks occur, whether it's a truck barreling into a family taking a post dinner stroll, or the slaughter of men praying in a mosque, let us not be surprised. These events, though extreme, tell us something about ourselves, they write.
Canada needs new rules now for fully vaccinated people
The Globe and Mail on June 24, 2021
Opinion piece co-written by Dr. Fahad Razak
After a slow start, Canada leads the world for administering at least one dose of a COVID-19 vaccine, with roughly two thirds of the population partially or fully vaccinated, writes Dr. Fahad Razak, internist at St. Michael's Hospital, and co-authors Dr. Nathan Stall and Dr. Andrew Morris. With Canada receiving millions of vaccine doses a week, hundreds of thousands of individuals are now receiving their second doses daily. In spite of this, the Public Health Agency of Canada has determined that they will not issue any distinct guidance for the fully vaccinated until the fall when cases are lower and two-dose vaccine coverage is higher. They have only recommended lifting restrictions for everyone at once based on population-level vaccination metrics that move us closer to herd immunity. While 88 per cent of Canadians are now willing to receive the COVID-19 vaccine, we need to incentivize everyone to receive the vaccine as soon as offered, they write. One crucial strategy is to show them how life will change with vaccination. Now more than 15 months into the COVID-19 pandemic, and with widespread access to incredibly effective vaccines, Canada should be less blunt and population-based in its application of public health restrictions, they argue. This should start with individual guidance for the fully vaccinated.
Sex-based research needed to explore post-menopausal bleeding after vaccination
Global News on June 22, 2021
Interview with Dr. Eliane Shore, Dr. Tali Bogler
Worldwide, thousands of women have reported menstrual changes post-vaccine, but still only a small handful of research exists on the topic. According to gynecologist Dr. Eliane Shore of St. Michael's Hospital, post-menopausal bleeding can be a sign of something more serious. "Post-menopausal bleeding is not normal and it should be assessed by a health-care practitioner," she says, adding causality can be hard to define. "Maybe there is something with the vaccine … but also women and people, in general, may be highly vigilant after the vaccine and are reporting things that may have happened anyway." Dr. Tali Bogler, the chair of family medicine obstetrics at St. Michael's Hospital in Toronto, says the irregularities may be attributed to the body's short-term immune response. But, she explains the same cannot be said about women in menopause. "In the post-menopausal case, there isn't a good plausible biological reason why the vaccine would cause bleeding," she says. Both Drs. Bogler and Shore agree the lack of studies on COVID-19 vaccines and women is disappointing. "We haven't applied a sex-and-gender lens to a lot of our public health policies," says Dr. Bogler. In fact, while there are studies taking place in the U.K. and U.S. on menstrual changes after a COVID-19 shot, there are none in Canada, she adds.
AI tool 'fundamentally changes the game' for ICU care
Healthy Debate on June 22, 2021
Feature of CHARTwatch
CHARTwatch is an Artificial Intelligence-driven tool that looks at 100 different variables in a patient's chart, including lab results and vital signs, and determines whether the patient is at a low, moderate or high risk of needing ICU care. Dr. Muhammad Mamdani, vice president of Data Science & Advanced Analytics at Unity Health in Toronto, led dozens of people in developing the tool and then rolling it out at St. Michael's Hospital last summer. The program now monitors all patients in the hospital's internal medicine unit. The team chose the intensive care unit because patients in this unit often have serious health issues involving more than one organ. "We're already seeing quite a few cases where the algorithms picked up problems the clinicians have missed," he says. One of the keys in making CHARTwatch a successful learning health project is the involvement of front-line physicians and nurses from the outset. "What usually happens in a research project is you develop the scientific tool, and then you figure out the implementation afterward," says Dr. Amol Verma, an internal medicine doctor and scientist at Unity Health's St. Michael's Hospital. "But because we involved the people who would be using the tool from the outset, it really informed the development of the tool."
Artificial intelligence is changing medicine as we know it
Toronto Star on June 22, 2021
Interview with Dr. Karen Cross, Dr. Muhammad Mamdani
If the COVID-19 pandemic has revealed anything, it's that health care and hospitals are in desperate need of new ways to get help to the people who require it most. An increasing number of medical professionals are turning to artificial intelligence (AI) — machine learning that has massive potential for triage, diagnosis and treatment applications in health care. The ability of AI to predict is part of what makes it such a valuable strategy in health care, proponents say. Not only can it predict the development of a disease or the worsening of a wound, but it can also help in the general operations of a hospital as well. Dr. Muhammad Mamdani, vice president of data science and advanced analytics at Unity Health Toronto, and his team have developed platforms using AI to plan for care at St. Michael's Hospital that are doing everything from managing staffing levels to prioritizing care for acute cases in the emergency department. Dr. Karen Cross, a plastic and reconstructive surgeon at St. Michael's, developed a mobile health platform that uses near-infrared light combined with AI to assess tissue health. The tool – now awaiting approval from Health Canada – is portable enough for people in rural communities and those who have challenges accessing health care. While you can't replace the intellect or humanity of a doctor, Dr. Mamdani repeats something he has heard scientist Eric Topol often say: "AI will not replace doctors, but doctors who use AI will replace doctors who don't use AI."
Pfizer is not superior to Moderna and it's 'perfectly okay' to mix COVID vaccines, experts say
National Post on June 24, 2021
Interview with Dr. Fahad Razak
While health authorities are reassuring Canadians that it's safe to mix COVID-19 vaccines doses, and that doing so may even produce a more robust immune response, some appear to be rejecting Moderna for Pfizer. Ontario pharmacies are reporting cancellations, walkouts, no-shows and lack of interest for Moderna, after Ontario and other provinces scaled up Moderna doses this week because of stalled Pfizer shipments. Dr. Fahad Razak, an internal medicine specialist at St. Michael's Hospital in Toronto, is hopeful that only a small minority of the public views Pfizer as superior to Moderna. "There may be some brand recognition and recall happening," he says. "I don't know if that has influenced people's perception." His wife received AstraZeneca for her first dose, and, this past weekend, Moderna for her second. "I certainly would not be saying this publicly and doing something different for my family," Dr. Razak says.
COVID-19 is 'here to stay' and won't be wiped out any time soon, experts say
CTV News on June 22, 2021
Interview with Dr. Fahad Razak
As COVID-19 case counts dwindle, experts warn that COVID-19 will linger even after the majority of adults are fully immunized—but outbreaks could be far less devastating. Experts point to the 1918 influenza pandemic as an example of a virus that, a century later, has not completely vanished. "Some version of that virus is still hanging around, in different forms, it's mutated in different ways," says Dr. Fahad Razak, internist with St. Michael's Hospital in Toronto. "Given the degree of spread of the current COVID-19 pandemic, I think most people expect that some form of it will hang around perpetually." Establishing herd immunity among eligible adults, doctors say, will be key to protecting those who can't be vaccinated—including with potential booster shots down the road. "Nobody has a crystal ball, but there's an expectation that we will need boosters," says Dr. Razak. That added layer of protection, he says, could address any mutations in the virus and also combat any waning immunity.
New chief medical officer of health Dr. Kieran Moore ready to lead Ontario into post-pandemic world, colleagues say
Toronto Star on June 25, 2021
Interview with Dr. Irfan Dhalla
Dr. Kieran Moore, who is now stepping into the role of Ontario's chief medical officer of health, is taking over at a time when an end appears in sight for COVID-19. However, colleagues of Dr. Moore say he will still be facing urgent issues, including guiding the province through the tail end of the pandemic and keeping an eye on variants of concern. Dr. Irfan Dhalla, a vice-president and physician at Unity Health Toronto who sits on the federal COVID-19 Testing and Screening Expert Advisory Panel along with Dr. Moore, says Dr. Moore has been a "superb contributor" to the panel. "He clearly takes a data-driven view, he can see the big picture, he's very forward thinking … I suspect he'll be looking towards the future — how do we bring this pandemic to an end and then how do we reduce the risk of something like this ever happening again?" Dr. Dhalla notes that many people aren't vaccinated and Dr. Moore will need to ensure the province has a "very robust plan in place for school reopening" in the fall. Dr. Dhalla says he hopes the province can also greatly reduce the number of opioid overdose deaths, which he says Dr. Moore was acutely attuned to in the Kingston region.
Access to HIV self-testing kits expanded in York Region by CAYR and Ready to Know
The Auroran on June 24, 2021
Feature of I'm Ready
As the global pandemic continues, a global epidemic rages on and is often undiagnosed: HIV. This month, however, CAYR Community Connections and I'm Ready to Know, an initiative of St. Michael's Hospital, have partnered to break down the stigma surrounding the virus and increase access to free self-testing kits across York Region. The aim of the St. Michael's pilot is to reach the undiagnosed with a goal of ending the epidemic in Canada, distributing 50,000 kits across Canada so people know their status and, if needed, are connected to care that can save lives. People interested in receiving one can sign up through the I Am Ready app. There, with their informed consent, they answer a few basic questions related to St. Michaels' ongoing research program about how they found out about HIV self-testing. After taking the test, there are a few follow-up questions about how easy or difficult they found the test to be.