Ten great things that happened this week
February 24, 2022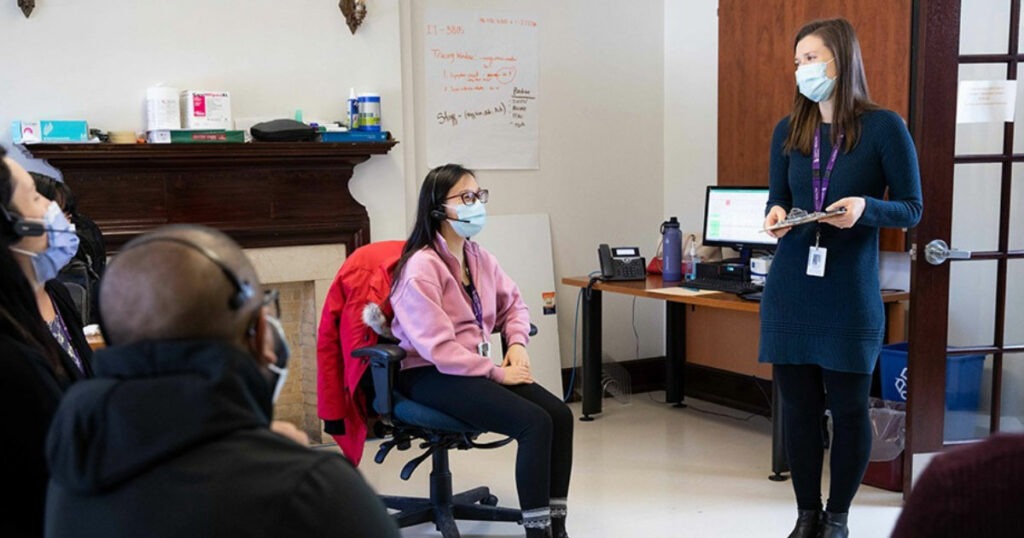 Each week, we share a list of 10 great things that happened at our sites. Do you have a story you'd like to share? Send it to communications@unityhealth.to.
1. Meet the people on the small and mighty contact tracing team
We spotlighted the COVID-19 corporate health contact tracing team, which supports and advises 11,000 staff, 1,400 physicians and 6,000 learners across our three hospital sites. The team fields calls from staff regarding COVID-19 and implements new COVID directives from the province, while making sure they're easy to understand and follow for front-line staff. Team members shared what they like most about the busy and challenging role. "I enjoy what I do because I feel like I've achieved something at the end of the day, that I'm contributing to the fight against the pandemic," said contact tracer Aastha Kholi. Read the story.
2. A century of Black nursing excellence at Unity Health Toronto
For 100 years, Black nurses have offered exceptional care and leadership at Unity Health hospitals, while also breaking barriers and challenging the status quo. They accomplished this while facing overt structural discrimination and racism. For example, up until the 1940s, prospective Black nursing students in Canada were told to go U.S. nursing schools, which opened up to Black students as early as the 1870s. "It's time to pivot as an organization to tell stories that are often not told," said Allison Needham, Director of Anti-Racism, Equity and Social Accountability at Unity Health. Read the story.
3. Jenny Jian reflects on being redeployed to the NICU during the pandemic
In another redeployment profile, Jenny Jian, a pediatric RN, shared insights about being redeployed to the St. Joseph's NICU during the pandemic. Jian said one of the biggest challenges was working with parents who weren't able to be with their newborns due to COVID-19 visiting precautions. But by working together, the NICU team was able to support and educate parents through difficult times. "Even though PPE covered everybody, you still could see the smiles behind the masks and face shields. The eyes tell everything," she said.
4. 'Be as proactive as possible': Jamie Howarth shares lessons on being a patient liaison
Jamie Howarth, a project manager, was redeployed in January to the St. Michael's General Internal Medicine unit as a patient liaison. In this temporary position, he helped three to five patients a day set up calls, as well as virtual and in-person visits. He also completed other tasks for patients, including taking them on the occasional Tim Hortons run. While the learning curve was steep, he had a strategy to make sure he was helping in the right way: be as proactive as possible. Read Jamie's redeployment story.
5. Recognizing Unity Health Toronto psychologists
To recognize psychology month we spoke with David Eisenach and Juliana Tobon, two Unity Health psychologists about the their current positions, changes they've seen in the field and advice they'd give to their younger selves. "I hope we leave this pandemic with more empathy for all who experience mental illness, and a new appreciation of the need for more accessible mental health services in our country," said Eisenach.
6. Implementing joy in work at Unity Health Toronto: a case study
The Institute for Healthcare Improvement (IHI) published a case study on how Unity Health is implementing the principle of joy in work for staff, physicians and learners. Joy in work is one of the key priorities in Unity Health's strategic plan, with the goal of creating an environment where all employees can realize meaning and purpose in the work they do every day. In 2020, Unity Health Toronto joined the Institute for Healthcare Improvement (IHI) Joy in Work learning network, making it the only Canadian hospital network taking part in the program.
7. Unity Health leads study on homelessness and COVID-19 risk
People experiencing homelessness had more than twice the odds of contracting COVID-19 compared to those not experiencing homelessness in the first wave of the pandemic, according to new research led by Unity Health Toronto. The paper, published in Healthcare Policy, analyzed data from over 2,000 patients who visited the COVID-19 testing centre at St. Michael's Hospital from March to April 2020, and found higher positivity among the homeless population even after adjusting for other demographic factors. "Unfortunately, we still have a long way to go to make shelters a safe space and protect residents from infections that spread from droplets and air," said lead author Dr. Tara Kiran. Read more about the study.
8. Study by Dr. Gillian Booth finds pedestrian-friendly communities impact rates of obesity, diabetes
A new study by Dr. Gillian Booth, scientist at MAP Centre for Urban Health Solutions, found that people are less likely to be obese or have diabetes if they live in cities where walking and cycling are safe and practical solutions. The review looked at 170 different studies and found consistent evidence that pedestrian-friendly cities have lower rates of obesity and diabetes. Booth said creating a built environment that includes higher-density living with shops and services nearby, as well as more bike and footpaths, are part of a package of measures to address the diseases.
9. Dr. Gillian Kolla shares insights on the changing nature of safe injection sites
Dr. Gillian Kolla, a postdoctoral fellow at MAP Centre for Urban Health Solutions, spoke to Healthy Debate about the history of safe injection sites in Canada and how the purpose of these sites is changing as the composition of street drugs becomes increasingly toxic and volatile.
10. How can families minimize their COVID-19 risk as restrictions lift? Dr. Fahad Razak weighs in
As Ontario loosens COVID-19 restrictions, Dr. Fahad Razak, internist at St. Michael's Hospital, spoke to CBC News about what steps families can take to minimize their risk at social gatherings. Read the story.
Previous Ten Great Things articles