Ten great things that happened
January 13, 2022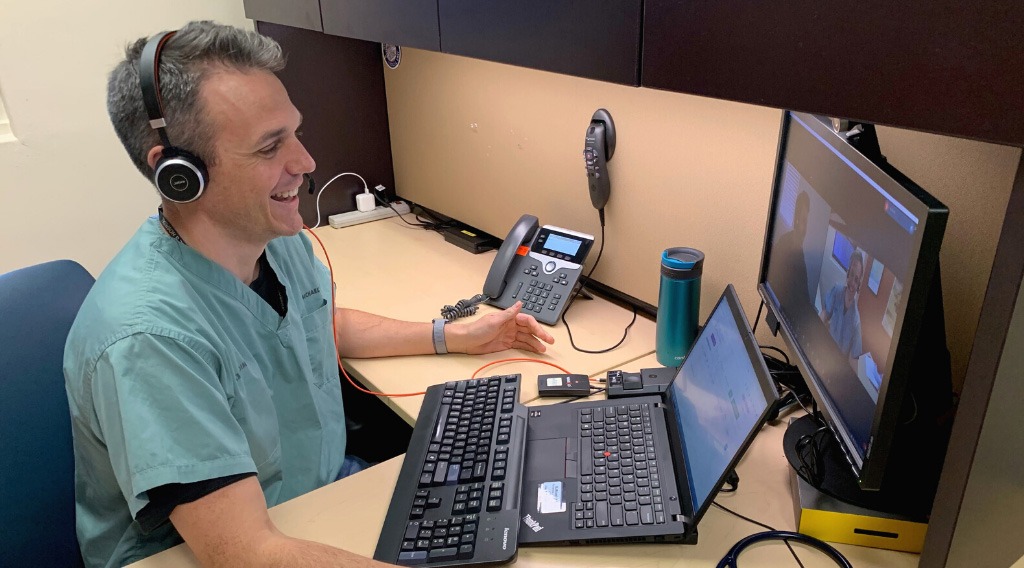 Each week, we share a list of 10 great things that happened at our sites. Do you have a story you'd like to share? Send it to communications@unityhealth.to.
1. Unity Health partners with Toronto hospitals to launch virtual ED services
Unity Health Toronto partnered with Sunnybrook Health Sciences Centre and University Health Network to launch virtual emergency department services. The new virtual ED allows people to schedule a same day appointment for any urgent non-life-threatening health issue via the ED's online platform. The appointments can be done via phone, smartphone, tablet or computer. Read more about the new initiative.
2. New study found lack of diversity on clinical guideline panels
A new study led by researchers at St. Michael's Hospital found that Australian, Canadian, British and American medical panels that develop clinical practice guidelines are mostly made up of white men. The study, published in The Lancet, reviewed 237 clinical practice guidelines published from June 2014- June 2021. It found that of the 3,969 unique guideline panel members, only seven per cent were racialized women, while 46 per cent where white men. The study authors are calling for greater transparency in panel recruitment processes. Read more about the study.
3. St. Michael's pharmacists produce guidance on outpatient management of mild COVID-19
Pharmacists with the St. Michael's Academic Family Health Team produced a useful handout that outlines the drugs that can be used to treat COVID-19 patients with mild symptoms. The two-page handout was developed by Brenda Chang, Doret Cheng, Sharan Lail, Beth Leung and Reem Haj, and was quickly praised and circulated on social media. Read the guidance.
4. Dr. Peter Jüni shares insights on Omicron and what the spring and summer may bring
Dr. Peter Jüni, St. Michael's Hospital epidemiologist and scientific director of the Ontario COVID-19 Science Advisory Table, spoke with the St. Michael's Foundation about the latest Omicron developments and why we can be hopeful for a "quiet" summer. Read the Q&A.
5. How can you tell if your symptoms are a sign of COVID-19? Dr. Fahad Razak explains what to look out for
With access to PCR testing restricted in many parts of Canada, many are wondering whether their symptoms are signs of COVID-19 infection. Dr. Fahad Razak, internist at Unity Health Toronto, explained to CBC News which "classic" symptoms tend to be reported with Omicron. Read the story.
6. Dr. Ripudaman Minhas speaks about need for better engagement with parents about COVID-19 and kids
Parents are getting mixed messages about Omicron and the COVID-19 vaccine for kids, Dr. Ripudaman Minhas explained to the Toronto Star. Dr. Minhas, a pediatrician at St. Michael's Hospital, said many parents have concerns and misconceptions about vaccine side effects and the need to vaccinate their children. "What's coming across is a lack of clarity in messaging," he said. Read the story.
7. How long will Omicron last and how damaging will it be? Dr. Prabhat Jha weighs in
As some scientists predict a rapid drop in the Omicron wave, many are warning that the highly-contagious variant can still overwhelm hospitals. Dr. Prabhat Jha, director at the Centre for Global Health Research, explains to The Associated Press how the sheer number of infections can still impact fragile health systems. "The next few weeks are going to be brutal because in absolute numbers, there are so many people being infected that it will spill over into ICUs," he said. Read the story.
8. Dr. Prabhat Jha speaks to NBC News about COVID-19 deaths in India
New research led by Dr. Prabhat Jha, St. Michael's Hospital epidemiologist, found that roughly three million COVID-19 deaths in India were unaccounted for during the first and second waves. Dr. Jha told NBC News it's important that health officials keep accurate records of COVID deaths. "Counting the dead actually helps the living, because it gives you a roadmap as to whether all the things we're doing to fight COVID, and the trillions of dollars that we're spending, are actually having an effect," he said. Read the story.
9. New study examines impact of virtual mental health care
A new study led by Unity Health researchers examined the impact of mental health care that's delivered remotely. The study, published in the Canadian Journal of Psychiatry, surveyed mental health care users and providers from October 2020 to February 2021. The study participants were asked about their use of remote care, including satisfaction levels, barriers to use and suggestions for improvement. The study found that roughly 60% of user and providers were satisfied with remote care. Read the study.
10. Unity Health research sheds light on patient comfort with disclosing income levels to primary caregivers
A new study led by Dr. Andrew Pinto, scientist and family physician at St. Michael's Hospital, examined data from more than 14,000 electronic health records, where patients were asked about income in a sociodemographic survey. The study found that nearly 75 per cent of patients disclosed family income level and how many people their income supports. The authors of the study say that income data can help identify health inequities and target anti-poverty interventions. Read the study.
Previous Ten Great Things articles