'Breaking the chain of infection': Meet the team of contact tracers keeping Unity Health staff and patients safe
This small but mighty Corporate Health COVID 19-Team works to stop the virus in its tracks
February 22, 2022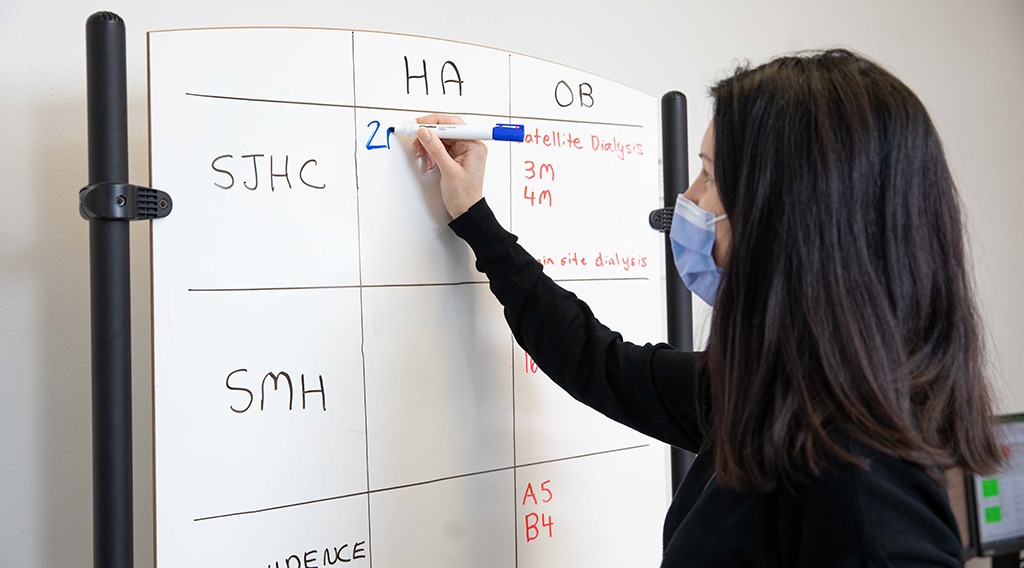 Phones at Unity Health's Corporate Health department were ringing off the hook in the early spring of 2020. The team was used to receiving sick calls – part of the departments' key function is to track absences and advise staff and physicians on next steps when they are ill – but this was different. Hundreds of staff per day were calling in to report COVID-19 symptoms, exposures and test results. Many had questions. In response, the Corporate Health COVID-19 Team was born.
Their goal is to keep staff safe and mitigate any risk of COVID-19 exposures so that healthcare providers can continue to do what they love: provide high quality patient care. The team provides support seven days a week to 11,000 staff, 1,400 physicians, and 6,000 learners across St. Joseph's Health Centre, Providence Healthcare, and St. Michael's Hospital.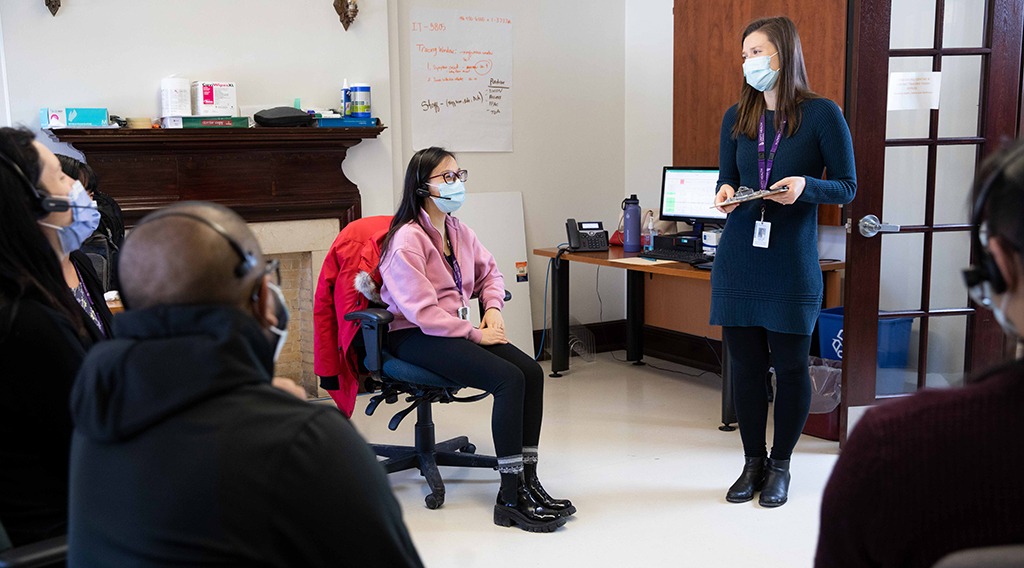 A critical part of the team's role is implementing new directives from the province and making them easy to understand and follow for front-line staff. They also communicate Infection Prevention and Control (IPAC) practices which are all designed to keep patients and staff safe.
Each morning, Manager Caroline Pullan reviews new protocols, changes and updates with the team – which started with five agency staff in April 2020 and evolved to 27 members during the peak of the omicron wave. "A constant challenge is communication. We have to quickly take a new directive from the Ministry of Health and turn it into a process for our organization with input from all relevant stakeholders. It is crucial for all team members to understand any updates as they directly interact with staff and leaders to provide guidance. Since the omicron variant there have been daily changes from testing and screening policies to Rapid Antigen Testing (RAT) and distribution."
On top of managing the team, Pullan also sits on a committee with other Toronto Academic hospitals (TAHSN) to ensure Unity Health's COVID-19 processes are aligned with the Ontario Ministry of Health and other hospitals.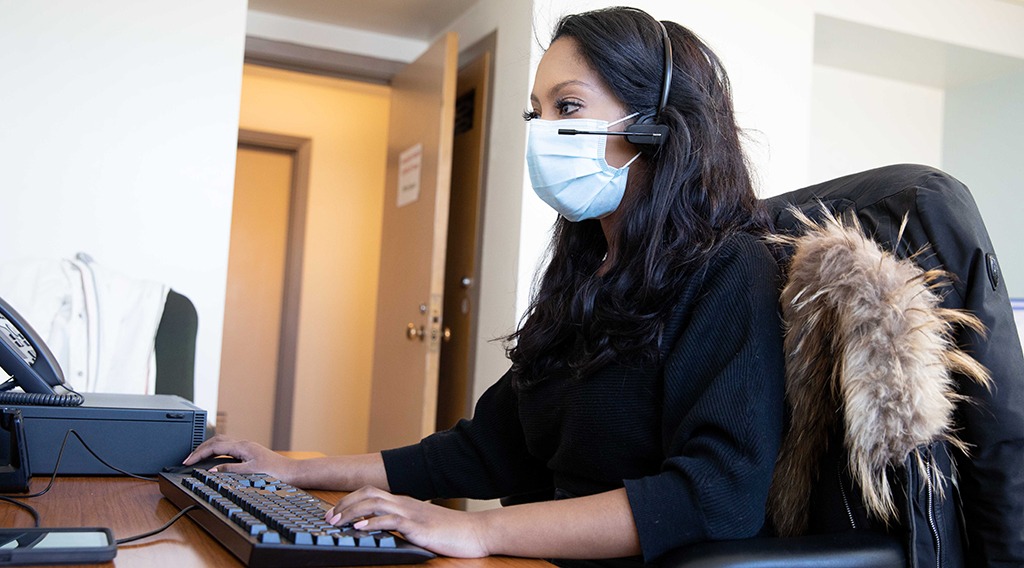 Call centre agent Amal Sourour is one of the first points of contact when a staff member calls. She answers general questions about COVID and, if necessary, connects them to the contact tracing team. The contact tracers follow up with staff to complete risk assessments, interview staff members who have tested positive, assess possible household exposures and guide next steps for a safe return to work. "As you can imagine, staff are not always calling at their best," says Pullan. "They are most likely sick or have a sick household member and are anxious about being off work. Our team aims to remain positive and take the time to calmly listen to each staff member's specific situation and act compassionately."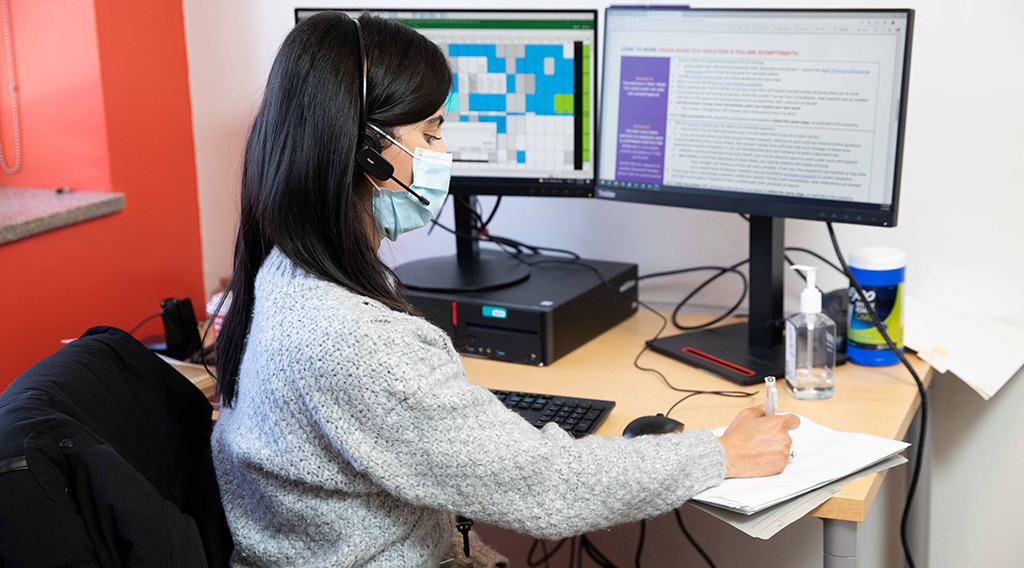 Aastha Kohli is one of those contact tracers. She joined the team in December 2021 during the height of Omicron. "I am used to a fast-paced environment so I love that here," says Kohli, who worked previously at William Osler's COVID-19 assessment centre and as a contact tracer with Disney Pictures in Canada. "I also enjoy interacting with the diverse population of staff at all three sites."
On a busy day her shift will be filled with 60 back-to-back calls. "When we have positive cases from staff, we follow up with them to gather details of their exposure. We document when they got tested, track their infectious timeline and then follow up with their return to work plan. With the current staffing shortage it is crucial for them to come back to work, but in a safe manner," she says. "I enjoy what I do because I feel like I've achieved something at the end of the day, that I'm contributing to the fight against the pandemic."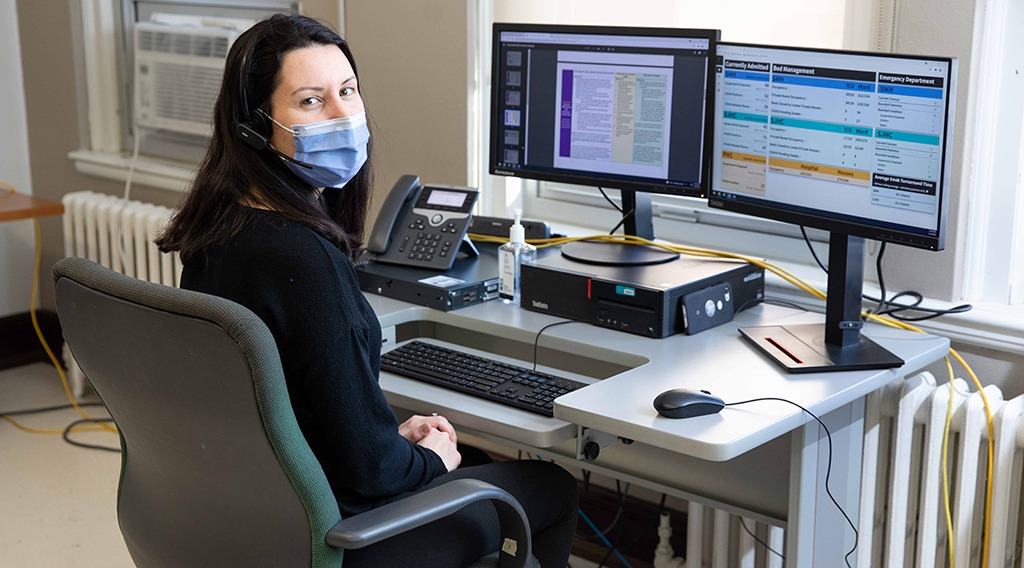 Michelle Webster was redeployed to the contact tracing team in September 2020 and brings her skillset as an operating room nurse. "In the OR, you may only have five minutes to spend with a patient and their family before they go in. You have to be able to establish that rapport quickly," she says. "Here we don't even get a face to face interaction with staff, but we try to remain open and create a comforting environment." Some calls can last for hours as staff are nervous and have many questions. Beyond testing positive they may worry about household members or elderly parents they care for. "It gets very complicated when they're involved in outbreaks and situations where there's many different possible sources of exposure. We want to be that supportive voice and establish some trust so they can have open conversations with us. That is the best way we can keep their team and family members safe."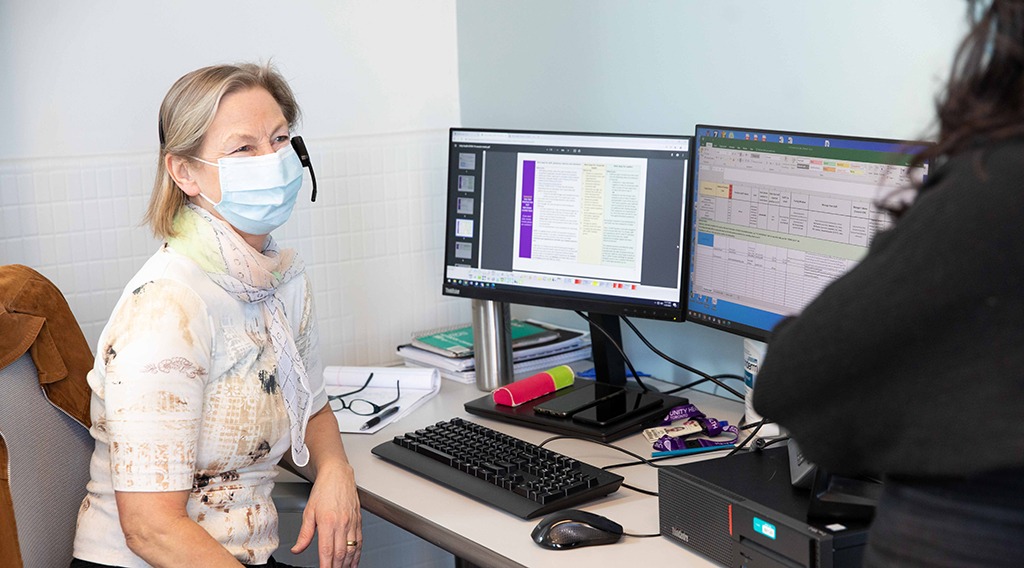 Here, Jutta Schaaf, a Call Centre Agent, chats with a colleague during a busy shift.
"I want to stress that we truly care about all of our Unity staff members and we take pride in providing them with guidance and support. We want to keep staff and patients safe and break the chain of infection," says Operations Leader Kimberly Reid. "A lot of our work involves asking staff to stay home, and that is the hardest part of our job. We have staff who really love their jobs and are eager to come to work. They often feel their absence may be hurting their team."
Beyond collecting data from a staff member when they test positive, the team performs wellness checks. "We follow up with people to see how they're doing, both psychologically and physically," says Cheryl Croutch, Director of Corporate Health, Safety and Wellness. "There is a bit of a stigma behind having COVID-19 but there is nothing to be ashamed of."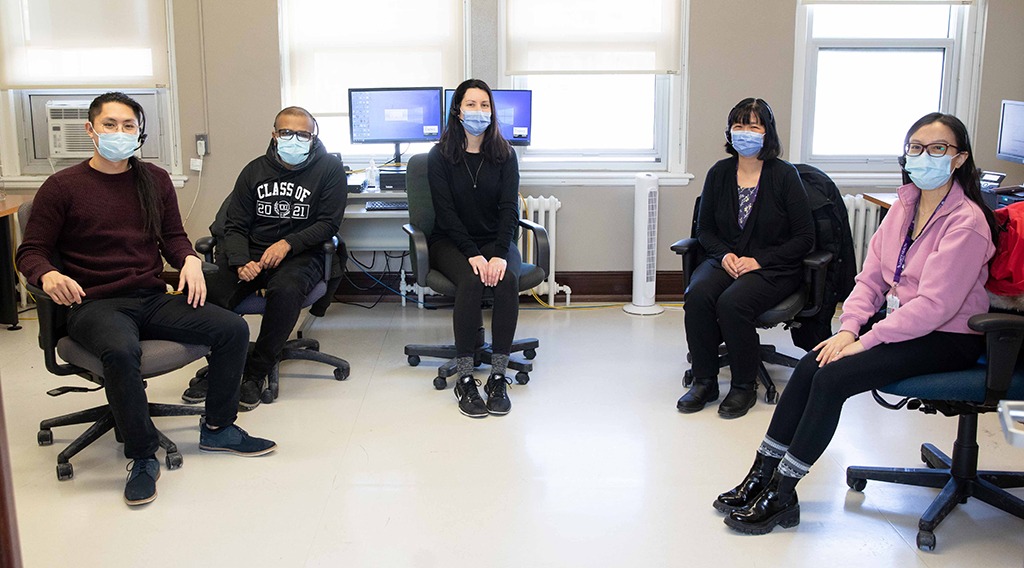 Over this most recent Omicron wave, the team nearly tripled in order to safely support Unity Health staff. They are spread across two floors in the historic Sunnyside building at St. Joseph's Health Centre and come from diverse backgrounds, including nursing, dentistry, dietetics, pharmacy and kinesiology.
"These were unprecedented times and they really stepped up to the plate," says Croutch. "There are no words that can describe it. You can link that back to our organization's mission statement of providing the best care experience because that's really what they're doing."
Story and photos by Katie Cooper