Ten great things that happened
January 20, 2022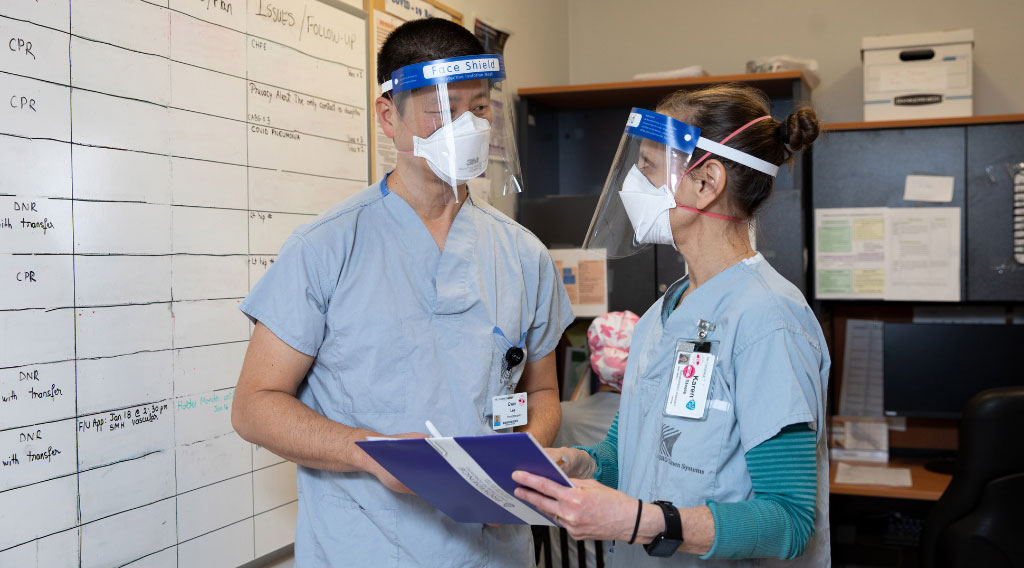 Each week, we share a list of 10 great things that happened at our sites. Do you have a story you'd like to share? Send it to communications@unityhealth.to.
1. Providence reopens its COVID-19 rehab unit to take patients from across the province
Providence Healthcare has reopened its COVID-19 Rehab Unit to support systemic pressures across the province. The unit first opened early in the pandemic after Providence identified a need to serve patients with COVID-19 who have the virus but need rehabilitation support from an interprofessional team including physical therapy, occupational therapy, social work, speech-language pathology, and dietetics. The need for this specialized unit ceased briefly, but as Omicron surged it reopened earlier this month and doubled its capacity – accepting COVID-positive patients from Unity Health and other sites across the system. Read more about the work.
2. Unity Health Toronto ranked among top research hospitals in Canada
Unity Health Toronto was ranked as one of the top 15 research hospitals in Canada and among the top six large hospitals in research intensity. The rankings, compiled annually by Research Infosource Inc., are based on research spending by hospital or institution. Unity Health's 12th place ranking reflects the hard work of more than 200 researchers, working on a wide range of impactful projects. Read more about the recognition.
3. Three St. Michael's Hospital scientists awarded prestigious research chair awards
Dr. Andrew Pinto, Dr. Andrea Tricco and Dr. Warren Lee have received research chair awards to help support their investigations. Dr. Andrew Pinto has been awarded a CIHR Applied Public Health Chair in Upstream Prevention in Primary Healthcare. Dr. Tricco has had her Tier 2 Canada Research Chair in Knowledge Synthesis renewed, and Dr. Lee has had his Tier 2 Canada Research Chair in Mechanisms of Endothelial Permeability renewed. Congratulations to all! Read more about the awards.
4. "Is there a doctor on board?" Dr. Aisha Khatib delivers healthy baby girl at 35,000 feet
Dr. Aisha Khatib was on a Qatar Airways flight to Uganda last month when she heard the call over the plane's P.A. for a "doctor on board." Before she knew it, she was at the back of the plane helping a passenger, who was nearly 36 weeks pregnant, give birth to a baby girl. Luckily, there was also a pediatrician and nurse on board who assisted during the delivery. Both mother and baby are doing well, and the mom was so grateful she named her new daughter after Dr. Khatib. "She named her Miracle Aisha, which I thought was really lovely," Dr. Khatib told CTV News. Read the story.
5. Op-ed calls for more supports for doctors who want to have children  
Drs. Andrea Simpson, Maria Cusimano and Nancy Baxter wrote about motherhood and medicine in the Canadian Medical Association Journal, noting how childbearing during medical training and later in a physician's career is still often perceived as an inconvenience or burden. The authors argue that the stigma leads many physicians to start childbearing at a later age, which is associated with an increased risk of infertility, miscarriage and other pregnancy complications. Structural barriers and maternal discrimination can also limit trainees' career opportunities and influence their career decisions. "As a profession, we need to think more ambitiously about how we can support physicians who wish to have children at any career stage," they write. Read the article.
6. New research shows potential missed opportunities in preventing opioid-related deaths in Ontario
A new report from Unity Health Toronto and several partners, found that one in four Ontarians who died of an opioid overdose during the pandemic had interacted with the healthcare system in the week prior to death. The report analyzed data on accidental opioid-related deaths in Ontario from March to December 2020 as well as prior prescription medication and healthcare use among those who died, to identify opportunities for support and prevention. The data suggests there are missed opportunities for supporting those at risk of overdosing. The report was led by researchers from the Ontario Drug Policy Research Network (ODPRN), ICES, the Office of the Chief Coroner for Ontario and Public Health Ontario. Read more.  
7. Drs. Sam Elfassy and Andrew Pinto weigh in on the rise in pandemic-fueled drinking
Data collected during the pandemic show there's been an increase in alcohol-related hospitalizations. Dr. Sam Elfassy, a gastroenterologist at St. Joseph's Health Centre, and Dr. Andrew Pinto, a family physician at St. Michael's Hospital, speak to the Toronto Star about the concerning trend. "I'm very worried now with this new wave that we're going to start seeing a further surge in the next couple of months," Elfassy said. Read the story.
8. What's the connection between Multiple Sclerosis and the Epstein-Barr virus? Dr. Jiwon Oh weighs in
The link between Multiple Sclerosis and the Epstein-Barr virus has been long speculated, but researchers agree that new findings from Harvard put the speculation to rest. Dr. Jiwon Oh, medical director of the BARLO MS Centre at St. Michael's Hospital, speaks to The Current about the new research and what it means for MS patients. Listen to the segment.
9. Dr. Dan Werb's book recognized by Publishers Weekly
Dr. Dan Werb's book, "The Invisible Siege: The Rise of Coronaviruses and the Search for a Cure," was named a top 10 science book of the season by Publishers Weekly. Werb, an epidemiologist at St. Michael's Hospital and director of the Centre on Drug Policy Evaluation, dives into the history of coronaviruses and profiles the scientists studying them who hold the view that animal, human and environmental health are interconnected. Read the review. 
10. Eno Hysi awarded Polanyi Prize in Physics
Eno Hysi, a post-doctoral researcher at the Li Ka Shing Knowledge Institute, was awarded a 2021 Polanyi Prize in Physics for his research on the use of photoacoustic imaging to map scarring in kidneys. Hysi uses photoacoustic imaging to investigate light and sound interactions in kidney blood vessels and surrounding soft tissues. This allows doctors to better identify kidneys that are not suitable for transplant due to excessive scarring. The Polanyi Prize is awarded by the Ontario government to five exceptional researchers who are making advancements in science, technology, and healthcare. Read more about the recognition.    
Previous Ten Great Things articles