Ten great things that happened this week
December 23, 2021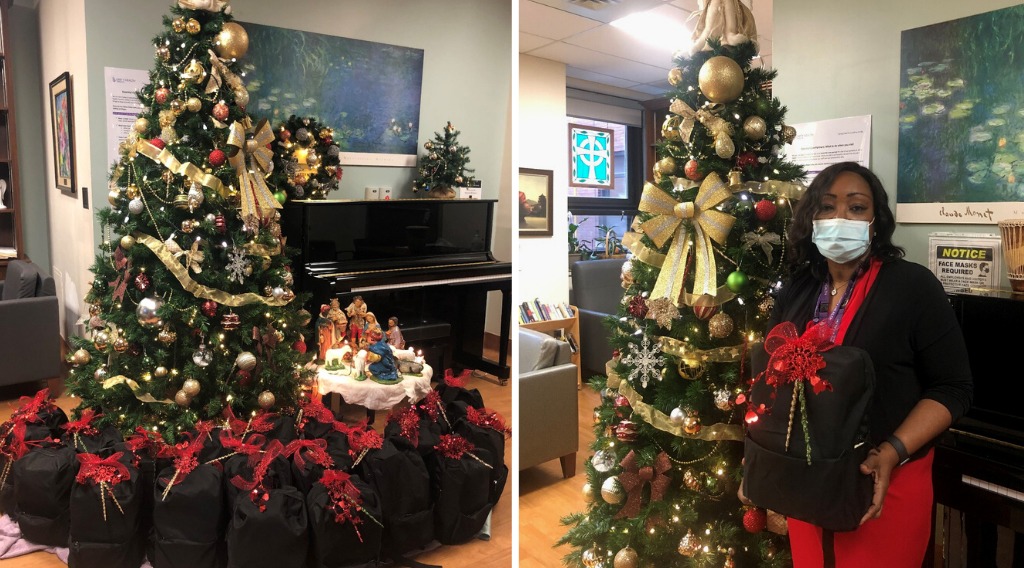 Each week, we share a list of 10 great things that happened at our sites. Do you have a story you'd like to share? Send it to communications@unityhealth.to.
1. We shine a spotlight on acts of kindness happening across Unity Health Toronto
To celebrate staff, volunteers and physicians, we spotlighted five acts of kindness from the past year. From delivering vaccines to a group of Afghan refugees to going above and beyond to arrange for a son to visit his father, Unity Health community members showed empathy and compassion to patients and colleagues. Read the story.
2. What do you take with you after you vaccinate a community? Resilience and pride, says this St. Joe's inpatient pharmacy lead
In a year-end series featuring Unity Health Toronto staff, Jiten Jani, the inpatient pharmacy lead at St. Joseph's Health Centre, shared lessons the pharmacy team learned in 2021. Jiten was part of the team that planned and implemented the Unity Health COVID-19 vaccination clinics. He spoke about working collaboratively to tackle a daunting task and what makes it all worthwhile in the end. "When you see people coming into the clinic, it reinforces your reasons for being in healthcare. When you see two elderly people holding hands, standing and waiting their turn to get vaccinated, it makes you proud." Read the profile.
3. Should parents shorten the interval between COVID-19 vaccine doses for their kids? Dr. Shazeen Suleman weighs in
In the face of the Omicron variant, some parents are questioning whether they should shorten the interval between their children's COVID-19 vaccine doses. Dr. Shazeen Suleman, pediatrician at St. Michael's Hospital, explains why parents should have this conversation with their child's doctor. Read the story.
4. Dr. Irfan Dhalla explains how to read rapid antigen test results
As more people turn to COVID-19 rapid antigen tests, Dr. Irfan Dhalla, Unity Health Toronto vice-president of care experience and equity, explains in the Toronto Star how to interpret rapid test results and why giving them out for free is a step in the right direction. Read the story.
5. St. Michael's Palliative Care Unit spreads the love with a holiday drive
St. Michael's Palliative Care Unit in the emergency department and medicine program coordinated a holiday drive to support the Shoebox Project and Toronto's Street Health. The unit collected donations for 21 back packs filled with $50 worth of gifts and essentials that will be distributed to Street Health on Christmas Eve.
6. Metroland Toronto delivers a 'Beary' Merry Christmas to young patients
Metroland Toronto, publishers of Toronto.com and three community newspapers, safely delivered stuffed bears to young patients in hospitals across the city, including St. Joseph's Health Centre. The bears were delivered to the hospitals, where staff distributed them to patients to brighten up their hospital stays. Read more about the tradition.
7. St. Michael's-led study looked at the impact of a $1,000 cash transfer on the spread of COVID-19
A study led by Dr. Nav Persaud, family physician at St. Michael's Hospital and Canada Research Chair in Health Justice, looked at whether giving people a one-time cash transfer of $1,000 would reduce the spread of COVID-19. The study gave the money to 392 individuals who were having trouble affording basic necessities due to disruptions associated with COVID-19. The study found that the extra financial support reduced COVID-19 symptoms in those participants older than 50. The findings suggest income supports targeted at those at higher risk may be beneficial.
8. Dr. Sunit Das shares his goal of turning deadly brain cancer into a chronic disease
Dr. Sunit Das, a neurosurgical oncologist and scientist at the Keenan Research Centre for Biomedical Science, shared his latest research on gliomas, a common type of brain tumour. Dr. Das outlined the findings from a recent study, which found a common genetic pattern among samples from 10 tumours, and how it might impact treatment. "One thing we fear is an infinite number of things working against us – what our data tells us is that we actually only have a handful of things we need to understand." Read the profile.
9. Dr. Ripudaman Minhas and Dr. Sloane Freeman speak about the importance of in-person schooling
As COVID-19 case numbers rise, Dr. Ripudaman Minhas and Dr. Sloane Freeman, St. Michael's Hospital pediatricians, explain in a Toronto Star op-ed why everything must be done to keep schools open and operating safely.
10. Dr. Anna Banerji on how to reopen schools safely after the holidays
As parents, teachers and students wait to hear if in-person schooling will resume after the holiday break, Dr. Anna Banerji, infectious disease specialist at St. Michael's Hospital, outlined on CTV's Your Morning what steps should be taken so schools can safely reopen.
Previous Ten Great Things articles