Babies, parents and 'smiles behind the masks'. Reflections of a registered nurse who was redeployed to support the St. Joseph's NICU
February 08, 2022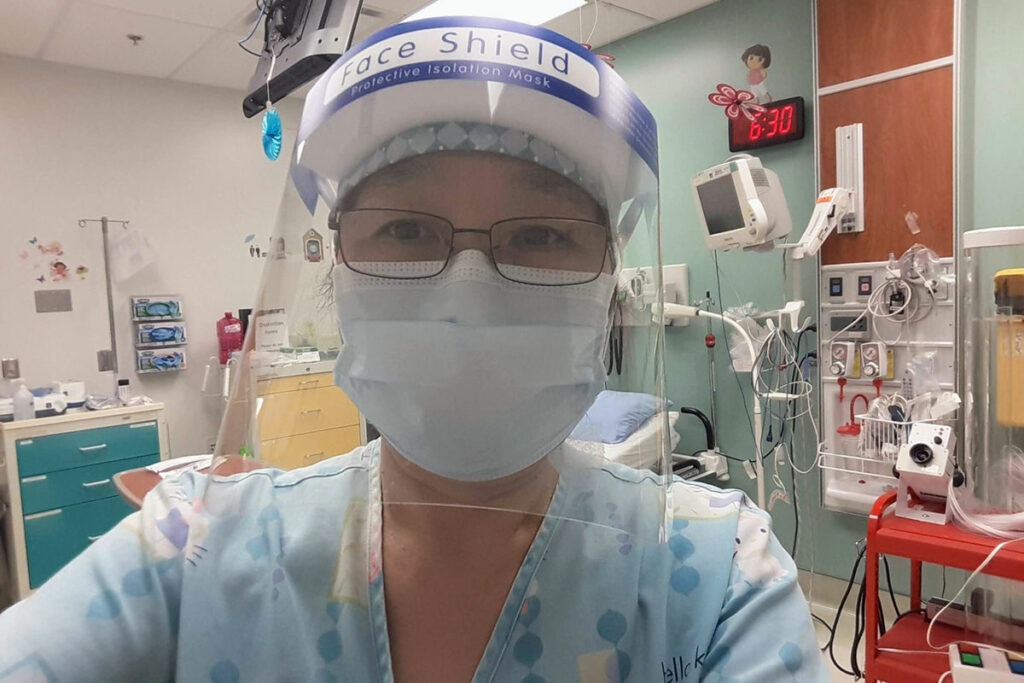 Pediatrics RN Jenny Jian works in 3L Pediatrics Unit at St. Joseph's Health Centre. Since 2020, she has been redeployed twice – to support both the hospital's COVID Assessment Centre and NICU. She shares some impressions here.
Talk about your two redeployment experiences.
In October 2020, I was assigned to the COVID testing centre. As a pediatrics RN, I was asked to focus on taking swabs for kids – many of whom came with their parents and siblings. It was busy and scary at the beginning; we did not know too much about COVID at the time. I believe I made kids feel more at ease and more aware of how important washing their hands and wearing their masks are.
In January 2021, I was redeployed to NICU. There were many challenges at the beginning: new environment, new routine, unfamiliar staff. The most difficult was that parents were unable to be with their babies all the time due to COVID visiting restrictions. They were anxious and concerned. I was not only taking care of the sick babies, but had to be a coach to parents. I explained babies' care plans, how to change diapers, how to breastfeed and bottle-feed. To watch the babies getting better and better and finally get to go home to be with their loving families was the happiest time. I was proud I helped to get to that moment.
Describe the learning curve.
It was so different working in NICU than in Paeds. Especially when there was Code Pink – sometimes multiple Code Pinks at the same time. You have to drop whatever you are doing and catch every second to save the tiny baby. Doctors, RTs, RNs, social worker, UA, UC: Everybody worked as a team. Parents were not forgotten, especially exhausted and worried moms. They would get updates and the opportunity to hold their baby as soon as possible. Even though PPEs covered everybody, you still could see the smiles behind the masks and face shields. The eyes tell everything. That was the time I felt everything I've done was worth it and I was proud of what I've done.
Has your redeployment increased your appreciation for staff in your new area?
I appreciate what the NICU staff are doing on daily basis, more now after working with them for eight long months during these difficult COVID times.
What skills from your home job did you apply in your role?
The ability to handle the intense emotional stress that accompanies the newborns in life-and-death situations, the strong sense of empathy, compassion and excellent communication skills, proper critical-thinking skills, family teaching skills, clinical nursing skills and so on – those are all important skills required. Also, being a team player is another essential qualification.
Now I am back in Paeds, I can bring some skills from my redeployed unit to my own unit: How to communicate with new parents when they have a sick baby, comfort them and let them believe their babies are in our good care. Especially in this unprecedented pandemic, patients and families need more detailed care, more teaching and more comfort. Together, we will fight through wave after wave and finally find our peaceful and joyful life is back.
–As told to Laura Boast. This interview has been edited and condensed
Redeployment profiles