Ten great things that happened this week
February 10, 2022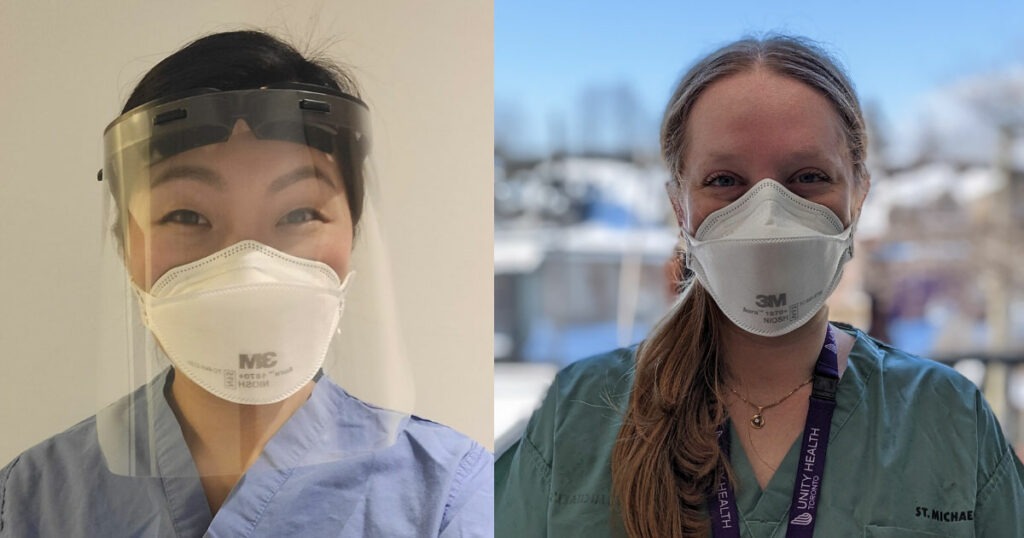 Each week, we share a list of 10 great things that happened at our sites. Do you have a story you'd like to share? Send it to communications@unityhealth.to.
1. All together now: Spotlight on redeployed Unity Health Toronto staff
In January, amid the Omicron wave, more than 170 Unity Health Toronto staff members stepped up and joined the frontlines to help fill gaps due to staffing shortages. We spotlighted the massive organizational effort to redeploy non-clinical staff members to new positions to help support patient care. Organizers of the redeployment said they were impressed by how naturally staff members fell into their new, temporary roles. "It was all hands on deck and all hands on deck everywhere," said Sonya Canzian, executive vice-president of clinical programs.
2. Unity Health and Kensington Health join forces to help clear surgical backlogs
Dr. Ian Bookman, gastroenterologist at St. Joseph's Health Centre, spoke to CTV Toronto about a partnership between Unity Health and Kensington Health Centre to speed up patient access to procedures like colonoscopies. Dr. Bookman explained how this first-in-the GTA partnership can save lives. Watch the segment.
3. We celebrate the medical residents serving at Unity Health
Unity Health Toronto marked Resident Awareness Week by thanking all of the medical residents who have chosen to work and learn at our network. In the past year, more than 2,000 residents helped provide more than 95,000 hours of direct patient care at our hospitals. Two current residents shared their most memorable learning experiences and also gave tips for other residents about working at Unity Health. "You'll be supported and inspired, so don't be afraid to be yourself and bring your truest self to work," said Dr. Uilst Bat-Erdene, a second-year resident in family medicine. Read what they had to say.
4. What can we learn from a Black physician who trained in Canada during the 1850s before fighting in the U.S. Civil War?
Dr. Nav Persaud, family physician at St. Michael's Hospital, co-authored a paper about the remarkable life of Dr. Alexander Augusta. Dr. Augusta was a Black physician who trained in Toronto during the 1850s because he was rejected from U.S. medical schools due to his race. He practiced for some time in Toronto before returning to the U.S. to fight against slavery in the Civil War, and went on to hold many distinguished positions as a medical educator. Dr. Persaud explained his interest in researching Dr. Augusta, and how Dr. Augusta's story is still relevant today. "[The] really important lesson from his story that's applicable to today is that racism is not going to just go away with the passing of time. We need to each take action to stop racism." Read the article.
5. New research finds emergency department visits for drug overdoses higher among people who are homeless during the pandemic
A new paper co-authored by Unity Health Toronto researchers found that emergency department visits for drug overdoses from June to September 2020 more than doubled among people who were homeless compared to the same time the year prior. Increases of this magnitude were not observed among the stably housed or those living in low-income neighbourhoods. Read more.
6. Unity Health's Library Services team wins award for innovation
The Unity Health Toronto Library Services team was awarded the Langlands Innovation Award by the Health Sciences Information Consortium (HSIC), which is a collective of libraries and information services from 50 Ontario hospitals and healthcare institutions. The Unity Health library team was recognized for their "On-Demand Workshops" initiative, which created and translated 30 workshops that are traditionally taught in-person to online, self-paced, on-demand learning modules. The initiative created greater accessibility for learning, and led to a 290 per cent increase in workshop participation over the previous year. Congratulations to the entire team on a job well done!
7. Drs. Charles de Mestral and Mohammad Qadura awarded CIHR grant funding
Dr. Charles de Mestral and Dr. Mohammad Qadura, vascular surgeons and scientists at St. Michael's Hospital, were awarded CIHR grant funding in the fall 2021 competition. Dr. Mestral was awarded funding for his research on diabetes management and its association with the risk of leg amputation. Dr. Qadura was awarded funding for his research on diagnosing peripheral arterial disease. Congratulations!
8. Dr. Ralph George wins James H. Graham Award of Merit
Dr. Ralph George, surgical oncologist at St. Michael's Hospital, was awarded the James H. Graham Award of Merit by the Royal College of Physicians and Surgeons of Canada. The prestigious award is given to a person whose "outstanding career achievements reflect the aims and objectives of the Royal College." Congratulations Dr. George!
9. Dr. Jennifer Watt shares insights on managing dementia without antipsychotics
Dr. Jennifer Watt, geriatrician and clinician-scientist at St. Michael's Hospital, gave a Choosing Wisely Talk about non-medication interventions for treating behavioural and psychological symptoms of dementia, and advice on deprescribing. Choosing Wisely Canada is a platform that aims to reduce unnecessary tests and treatments in healthcare.
10. Dr. Alice Ordean calls for compassionate care for pregnant people with addictions
In a Toronto Star op-ed, Dr. Alice Ordean called for more compassionate, stigma-free care for pregnant people with addictions. Dr. Ordean is the medical director of the Toronto Centre for Substance Use in Pregnancy at St. Joseph's, a "one-stop" centre for prenatal and addictions care that operates under a harm-reduction, woman-centred approach. Read the op-ed.
Previous Ten Great Things articles