Ten great things that happened this week
February 03, 2022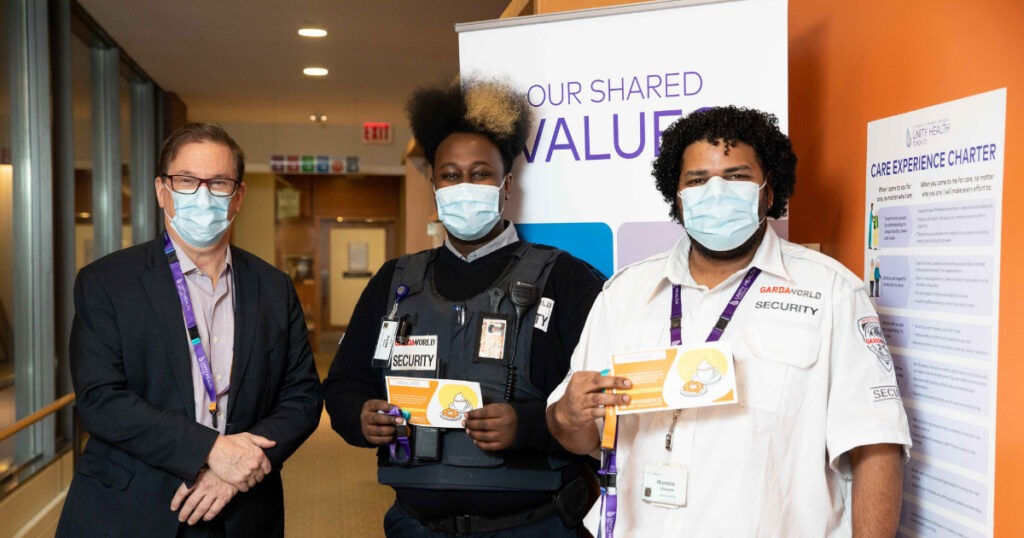 Each week, we share a list of 10 great things that happened at our sites. Do you have a story you'd like to share? Send it to communications@unityhealth.to.
1. Unity Health Toronto honours Black History Month
Unity Health Toronto President and CEO Dr. Tim Rutledge shared a message to mark the start of Black History Month. In the message, he recognized the contributions of Black staff, physicians and learners, and also noted the historical and ongoing anti-Black racism that exists in the Canadian health-care system. He also listed some tangible steps Unity Health is taking to improve the experiences of Black people in our organization. "During Black History Month, and always, I encourage staff, physicians and learners who aren't Black to take the time to listen to Black voices and reflect on the racism and injustices committed against Black people, both past and present." Read the message.
2. Providence celebrates Mission Day
Unity Health Toronto marked Providence Mission Day, a day to recognize the many ways staff and physicians at Providence Healthcare commit to living our mission and values each and every day. To say thank you to all Providence team members, Unity Health's leadership team were on hand for a special, physically-distanced welcome. The day culminated in the presentation of the Our Shared Value Awards. The awards recognize a select group of staff, physicians, teams, volunteers and patient and family partners who exemplify a commitment to community, compassion, excellence, human dignity and inclusivity. Congratulations to all of this year's award winners!
3. Vaccination clinics wind down after 26,000 doses administered
A big congratulations to the vaccination teams at St. Joseph's, St. Michael's and Providence who wound down their COVID-19 vaccination clinics after providing months of outstanding service to the community. In November, our vaccination teams sprung into action to provide third doses to our staff, physicians, learners, volunteers, inpatients, as well as our communities. After Health Canada approved the use of the Pfizer-BioNTech COVID-19 vaccine in children aged five to 11, the St. Joseph's team also stepped up to create a bright space that helped people of all ages feel safe and comfortable from the moment they arrived. More than 26,000 people received their doses at Unity Health since November. Thank you to everyone involved for all of your hard work and dedication.
4. How can families boost their mental health? Make time to play, says Dr. Ripudaman Minhas
In our ongoing mental health series, Dr. Ripudaman Minhas, developmental pediatrican at St. Michael's Hospital, shares tips for families to boost their mental health during the pandemic. Dr. Minhas suggests parents make time to play with their children. "It helps to remind us that there are things we can do that are within our control, and that we are capable of having fun and enjoying the company of others safely," he says. Read the story.
5. Unity Health researchers shed light on COVID-19's impact on patients with disabilities
Dr. Amol Verma and Dr. Fahad Razak co-authored a paper that found adult COVID-19 patients with disabilities had longer hospital stays and increased risk of readmission compared to patients without disabilities. In an op-ed, they write that we must stop overlooking the roughly 6.2 million Canadians with disabilities in our pandemic response. Read the op-ed.
6. Dr. Fahad Razak explains new wastewater surveillance data
Dr. Fahad Razak, epidemiologist at St. Michael's Hospital and member of Ontario's COVID-19 Science Advisory Table, spoke to City News about new data from wastewater monitoring that estimates up to four million Ontarians may have contracted the Omicron variant in the last two months. Watch the clip.
7. St. Mike's General Internal Medicine Unit celebrates 20 years on Cardinal Carter wing
The General Internal Medicine Unit at St. Michael's Hospital is celebrating the 20th anniversary of moving to the 14th floor of the Cardinal Carter wing. The move on Feb. 3, 2002, merged two separate units from the Bond Wing, creating a blended staff family. The unit has grown significantly over time, to meet the needs of patients. Operating 59 beds when it first opened in 2002, it now has over 80 beds, including ward and step-up capacity. Over 250 staff call the unit home, including staff and trainee physicians, and more than 50 team members are 20+ year veterans of GIM, including Dr. Vera Dounaevskaia, acting staff physician and interim division head. Dr. Yuna Lee, who also started in 2002, calls GIM her second home. "I am always inspired by the people on GIM. We support and encourage each other, and we are always ready for any challenges and innovation," she said. Congratulations to all of the team members! Read more reflections from GIM staff.
8. 'Make time for movement': Dr. Jennifer Watt shares advice to improve seniors' mental health
The pandemic has been a difficult time for older adults and their caregivers, says Dr. Jennifer Watt, St. Mike's and Providence Healthcare scientist and geriatrician. One way seniors can counter some of the stress and uncertainty is to make time for physical activity, which offers biological, social and psychological benefits. "Taking a break from whatever it is that's troubling you and going for a walk really helps. During that time, you're focused on that activity, and you forget about things that may be stressing you out or making you sad." Read her tips.
9. Unity Health Toronto team members recognized in January honour roll
Unity Health Toronto staff, researchers, physicians, learners and teams were recognized for important honours, achievements and awards. January's honour roll includes Drs. Tali Bogler and Tara Kiran being named "Vaccine Heroes of 2021" and Dr. David Wong being inducted into the Retina Hall of Fame. Read more.
10. Dr. Adrian Espiritu recognized by American Academy of Neurology
Dr. Adrian Espiritu, Unity Health Toronto neuroimmunology fellow, was awarded the 2022 Bruce Schoenberg International Award in neuroepidemiology by the American Academy of Neurology (AAN). As an award-winner, Dr. Espiritu will be invited to present at the AAN's annual meeting in Seattle this spring. Congratulations!
Previous Ten Great Things articles