Sixteen months. More than 103,000 swabs. St. Michael's COVID-19 Assessment Centre closes its doors
July 16, 2021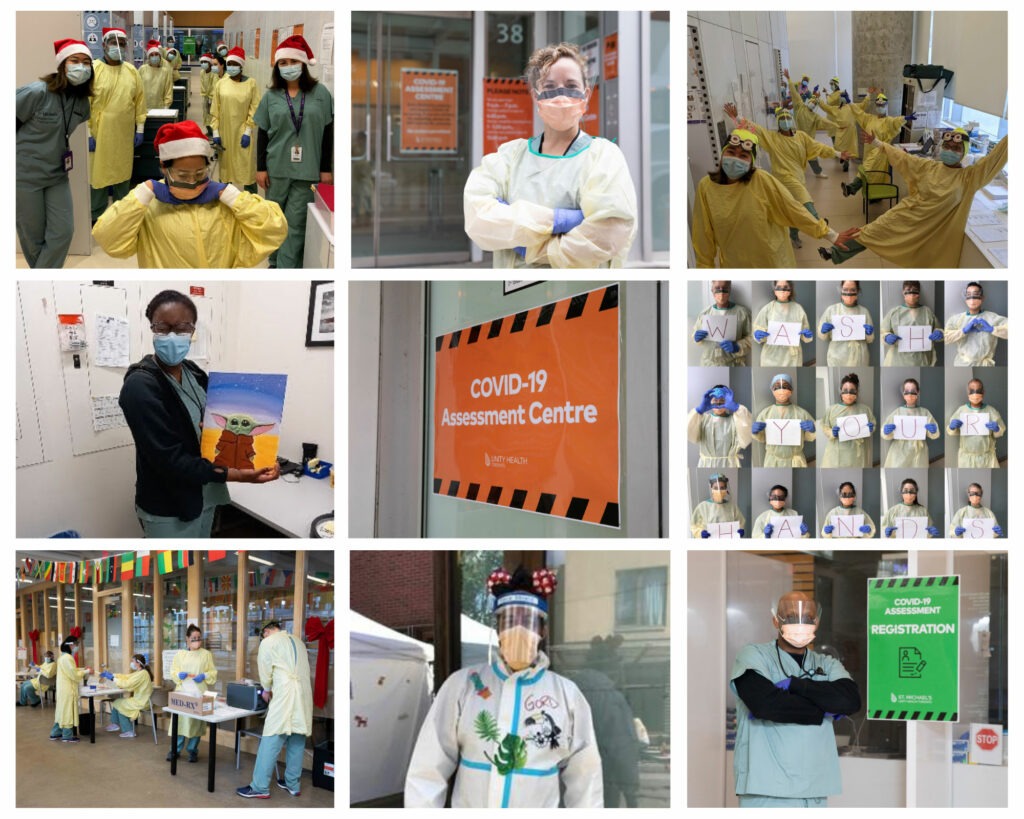 As COVID-19 cases in the city dwindle and vaccination rates climb, the St. Michael's COVID-19 Assessment Centre is closing its doors. It marks the end of a historic effort that began back in March 2020, when staff and physicians from all corners of the hospital came together to transform a meeting room in the Li Ka Shing building into a clinic to fight a new and emerging virus.
Over the past 16 months at the St. Michael's COVID-19 Assessment Centre (CAC), more than 103,000 tests have been recorded, with many visitors who have been greeted, assessed and had their test results analysed by teams of lab clinicians working around the clock. Now, as this historic effort comes to an end, many are reflecting on what it took, and the memories – and relationships – they will take away from it.
For some, the centre became a place for members of the public to seek knowledge or comfort. Others said they'll never forget the centre's unique way of equalizing staff voices to ensure everyone's opinion was heard. Others will never forget witnessing how the pandemic exposed inequities in the city. Abeed Shariff, an electrocardiography technician redeployed to the CAC, said he comes away with more friends among his colleagues.
The work continues at the St. Joseph's CAC, which will remain open through the summer due to the ongoing needs of their surrounding community.
But as the St. Michael's site winds down, dozens of those who worked there submitted their reflections on what working at the CAC has meant to them. Here is what they said:
"I remember when the Assessment Centre first opened I was nervous about what to expect; I think we all were. Watching what was happening in Europe specifically Italy at the time stands out in my mind. It was scary and I hoped we could contain the virus and not be in the same place they were in.
From the get go there was such a positive sense of camaraderie and support from all of our colleagues. There was always someone to collaborate with, ask questions to. But then it is St. Michael's and that's why I work here!
People coming to Assessment Centre were nervous, and stressed coming in. Many people expressed their gratitude to me and to all of us for the work we were doing.
I met so many different people from all parts of the hospital. We all came together as a team; we had the kindest and most professional group of people and it was a privilege to be part of that time in history. I feel with the closing, it is saying goodbye to a piece of history, but I think maybe we have turned a corner and I see it as a positive."
Jane Mason, Registered Nurse, Diabetes Clinics
"Seeing the doors close to the public is something to be celebrated as the Assessment Centre in essence was a response to a global emergency and the goal from day one was to make it to this point. The team I was with grew and expanded as we went from the initial crisis phase of the pandemic through to different waves and after I left different variants.
What I will remember the most from my time at the CAC was how the power of Unity can achieve the greatest of feats even when your back is against the wall and there is very little hope in any given moment. I will remember how in six months I made more friends at Unity Health than the 7 years I have been at St. Michael's combined.
What I learned more than anything is how important our role in the health-care sector is for the community at large to be leaders and ambassadors."
Abeed Shariff, Technician, Electrocardiography
"The CAC taught me the true meaning of teamwork. We were a team brought together from different health disciplines and departments to work towards one common goal. Through mutual respect, collaboration and trusting each other's experiences and expertise; we able to successfully respond to constant change.
I will always remember the magic of the CAC! It's hard to articulate what the recipe was to cultivate a feeling of lightness and joy, in such a uniquely challenging time. But I came to work knowing, no matter what the day ahead looked like, I'd have the support and friendship of my colleagues.
It definitely feels like the end of an era. But I know the shared experiences and memories created will last a lifetime."
Christina Marshall, Coordinated Access Addictions Caseworker, Withdrawal Management Services
"This pandemic has been a life-changing and incredibly tough period of time to live through, inundated with a constant barrage of ever-changing information. Being in the position of keeping Assessment Centre staff updated as to what information is conveyed to the public has been without a doubt overwhelming, confusing and made more difficult by the many voices and opinions on how to manage and navigate this pandemic. I do believe that what can be learned is that great communication is key and foundational and that often requires having one, focused and concerted voice or authority to best direct and mobilize necessary municipal, provincial and federal resources with the best interests of the public kept paramount.
I have not had the opportunity to work with such a dedicated and amazing group of people as I did at the Assessment Centre. We were such a diverse group of people and yet we all heeded the call to serve our community and stand in solidarity against the uncertainty, fear and unknown of this pandemic and we were willing to do so seven days a week. It has been the greatest honour and privilege of my life to work alongside this team and be part of the push to see an end to this pandemic!
I'll truly miss the people I have had a chance to meet and develop friendships with – they are part of the many unsung heroes that made the conscious decision to come in every day and simply do their job and I love that I got the opportunity to work with each and every one of them. It really was an adventure of a lifetime."
Nancy Agbaje, Operations Leader, St. Michael's COVID-19 Assessment Centre
"I learned that a pandemic affects us all in different ways. At the St. Michael's COVID-19 Assessment Centre, the staff banded together and supported each other through all the ups and downs.
I will remember the people, and all the good that surfaced from humankind. The gratitude from patients, the compassion shown by staff, and the kindness from complete strangers.
With each passing day, I find myself getting more emotional thinking about the closing of the Assessment Centre. This has been the most rewarding work experience of my life. At the peaks, times were heavy, and emotions were strong. I could not have done this without the help of our amazing team. I will be forever grateful of our time together, and all the good work we did together."
Ornella Colacelli, Operations Leader, St. Michael's COVID-19 Assessment Centre
"This opportunity revealed a few things. One is the sheer diversity of the city. On any given day you meet 50 to 60 people, all with varying attitudes towards this pandemic and how it is affecting them. Some fearful, some dismissive, many anxious but plenty of them prepared to make the necessary sacrifices in terms of self-isolation when needed. Given their particular financial situation, it may or may not have been a challenge to take time off work to isolate. Others enjoyed the luxury of a safe place to isolate and the ability to work from home. In this sense, it was very evident that this pandemic had an unequal effect on the members of our community.
The second is the power of listening. In addition to wanting a COVID test, most patients wanted to get a load off their chest. The simple act of letting them voice their frustrations, their fears, their thought process towards the pandemic was a therapy in itself. In addition to the freeing sensation of letting it all out, it opened them up and made them more receptive to hearing the official recommended guidelines. As well, patients reveal so much subtext when you are actively listening. Many times a colleague would tease out key details to a patient's scenario that would not have been revealed if not for their keen listening.
The hard work and compassion of my colleagues will stay with me forever. All the clichés spouted in the TV commercials throughout this pandemic about front-line workers are true. Coming from a non-medical background and seeing it all firsthand on a daily basis was a privilege. The incredible nurses and doctors speak in a way that emphasizes care. The patient and their family leave having felt seen and valued. This instinct is a great starting point for any interaction. On top of that is the encyclopedic medical knowledge they are able to call upon to confidently assess their patients and deliver helpful advice.
In idle moments, my younger colleagues would diligently review study materials for upcoming exams. They leave me optimistic for the future of care in Ontario.
It's obviously bittersweet, but in the end it's a happy occasion. We have successfully arrived at a stage where this testing capacity is not required. That being said, I know that this team would be ready to bravely step up again if needed."
Neil Rabjohn, Educator, St. Michael's COVID-19 Assessment Centre
"I learned that no matter how scary a situation is, or what little time we had, people always volunteered and came together to unite as one to help us get through this. I will always remember our outreaches. Dressing up in out 'astronaut suits' and visiting countless shelters and knowing we were making a HUGE difference in that community will always leave an everlasting impression on me. I've been here since March 15, 2020 and the team has become our family away from home. It is bitter sweet to hear it's closing as that means were on the right path to ending the pandemic."
Jessica Tonin, Administrative Assistant, Michael's COVID-19 Assessment Centre
"I will remember the great CAC team. It was an honour to work with them. Everyone came together when needed. When I joined the team back in September there was a line daily and to now see the difference in the daily case counts is a bit of a relief. It is a bitter sweet feeling because it's great that the doors are closing meaning that we as a society are improving following the protocols and are getting back to a more "normal." I will miss the team I have grown fond of."
Breanne Balgrove, Educator, St. Michael's COVID-19 Assessment Centre
"Teams that have a purpose and good leadership can accomplish great things. Everyone in the clinic pitched in and helped wherever they could and hierarchical structures were broken down. I think that team members really felt supported, valued and proud of the work that they were doing.
I will remember the commitment of the team within the CAC; their willingness not only to provide service in a controlled environment, but the willingness to go out into the community to reach people who wouldn't otherwise be assessed. I will remember how they treated everyone with dignity."
Robyn Davies, Collaborative Learning Specialist
"Although it felt like a long time that we got stuck in this battle of COVID-19, in the broader context of emerging viral disease and science, it's actually been a relatively short period. There wasn't much evidence available at the beginning to guide practices. The biggest learning for me is that being flexible and working collaboratively are the key success factors when dealing with perplexing and ever-changing emerging infectious disease that we had little knowledge. COVID-19 is still evolving and we are still learning about it. We have come far and will continue applying Infection Prevention and Control principles that keep staff and patients safe until we win the battle completely.
I will remember the outstanding team at the St. Michael's COVID-19 Assessment Centre! Every member's bravery, unselfishness, commitment, enthusiasm and flexibility are inspiring. Together, the team built the Assessment Centre in a very short time window. During this very challenging year and a half, the team provided safe and excellent patient-centred care. The team emerged from this crisis and were willing to risk their own health to serve their patients and community. They played a very critical role and made significant impact in the battle against COVID-19. I am very proud to be part of the team.
My first feeling was sad to see it go, then actually feel happy. The diminishing need of Assessment Centres is very positive and a welcomed change for everyone including me. We all want to see that the normalcy is close and coming back. I will definitely miss the team members very much. I am sure we will cross paths at other opportunities."
Lin Tang, Manager of Infection Prevention and Control at Providence, and previously and Infection Prevention and Control Specialist at St. Michael's
"The Assessment Centre and Microbiology worked intimately over the last 16 months to ensure that we were meeting our patients' and clients' needs. What was most powerful was the stories that we shared with each other, which informed how we collectively changed our practices across the entire testing continuum to improve the delivery of COVID-19 testing to our clients. Despite the intense pressures of the pandemic it was the thoughtfulness and collegiality by striving for a common goal that made working together such a successful partnership.
I will remember how we worked mutually respectfully to find improvements. It was truly gratifying to work with an incredibly diligent, thoughtful and creative team to problem solve the systems issues together. We truly reflected Unity's slogan: 'Caring hearts. Leading minds'. And vision: 'The best care experiences. Created together.'
I feel very proud of our collaboration's accomplishments. We stepped up to serve our community successfully when we were most needed. It is a bittersweet moment to dismantle a successful initiative.  But all successes need an exit strategy and it is an equally good news story that we can close to the public as this signals the beginning of the end of the pandemic. I will miss working with the St. Michael's Assessment Centre."
Larissa Matukas, Director of Microbiology, Unity Health Toronto
"What I remember the most is the amazing team work from every department involved in the COVID-19 response and the project work to open up the CAC. This is what why I enjoy working at St. Michael's – the collaboration effort between staff and the willingness to work together to achieve a goal.
In a way, it feels great that it is closing. It just means that we have done our part to reduce the transmission of COVID-19 and numbers have gone down that the centre is no longer needed. Although it will be sad to not see some of the temporary contracted staff that I have worked with in the CAC."
Victor Laurel, Operations Leader, Environmental Services, Unity Health
"The learning from my being part of the team was that it was all teamwork. The level of collaboration between the teams working with and around Assessment Centre – it was phenomenal.
Without exaggeration, the Centre under the leadership of Dana and Linda was able to grow their team in hours. From the time they started until when they were a full-blown operation it was phenomenal. They opened up their minds to working with other teams and how they did stakeholder analysis – it was great.
The two things that I will remember are the teamwork/collaboration and smiling faces. Every time I went there, I saw their staff smiling in the midst of the pandemic when people were scared, they were all up for the challenge.
We don't celebrate a lot in our health care because of the nature of our business. This is one of the things we celebrate knowing that the public is safe. It was sort of a relief knowing that it's closing down.
I want to thank the Assessment Centre for partnering with Lab Medicine. They are always open to suggestions and guidance from Lab Medicine. It was a very good example of cross-functional health care partnership – we relied on them and they relied on us."
Adnan Khan, Manager, Labs, St. Michael's
"When I reflect back on the last 16 months, I am in awe of how quickly we were able to mobilize to stand up the St. Michael's Assessment Centre and all the work we have accomplished since. Teamwork, collaboration and communication was key with many departments, teams and individuals – both internal and external to the hospital –  coming together with a common goal. Each individual played an important role in serving our patients and community.
I will forever remember the people. I have had the pleasure of working with and alongside many amazing passionate and dedicated individuals. These relationships will last long after this pandemic."
Nicole Gichuru, Manager, Operational Excellence, Quality and Performance, who project managed the opening of the Centre and its operations
"The experience reinforced for me, that "it takes a village" and wonderful things can be achieved when a group of people come together and work towards a common purpose.
I have positive memories of the brief but intense period of teamwork, working with the clinical leaders like Paul, Joel and Linda, to plan and operationalize the layout of the COVID-19 Assessment Centre. There was lots of creative thinking, problem-solving and team work by so many people and teams to prepare and set up the CAC. And there was a positive sense of accomplishment and satisfaction – Operational Readiness coming together with Engineering, Supply Chain, IT, Environmental Services, Communications and Security to set up the Assessment Centre on Sunday while the clinical team was simultaneously conducting training of staff who would be working in the centre, for go-live on Monday.
I am so glad that we now have COVID-19 vaccines that save lives. And so glad that we can now close the Assessment Centre to the public."
Margaret Moy-Lum Kwong, Senior Director Operational Readiness, Planning & Development
"A couple of things stand out for me on this successful challenge: My staff's wonderful response to providing comfortable conditions to an area that was not initially designed with an assessment purpose. On this I should also include a shout out to Dana and her staff for the incredible patience they showed while we got a handle on things.
Also, and I'm sure others have noted this, but the incredibly short time between concept and the first patient tested was the most incredible example of teamwork I have ever seen in my 25 years of project management. Everyone involved deserves kudos for what was accomplished in a time that was scary with the unknowns. St. Michael's through and through."
Kenneth Jones, Manager Maintenance and Plant Services, Engineering Services
"I learned what people can accomplish together. What I will remember most is how a great number of people come together to solve a problem and to provide a vital public service to save lives.
The closure of the Assessment Centre is bittersweet. I feel like it was a great accomplishment given the constraints and challenges."
Howie Chong, Senior Director, Engineering and Plant Services
"I was truly blown away from how quickly the SMH team was able to envision the space, build out the space and test the space to ensure the best possible patient experience. The process truly showed team work at its best. 
I will remember the long lines and anxiousness of both staff and patients at the beginning. I will also remember my own personal experience of being tested there. The process was smooth, the directions were clear, a truly intuitive process. 
I feel proud to have had played a small part. My hat goes off to the clinical team and our contract security guards who made the Assessment Centre a success.
I have said it before and will continue to say it, no healthcare institution responds to urgent situations like Unity Health Toronto."
Paul Greenwood, Director Security & Fire Safety
"I learned that as collective, no matter how small our role, we were all part of the bigger picture. In  a time of uncertainty,  we were certainly happy that  we could assist the CAC with their signage needs.
The staff is who I will remember most after the pandemic. Dana and her team always had an upbeat attitude even through the toughest times of the pandemic. Their professionalism and empathy will always be remembered."
Edward Robello, Operations Leader, Mailroom & Print Shop
"Casting my mind back to that time, it was one filled with anxiety and unknowns. What I remember most in setting up the CAC was how the work was such an equalizer, where everyone welcomed each other's contributions and expertise toward the common goal of opening the Assessment Centre safely for all. It didn't matter if you were an engineer, Infection Prevention and Control specialist, clinician, hospital executive, or simulationist; if you had a good idea we would test it through simulation. And if it worked during testing, then we were just that little bit more confident that when we opened the doors on Monday, that clients/patients and our Unity Health colleagues would feel and be safe."
Lindsay Beavers, Manager, Simulation Program
"The day the global pandemic was officially declared; I didn't know right away – I was in the St. Michael's Assessment Centre doing a walkthrough with the team to ensure we had all the communications materials in place for a launch that was days away. From the start, communication was prioritized. Fear comes from an absence of information and this team wanted to make sure there was no fear surrounding the centre. It was to be a shining light in a dark time – a place you could find answers when all was uncertain. This centre is a reminder of why we work in health care. We are here to create spaces where patients, families and communities will find answers, and to provide comfort even when it seems like there is none to be had. It has been a career highlight and a personal privilege to work with the Assessment Centre. I'll never forget it."
Ana Gajic, Senior Communications Advisor
"Working at the St. Michael's COVID-19 Assessment Centre taught me about the strength that can come from effective team work and leadership during times of stress and uncertainty. Everyone came together, working toward a collective goal, and the uniqueness of the situation created incredibly strong bonds. I will remember the people – leadership, staff, and especially the patients. I will not forget the countless patient stories which highlight systemic inequities that exist within our society and medical system; we knew these existed, but COVID-19 and the process of COVID-19 testing and isolating really highlighted these issues."
Esther Rosenthal, Staff Physician, Family and Community Medicine
"During this pandemic, I learned how special Unity Health is in bringing together a diverse team from all walks of life and disciplines. With varying expertise and experience, we quickly came together during this unprecedented time to provide compassionate, caring and competent care to our community, especially our population most vulnerable to the impacts of COVID-19.
I will remember most the dedication of the staff and the kindness and patience demonstrated by the patients. It was very heartwarming to work with such an incredible group of committed health care professionals and staff and to help our patients in their time of need as they were faced with the prospect of being exposed to COVID-19 and potentially infected with the virus. The most memorable shifts for me was doing outreach, working in the shelters and witnessing the resiliency and bravery of the residents there.
It has been a wonderful and humbling learning experience to have worked at the Assessment Centre over the past 15 months. We have made tremendous progress in our fight against COVID-19. I will always remember the wonderful team and the patients who suffered the impact of the pandemic. We will hopefully be able to learn from this experience and will be better prepared for the next pandemic."
Gord Arbess, Staff Physician, Family and Community Medicine
"I strengthened my ability to adapt in a time of constant uncertainty and the importance of valuing the work and resiliency as a team – the success of the St. Michael's Assessment Centre lies in the strength of its teamwork. I learned about the inequities, inequalities, and challenges facing our homeless populations and essential workers – who often suffered the most and bore the brunt of the pandemic.
I will remember the comradery and kinship formed by the Assessment Centre who truly became like a family. Even on the hardest and most exhausting days of the pandemic, the staff, who came from all walks of life and all different backgrounds, always supported each other and kept morale high. I will also remember the gratitude expressed from those being tested, or even when they were told they were positive over the phone.
The closure of the Assessment Centre means that we may be nearing an end to the hardest part of the fight against COVID-19. It is a sign of the fruits of our labour, as many who worked at the Centre moved on to continue to participate in vaccination clinics. It hopefully heralds a beginning of the end of this chapter of the pandemic – signifying a return to a life that has been put on hold and missed. But also reminds me that there is a lot of work still to be done, and that closing these doors will open new doors to move forward and do better where we can."
Aisha Khatib, Staff Physician, Family and Community Medicine
"I learned the power of connections. There were so many people instrumental in the success of the Assessment Centre. Respect for every role, every individual and their unique strengths and a genuine appreciation for their contributions created an environment that was so powerful. With that as a base, we were able to manage this crisis and feel both a sense of purpose and connection.
I think what stands out for me most is how positive the environment has been, not just at the beginning but steadily through the past 16 months. We've had over a hundred team members in the Assessment Centre. Each time someone moves on, it feels like we are losing a member of our family and then a new member joins and we immediately feel that our circle expanded. I'm so honoured to have been part of something so unique.
I feel an exceptional amount of pride. The compliments that we have received over the course of past 16 months have validated that this team truly embraced the values of this hospital. I could see it every day in the manner in which the team supported one another, communicated with their patients and always found a way to help where help was needed and I am thankful that others were able to see it too.
I've been fortunate to work with such a phenomenal group of individuals and leaders. I've learned something every day for the past 16 months. As challenging as it was at times, I'm so grateful to have been a part of this team."
Dana Whitham, Clinical Leader Manager of the St. Michael's COVID-19 Assessment Centre
"The old adage that 'it takes a village' certainly held true over the past 16 months. We had the opportunity to work with amazing individuals from departments I didn't even know existed at the hospital. It took the energy of each one of us to get the Assessment Centre off the ground. Our clinical team was very engaged as well in the assessment process. I remember a morning huddle in March, where our whole team discussed and defined who an 'essential worker' was before the terms became commonplace and advocated to offer them testing. The leadership group sat and listened while the team came to decisions on who needed testing in those early days. It was inspiring to be part of this team.
I'll remember the people – their positive attitude, perseverance and friendships over the past 16 months. We were composed of 'redeployed' staff from all over the hospital. We shared a common goal, a commitment to our patients, a healthy dose of fear, and trust in the processes we designed. The staff on site have been the heroes of the pandemic – on a daily basis, they were there with a welcoming attitude and were so responsive to feedback and frequent modifications to the assessment process. They added the heart and warmth to our clinic. Our team stepped up without hesitation for every single request – often with less than 24 hours' notice – changes to hours of operation, outreach testing in the hospital, and testing outside in extremes of temperature. Despite the pandemic, we found ways to celebrate birthdays, anniversaries and even a "Wall of Face Shields" for our colleagues that have returned to their regular jobs.
I'll also remember the design process for the CAC, the Mobile Testing unit on the Sherbourne Health Bus, and all of the on-site outreach performed by our team. It was such a special time of creativity, tireless energy, a commitment to keeping each other safe and designing processes that were patient-centred.
I'm clearly very proud of all that we have accomplished. However, it certainly feels bittersweet. One of the groups I'll miss most is our mini-leadership team including Dana Whitham, Linda Jackson, Nicole Gichuru, Joel Lockwood and myself. We were meeting every day, often twice a day, daily group texts and phone calls. I've learned so much from each of them and call them all close friends. I really felt that our little group could accomplish anything!
I share a sense of cautious optimism right now. I'm hoping we can avoid a fourth wave and perhaps navigate a lazy river instead. Most importantly, I'm hoping we can find a time and space to celebrate with everyone involved in the near future!
Paul Das, Physician Co-Lead
"I learned that anything is possible through team work and living our values at St. Michael's. This was evident from day one where everyone who was needed, dropped everything without hesitation to set up and start the Assessment Centre. Remarkably this support continues to this date.
I will remember the importance of building relationships across departments and reaching out to the community to understand how to provide testing to the community. The first time taking the team to a shelter will stay with me for a long time.
I feel such gratitude to be given the opportunity to work with Dana, Paul, Joel and Nicole to support the St. Michael's Assessment Centre. This work kept me feeling positive throughout the worst days of the pandemic."
Linda Jackson, Director of the St. Michael's COVID-19 Assessment Centre
 "St. Michael's is full of amazing people who can really step up during a crisis. We were tasked with choosing the location, designing and building the Assessment Centre in about 10 days. Little did I know that was just the start of the adventure we all experienced together. The staff at the Centre were such an amazing group who made the space that came together quickly like a family. It really has been an amazing experience.
I think I'll remember the wall of fame of retired visors that was made the most fondly. It's a good symbol of the friendliness and camaraderie of the group.
It was a whirlwind, definitely. I'm really proud that the leadership team that I was a part of was able to be so dynamic and really rise up to a number of unique challenges – everything from the design and build, to the changing of the seasons affecting from winter to summer and back to winter, mobile testing within the hospital and at shelters and schools, and eventually ramping down. 
I'm really proud and inspired to have met and worked with an amazing leadership group. It was such a pleasure to work with Paul Das, Linda Jackson, Dana Whitham and Nicole Gichuru on this project."
Dr. Joel Lockwood, Physician Co-Lead
How St. Mike's doctors created a Covid-19 testing centre from scratch: https://t.co/MMhBMQjCCp

— Toronto Life (@torontolife) March 20, 2020
"In times of crisis, an all hands on deck approach is needed to brainstorm, research and design processes to succeed. This was so evident with the work of the Assessment Centre. It was a table of strangers that came together from various departments who planned, designed and built the Assessment Centre in less than two weeks. The extraordinary success of this team was founded on everyone's respect of each individual's expertise and efficiently applying their knowledge in a coordinated way. There was unbelievable enthusiasm and collaboration – it was an inspiring process and a remarkable group of dedicated clinicians, staff and leaders who brought the Assessment Centre to life.
The amazing spirit and deep commitment that was so present each and every day in all those involved.  It was a privilege to be even a small part of that team."
Sonya Canzian, Executive Vice-President, Clinical Programs, St. Michael's