Ten great things that happened this week
April 21, 2022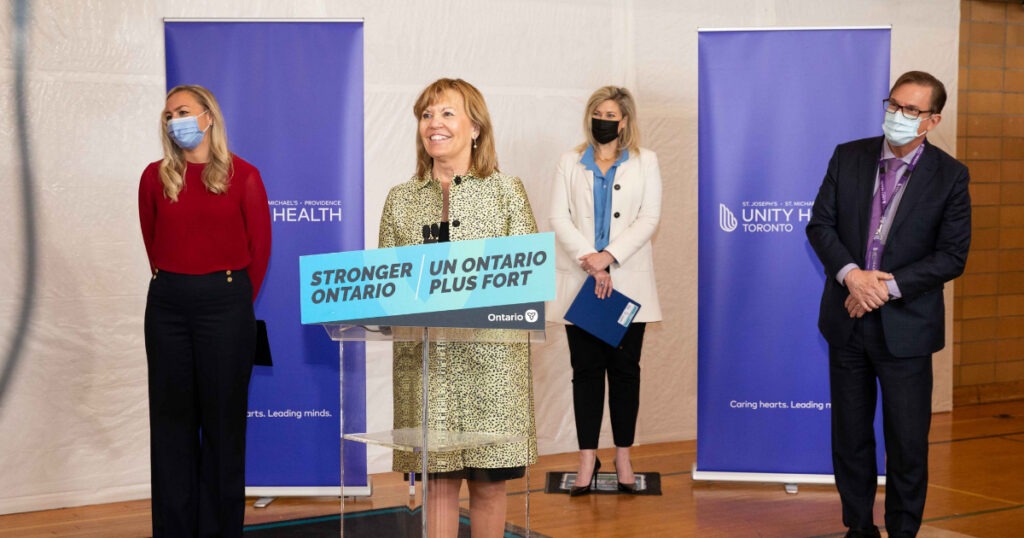 Each week, we share a list of 10 great things that happened at our sites. Do you have a story you'd like to share? Send it to communications@unityhealth.to.
1. Province announces $1-billion investment in St. Joseph's Health Centre
The Ontario government is investing more than $1 billion to expand and develop  St. Joseph's Health Centre, supporting a new state-of-the-art patient care tower and renovations to the hospital to improve patient care. Health Minister Christine Elliott, who made the announcement at St. Joseph's earlier this week along with Kinga Surma, Minister of Infrastructure, and Christine Hogarth, MPP for Etobicoke-Lakeshore, said the funds will ensure high-quality care for patients and families in Toronto's west end. Dr. Tim Rutledge, president and CEO of Unity Health, said the funding marks a major milestone for St. Joseph's. "Once complete, this project will help reduce wait times, improve access to care and end hallway health care." 
2. The 'number one health threat': A conversation with Dr. Samantha Green about climate change and health
Ahead of Earth Day, we spoke with Dr. Samantha Green, a family physician at Unity Health and the faculty lead of climate change and health at the University of Toronto's Department of Family and Community Medicine. Dr. Green talked about the many ways climate change impacts health, what healthcare providers can do to make a change, and why there are reasons to remain hopeful. "Climate change is the number one health threat that we are experiencing, that we will experience in the coming decades, and we need to think about it that way and treat it that way."
3. 'We were doing our best to understand it': An infection control professional reflects on her pandemic experience
We recognized Priya Patel, an infection control professional at St. Michael's, in a Behind The Mask feature. Priya spoke about her memories of the night the first suspected COVID-19 patient was admitted into the emergency department. "A big part of my job that night was helping with the mental preparation. We moved slowly and talked through every step. I look back now and think how remarkable it was to see everybody pull together, to handle this so seamlessly despite all the worry and unknowns."
4. St. Michael's Hospital acquires 'game changer' portable MRI scanner
St. Michael's Hospital is the first hospital in Canada to acquire a portable MRI scanner for use in an acute care environment. The scanner can be wheeled to the patient bedside and can generate clinical images of the brain, helping physicians answer critical questions and make quicker decisions about treatment. The scanner will be integral to care pathways in neurosurgery, stroke, trauma, emergency medicine and neurology. Doctors say it will help speed up care and minimize demands on staffing levels, as hospital address backlogs caused by the pandemic. "This is disruptive technology for the good," said. Dr. Tim Dowdell, St. Michael's radiologist-in-chief. "This is a game changer."
5. Unity Health teams tackle global blood tube shortages
Amid a global shortage of blood collection tubes, Unity Health Toronto teams developed strategies to conserve blood tubes without compromising patient care. One particular strategy was to better utilize add-on tests. An add-on test is when a clinician requests an additional test using a blood specimen that was previously drawn from the patient, instead of starting from scratch with a new blood draw and blood tube. The St. Joseph's ED worked with the lab team to update and improve the form they use for add-on tests. Another strategy, developed by the data science team, was to create a blood tube tracking dashboard. The dashboard helps clinical teams understand their blood tube usage, and monitors which types of tubes are in shortest supply.
6. Science doesn't stop: Unity Health researchers work to foil Hereditary Haemorrhagic Telangiectasia (HHT)
In a new series highlighting the research that forged ahead despite the pandemic, we spotlighted the work of Dr. Marie Faughnan and her team, who are working to develop effective therapies for hereditary Haemorrhagic Telangiectasia (HHT). HHT is a rare disease that causes abnormal blood vessels and can sometimes lead to bleeding in organs and stroke. Dr. Faughnan spoke about how the team worked on two clinical trials related to treatment for HHT throughout the pandemic. "There was an urgent clinical need to develop the therapies, and an urgent need to use the funding we had received for them."
7. Unity Health HIV researchers undeterred throughout pandemic
Dr. Darrell Tan and his team were recognized for their commitment to HIV research throughout the pandemic. Dr. Tan and his team have been studying HIV and other sexually transmitted diseases that have caused global pandemics for decades. In early 2020, Dr. Tan's team launched a trial that looked at whether they could deliver post-exposure prophylaxis (PEP) against HIV to patients in new and effective ways. The team designed text messaging support service to see whether this would help keep patients engaged, along with nurse-led delivery of PEP. While the pandemic paused the nurse-led delivery, the team was able to get the text messaging portion off the ground and have been enrolling trial participants. "Though many of our partner organizations were hardest hit by COVID-19, I am really grateful that we've been able to continue this research," said Dr. Tan.
8. Dr. Monica Farcas shares most rewarding part of being a transplant surgeon
For part of Be A Donor Month, we're spotlighting Unity Health physicians and staff who play a part in the transplant and organ donation process. Dr. Monica Farcas, a transplant surgeon at St. Michael's, shared what she enjoys most about her job. "I think certainly the most enjoyable part of the job is seeing the patients afterwards. They are so, so grateful. It's been such a long road for them," she said.
9. Unity Health recognizes World Hemophilia Day
Unity Health Toronto recognized World Hemophilia Day on April 17. St. Michael's Hospital is home to the largest Hemophilia Comprehensive Care Program in the country, founded in 1983. The team cares for patients with hemophilia, other inherited bleeding disorders, acquired bleeding disorders and takes a multidisciplinary approach to women's health. This year's theme for World Hemophilia Day is "Access for all: Partnership. Policy. Progress. Engaging your government, integrating inherited bleeding disorders into national policy."
10. Dr. Darren Yuen discusses a new drug being used to help prevent COVID in immune-compromised patients
Dr. Darren Yuen, transplant nephrologist at St. Michael's Hospital, spoke to the Toronto Star about Health Canada's recent approval of a COVID-19 prevention drug for patients who have weaker immune systems and cannot mount a strong immune response to COVID vaccines, including transplant and cancer patients. The drug Evusheld, a combination of two antibodies, is given via injection as a preventative measure.
Previous Ten Great Things articles