Ten great things that happened this week
April 07, 2022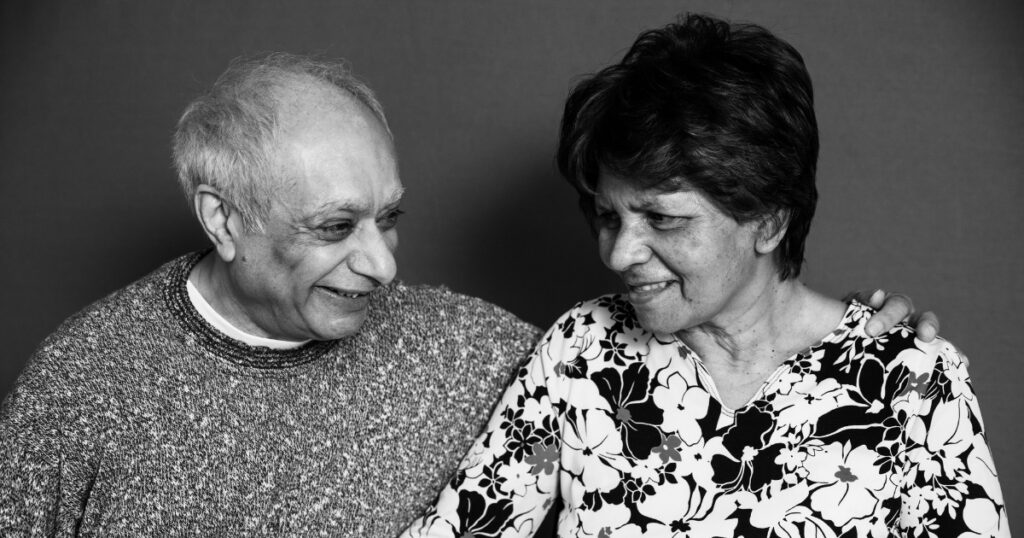 Each week, we share a list of 10 great things that happened at our sites. Do you have a story you'd like to share? Send it to communications@unityhealth.to.
1. 'This is a commitment that you make': An Essential Care Partner reflects on caring for his wife
We shared the story of Ravinder Rehal, an Essential Care Partner who helps care for his wife at the Houses of Providence. Ravinder's wife was diagnosed with Parkinson's 21 years ago and found a home at the Houses last April. Each day, he spends hours commuting from Aurora to Toronto to visit his wife, bringing word puzzles, home cooking and clean laundry for her. While the work is tiring, he says stopping is out of the question. "I've had people say to me that I'm strong for doing what I do, that a lot of other people would turn away. But this is a commitment that you make. It's my duty. If the shoe was on the other foot my wife would be there for me."
2. Unity Health employee donates part of her liver to stranger
For Be A Donor Month we spotlighted Fiona Byrne, a Unity Health employee who donated part of her liver to a stranger. Fiona, a project coordinator at Unity Health's Redevelopment Office, was able to make the donation thanks to a new corporate policy that offers up to 13 weeks of full paid leave to employees who become living organ donors. Fiona, who was already a regular blood donor and registered organ donor, said the new policy helped her make the decision to proceed with the donation. "For a few weeks of inconvenience, I was able to save someone else's life. To me it was completely worth it."
3. Unity Health physicians rock out on Canada's Got Talent
Voices Rock Medicine, a choir of female physicians from across the Greater Toronto Area, were featured on Canada's Got Talent. The choir, which includes Drs. Carolyn Snider, Sarah Kim, Daphne Williams and Christine Song from Unity Health Toronto, sang "Fight Song" and got a unanimous "yes" from the judges, moving on to the next round on the show. Members of the group said the choir has been an opportunity to spread joy, form bonds and heal, particularly throughout the pandemic. Congratulations to all the members of the choir and good luck as you continue on the show!
4. New $1.35M investment in CanProCo Multiple Sclerosis study
The Multiple Sclerosis Society of Canada announced a nearly $1.35 million investment in the Canadian Prospective Cohort Study to Understand Progression in Multiple Sclerosis (CanProCo). The study, which is being co-led by St. Michael's Hospital, follows a cohort of pediatric MS patients as they become adults to better understand MS across the age-span. This additional investment from Biogen Canada Inc., Hoffmann-La Roche Limited and Brain Canada Foundation will be used to analyze a new sub-cohort.
5. Unity Health Research calls for patient and community partners
Research at Unity Health is accepting applications for patient and community partners to join the Patient and Community Engagement in Research Committee (PCERC). As member of PCERC you will give advice on research projects, as well as bring community voices to health research. As a partner you will be compensated for your time. Applications to become a patient and community partner are due by May 20.
6. Dr. Fahad Razak weighs in on the benefits of masking
Dr. Fahad Razak, internist at St. Michael's Hospital, spoke to CP24 about the benefits of masking, amid a sixth wave of COVID-19. Dr. Razak said that the protection from COVID-19 from masking is highest when everyone is wearing one.
7. Dr. Kevin Schwartz advises on how to use rapid tests amid the sixth wave
Amid a sixth wave of COVID-19, Dr. Kevin Schwartz, infectious disease physician at St. Joseph's, explains to The Toronto Star how people should be using rapid tests at home to get the most accurate results. Dr. Schwartz advises swabbing the inside of both cheeks and the nose one to two days after the onset of symptoms. He also recommends that if you are showing symptoms and are high risk, elderly, immune compromised, have chronic medical conditions or are not-fully vaccinated, you should get tested early and seek treatment.
8. Dr. Peter Jüni reflects on Ontario's pandemic response, new opportunity in the U.K.
Dr. Peter Jüni, epidemiologist at St. Michael's and the outgoing director of the province's COVID-19 Science Advisory Table, spoke to Global News about his time at the helm of the science table and Ontario's pandemic experience. "I think Ontario did remarkably well, thanks to its people, thanks to people embracing science," he said. Dr. Jüni will start a new position at Oxford in the summer, but will stay on as an affiliate scientist in the Li Ka Shing Knowledge Institute at Unity Health.
9. How would a national pharmacare plan impact patients? Dr. Nav Persaud weighs in
Dr. Nav Persaud spoke to CBC News about the need for a national pharmacare program and the significant impact it would have on patients' lives. "People have to make really tough decisions about rationing their use of insulin or making decisions about paying the rent or buying their medications," he said. "These are decisions that nobody should have to make."
10. Dr. Yolanda Kirkham raises awareness about endometriosis on CityNews
Dr. Yolanda Kirkham, obstetrician gynecologist at St. Joseph's, explains endometriosis on CityNews. Endometriosis is a chronic disorder in which the tissue similar to the tissue that normally lines the inside of the uterus grows outside the uterus. Endometriosis impacts nearly a million people in Canada. It can involve multiple organ systems and result in chronic pain and infertility.
Previous Ten Great Things articles