Ten great things that happened this week
March 31, 2022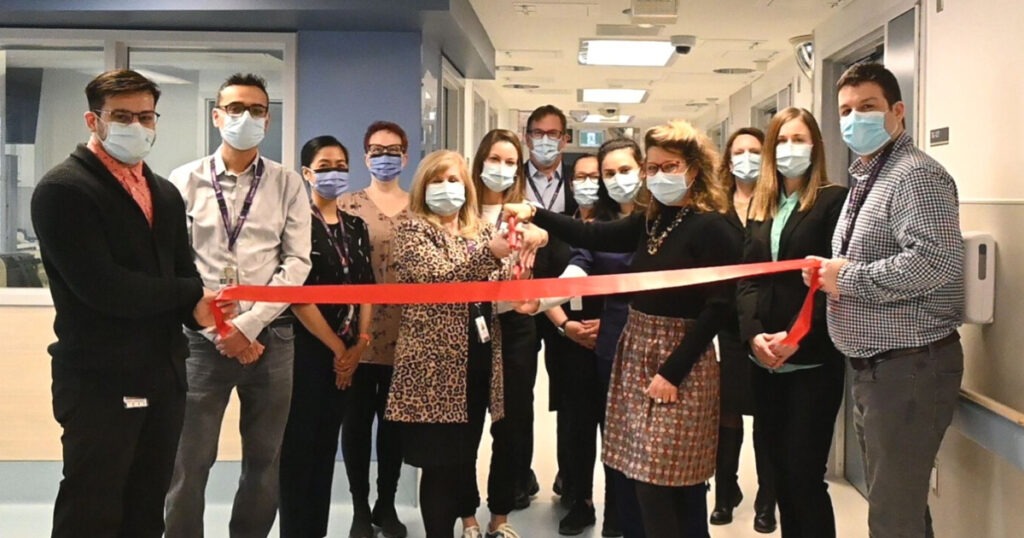 Each week, we share a list of 10 great things that happened at our sites. Do you have a story you'd like to share? Send it to communications@unityhealth.to.
1. New inpatient mental health unit opens at St. Joseph's
St. Joseph's Health Centre has opened a new inpatient mental health unit that helps young people make the transition from adolescent to adult mental health care. The RBC Mental Health Short Stay and Transitional Aged Youth Unit (MHSSU-TAY) is open for young adults age 19 to 26, and provides patients with age-appropriate and therapeutic services. The unit focuses on this age range, which has been identified as a critical time for young people, marked by major life changes and an increased risk for mental health challenges. "Child mental health care is well-structured, there's lots of programming, while adults are given less oversight," said Dr. Rayanne Elias, medical director of MHSSU-Tay. "This new unit fuses components of both programs to improve the transition for our young adult patients."
2. Staff, researchers, physicians and learners recognized in March Honour Roll
We recognized staff, researchers, physicians and learners in the March Honour Roll. This past month, the MAP Centre for Urban Health Solutions launched a new podcast, five St. Michael's research projects were awarded funding to examine key questions about the COVID-19 pandemic, and Dr. Sharmistha Mishra took part in a roundtable discussion that critically examined the data-driven solutions that were used throughout the pandemic. Congratulations to all!
3. Unity Health launches UnityNet, a harmonized web resource  
Unity Health Toronto launched a new, unified intranet for staff, physician, learners and volunteers at St. Michael's, St. Joseph's and Providence Healthcare. The new UnityNet intranet is a one-stop shop for employees to access relevant documents, read alerts, announcements and updates, as well catch up on Unity Health Toronto news. Congratulations to all the team members who helped launch UnityNet!
4. Unity Health celebrates 10 years of transplant and organ donation youth outreach
Unity Health Toronto is celebrating a decade of youth outreach with the High School Outreach Initiative (HSOI), an education program for youth about transplant and organ donation created by transplant providers at St. Michael's, SickKids and Toronto General Hospital. This April marks 10 years since the first outreach presentation was delivered, and since that time HSOI has delivered 700 presentations to more than 40,000 teenagers across the GTA about organ donation. HSOI plans to hold a special 10-year milestone virtual event on April 13.
5. What will a COVID vaccine for kids under five mean to families? Equity to start, says Dr. Anne Wormsbecker
Dr. Anne Wormsbecker, consulting pediatrician at St. Michael's and St. Joseph's, spoke to The Toronto Star about what impact a COVID vaccine for kids under five will have on families. Dr. Wormsbecker said a vaccine will help boost equity for families who have held off on daycare for their children or skipped learning and social opportunities. "Getting (kids) back to their regular lives is a huge priority for their growth and development, especially as we move to a next phase of the pandemic with fewer public health restrictions in place," she said.
6. Dr. Sharmistha Mishra speaks about the effectiveness of COVID-19 interventions
Dr. Sharmistha Mishra, infectious disease physician at St. Michael's, spoke to The Toronto Star about the various COVID-19 interventions used throughout the pandemic and who they're working for. Dr. Mishra and her team analyzed COVID deaths and hospitalizations and found the disease continues to disproportionately impact those living in low-income neighbourhoods. Read the story.
7. St. Michael's social workers talk about pregnancy and postpartum depression on podcast
Data shows one in seven moms show signs of postpartum depression. Kayla Deverson and Melissa Luongo, social workers at St. Michael's Hospital, joined the We Go There podcast to discuss pregnancy and the often stressful postpartum period. Deverson and Luongo, who were both pregnant during the recording, shared personal and professional tips to help prepare expecting moms for the postpartum period. Listen to the segment.
8. Dr. Tara Kiran outlines factors contributing to Canadians low uptake of third-dose booster shots
As some countries roll out fourth doses of COVID-19 vaccines, less than 50 per cent of Canadians have had their third COVID vaccination. Dr. Tara Kiran, family physician at St. Michael's, tells The Toronto Star what factors are driving the low uptake rate, including mixed messaging from officials and overall pandemic fatigue. Read the article.
9. Dr. Samantha Green outlines environmental impact of metered-dose inhalers
Did you know that some asthma inhalers contribute significantly to climate change? Dr. Samantha Green, family physician and the climate change and health co-lead at St Michael's, co-wrote a paper in the Canadian Medical Association Journal outlining five facts about pressurized metered-dose inhalers and their impact on climate change, as well as alternative inhaler options.
10. What are the best practices for running a successful mass vaccination clinic? Upstream Lab research publishes critical recommendations
Researchers from the Upstream Lab published a set of key recommendations on how to run a mass COVID vaccination clinic in The Annals of Family Medicine. The recommendations, developed by Drs. Andrew Pinto, Shima Shakory, Azza Eissa and Tara Kiran, include establishing a leadership structure, focusing on clinic location, layout and workflow, ongoing data collection and evaluation, and addressing vaccine hesitancy.
Previous Ten Great Things articles