Ten great things that happened this week
March 24, 2022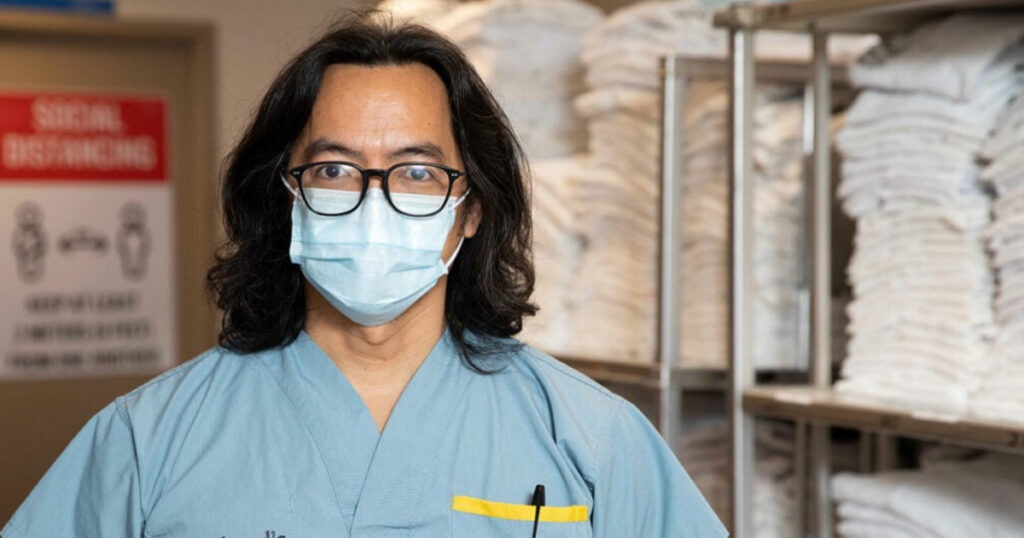 Each week, we share a list of 10 great things that happened at our sites. Do you have a story you'd like to share? Send it to communications@unityhealth.to.
1. Behind the scenes with the 'mini army' keeping St. Michael's Hospital running
We spotlighted the Supply Chain and Support Services team at St. Michael's Hospital that maintains the day-to-day operations of the hospital. The team's work is evident throughout the hospital, from the clean scrubs staff and physicians use, to the medication stocked in the pharmacy shelves, to the thousands of pieces of mail sorted each day. "We are an integral component of the whole machinery of running the hospital," said John Costa, linen operations lead who has worked at St. Michael's since the 1970s. "The satisfaction I get from getting things done is what keeps me coming back every day."
2. Wishing Dr. Peter Jüni well as he heads to new position at Oxford
We recognize Dr. Peter Jüni for his leadership, research and advocacy during his time as director of the Applied Health Research Centre (AHRC) at the Li Ka Shing Knowledge Institute and for his work on the Ontario Science Table throughout the pandemic. Dr. Jüni is leaving Unity Health in June to take on a new role at the University of Oxford, and will stay on as an affiliate scientist in the Li Ka Shing Knowledge Institute at Unity Health. While we will be sad to see him leave his role at the AHRC, we wish him all the best in the move. Best wishes, Dr. Jüni!
3. 'We have come through together': Unity Health celebrates Pharmacy Appreciation Week
To mark Pharmacy Appreciation Week, the pharmacy team created a special video highlighting the critical work that pharmacists and pharmacy technicians do every day, and thanking the pharmacy teams at St. Joseph's, St. Michael's and Providence Healthcare. In 2021, all three Unity Health hospitals dispensed more than 5.3 million doses of medication, employed 127 pharmacists and 101 technicians, and trained 105 students.
Clarence Chant, senior director of pharmacy, said the week is a time to show gratitude and appreciation for all the amazing work that the team members have done over the past two challenging years in meeting the ever-changing patient needs and the pandemic responses. "It is a time to pause, take note of the many accomplishments, and tell ourselves that while we may often be in the background, our work does directly impact every patient and contributes in a meaningful way to the overall pandemic response. And that despite the tough times, we have come through together and look forward to the future."
4. Dietitians share their 'key ingredients' to a healthier tomorrow
To mark Nutrition Month, we asked three Unity Health dietitians what are their "key ingredients" to a healthier tomorrow, and what they enjoy the most about their work. Beini Wong, dietitian at the St. Joseph's ICU, said one of the keys is to choose sustainable foods and be mindful of food waste. "On a community level, I would say the key ingredients are more programs to address food insecurity (such as fresh food boxes) and a greater emphasis on teaching basic food skills in schools," she said.
5. New MAP Centre podcast examines health equity issues affecting Canadians
The MAP Centre for Urban Health Solutions launched a new podcast. The MAPMaking podcast features discussions with Canada's leading voices on health equity issues. In the first episode, Gautam Mukherjee, executive director of Houselink and Mainstay Community Housing, and MAP Director Stephen Hwang discuss permanent supportive housing programs and the Housing First approach.
6. MAP Centre animation highlights findings from study about youth homelessness
The MAP Centre for Urban Health Solutions created a video animation that highlights some of the findings from the Transitioning Youth Out of Homelessness study. The study sought to understand what impact rent subsidies and having a formal mentor will have on helping youth transition out of homelessness. The study is following 24 youth from southern Ontario who have experienced homelessness. Half of the youth will receive both subsidies and a mentor and the other half will receive only the subsidies.
7. Beyond triage and data culture: Dr. Sharmistha Mishra discusses failures of 'trickle-down' public health
Dr. Sharmistha Mishra, infectious disease physician at St. Michael's Hospital and scientist at MAP Centre for Urban Health Solutions, took part in a roundtable discussion that critically examined the data-driven technological solutions that were used throughout the pandemic. Dr. Mishra spoke about how many of the strategies to handle the pandemic benefitted a small subset of the population that was already at low risk, while excluding marginalized groups. "To what extent is that approach essentially an excuse or rationalization for not doing more? …To what extent could lockdowns be a rationalization and excuse not to think about or implement paid sick leave as a strategy?" she asked. The roundtable was one of several hosted by ArtSci Salon, a platform that fosters dialogue between artists, scientists and researchers across the Greater Toronto Area.
8. How can we protect low-income areas and racialized communities from the ongoing pandemic? Dr. Danyaal Raza weighs in
New data confirms that COVID-19 still disproportionately impacts low income and racialized communities in Ontario. Dr. Danyaal Raza, family physician at St. Michael's Hospital, explains to CBC News the various policy tools that can help protect these groups.
9. Dr. Prabhat Jha talks about the importance of understanding COVID-19 death rate in Africa
There have been relatively low COVID-19 death rates in Africa throughout the pandemic and scientists are working to understand why. Dr. Prabhat Jha, director of the Centre for Global Health Research, tells the New York Times that it's critical to understand what's behind the trend. "It's hugely relevant to things as basic as vaccine development and treatment," he said.
10. Dr. Gary Bloch speaks to The Boston Globe about prescribing income
In an op-ed in The Boston Globe, Dr. Gary Bloch, family physician at St. Michael's, spoke about his practice of prescribing income to patients. Dr. Bloch said when patients tell him they struggle to make ends meet, he "treats" them by helping them fill out forms for various financial supports or benefit programs. "We have the clinical tools we use on the front lines for a host of other health issues," he said. "So I thought, let's do the same for poverty."
Previous Ten Great Things articles