Ten great things that happened this week
March 17, 2022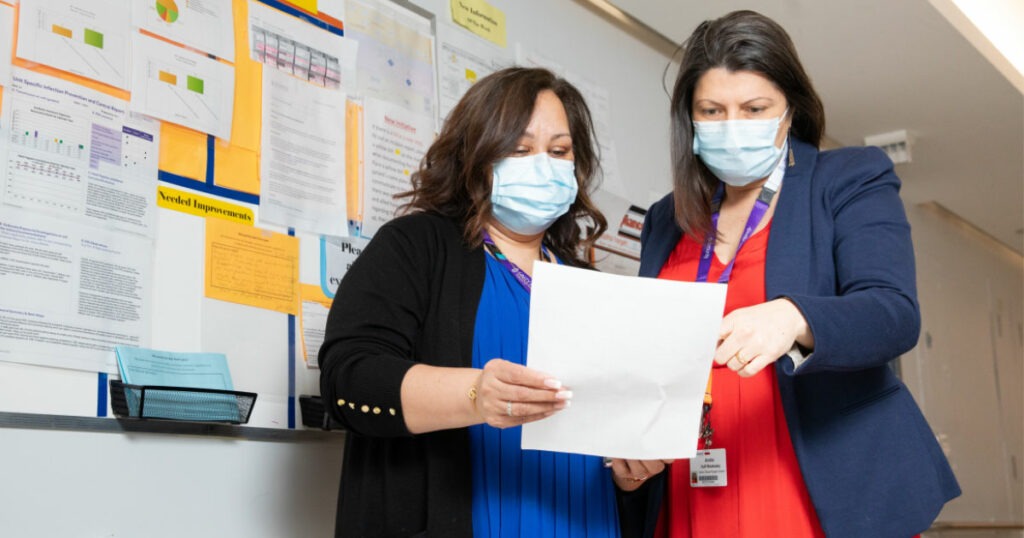 Each week, we share a list of 10 great things that happened at our sites. Do you have a story you'd like to share? Send it to communications@unityhealth.to.
1. How Providence pitched in to create surge capacity
We spotlighted how Providence Healthcare supported the healthcare system during the Omicron wave, taking in additional patients and opening transitional care beds for patients in need. From December through February, Providence supported the transfer of more than 300 patients from Unity Health Toronto, GTA hospitals and from as far away as Newmarket. It also worked with partner Bayshore Healthcare to open 27 new transitional care beds.
2. Ask a dietitian anything: Yasmin Khatau answers your nutrition questions
To mark Dietitian Day, we asked Unity Health's social media audience to submit their questions about nutrition to Yasmin Khatau, a registered dietitian at Providence Healthcare who works at Unity Health's Bariatric Centre of Excellence. Khatau fielded a wide range of questions, from fasting for Ramadan to tips on vitamins. Read the Q&A.
3. St. Michael's scientists receive over $2.6 million in funding to answer COVID-19 questions
The Canadian Institutes of Health Research awarded nine research project from St. Michael's Hospital more than $2.6 million in funding to answer key questions about COVID-19. The funded projects are looking at critical issues that arose throughout the pandemic, including promoting vaccination among youth, understanding the pandemic's impact on academic achievement and how COVID impacted obstetrical care outcomes. Read the story.
4. Centre for Clinical Ethics recognized for advancing ethics training
Unity Health's Centre for Clinical Ethics (CCE) was recognized for advancing ethics training and leadership in Canada. The program, whose Fellows are appointed through the University of Toronto's Department of Family Medicine, has graduated more than a dozen Fellows over the past 20 years. "This recognition is very significant to us because it distinguishes the CCE as a national leader in clinical ethics," said Dave Langlois, PhD Clinical Ethicist and Director, Fellowship Program.
5. Unity Health-led research sheds light on lack of racial diversity among health care leaders
A study led by Dr. Fahad Razak and medical student Anjali Sergeant found that while gender parity was found among more than 3,000 Canadian health care leaders, racialized executives were substantially under-represented. The authors of the study, which was published in the CMAJ, call for health care institutions to increase racial diversity in leadership. Read the findings.
6. Collaborative team at St. Michael's drastically accelerates treatment time for patients presenting with a stroke
Patients experiencing a stroke are typically treated in hospital with tissue plasminogen activator (tPA) – a medication that works by dissolving the blood clots blocking blood flow to the brain. When administered quickly, tPA helps to restore blood flow, limiting the risk of damage and functional impairment. In 2020, the Stroke Program team at St. Michael's implemented a number of changes to reduce the length of time that patients wait for tPA once they arrive at the hospital. Their efforts have paid off and today, the team is celebrating a reduction of more than 50 per cent – from 80 minutes in 2017 to 35 minutes in 2022. Congratulations to the team, including members of the hospital's Emergency Department nursing team, neuroradiology and Stroke Program, on this incredible achievement!
7. How can hospitals learn to live with COVID-19? St. Michael's CHARTwatch algorithm can play a role
Dr. Muhammad Mamdani, vice-president of data science and advanced analytics, explained to The Toronto Star how CHARTwatch, an algorithm developed at St. Michael's and currently in use, can help as the pandemic evolves. CHARTwatch is an algorithm that monitors patient data and helps physicians predict which patients will need intensive care. Read the story.
8. Dr. Samantha Green calls for action to mitigate the impact of climate change
Dr. Samantha Green, family physician at St. Michael's Hospital, joined a panel discussion on CP24 about how to prepare for the next public health crisis. Dr. Green said all levels of government must prepare for future disruptions to our health system, particularly the impact of climate change. Watch the segment.
9. Dr. Dan Werb writes op-ed praising the 'Test to Treat' antiviral-first strategy to end pandemic
In an op-ed for Time, Dr. Dan Werb, research scientist at the Li Ka Shing Knowledge Institute, praised America's antiviral-first strategy to end COVID-19 and prevent future pandemics. Dr. Werb noted that the roots of the strategy stem from how HIV is treated with antivirals in the absence of a viable HIV vaccine.
10. Is Ontario ready to lift its mask mandate? Dr. Peter Jüni weighs in
Dr. Peter Jüni, director of the Applied Health Research Centre at the Li Ka Shing Knowledge Institute, joined a panel discussion on TVO's The Agenda about whether it's too soon to lift Ontario's mask mandate. Dr. Jüni said any loosening of restrictions must be supported by data. Watch the segment.
Previous Ten Great Things articles