Game changer: St. Michael's is first hospital in Canada to acquire clinical portable MRI scanner
April 11, 2022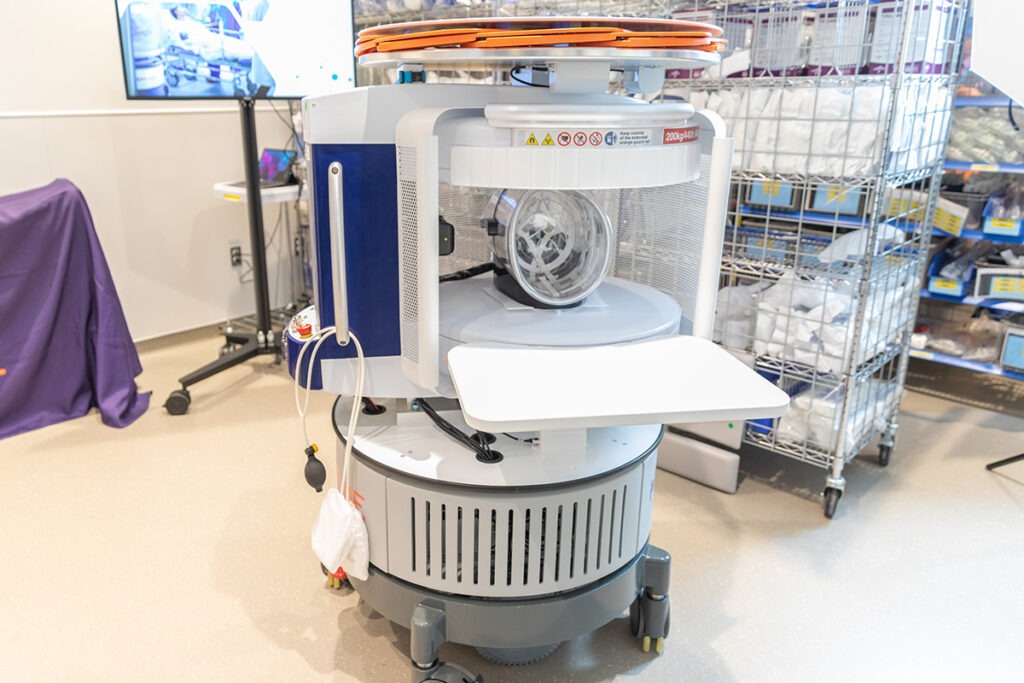 St. Michael's Hospital is the first hospital in Canada to acquire a portable Magnetic Resonance Imaging (MRI) scanner for patient care that can generate clinical images of the brain at the patient's bedside, helping physicians answer critical questions and make decisions about treatment in a timelier manner.
The Hyperfine Swoop portable MRI is the first portable MRI scanner that has been approved for use by Health Canada, and St. Michael's is the first hospital to use the scanner in an acute inpatient care environment. Two other institutions, Queen's University and the University of British Columbia, recently acquired the scanner for research purposes.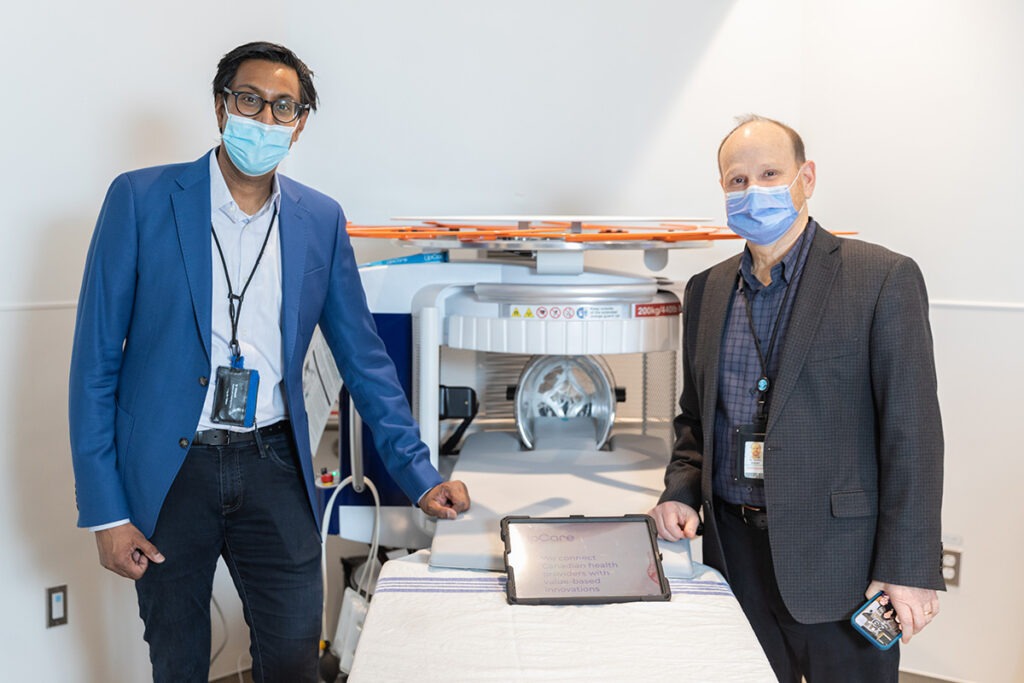 The Hyperfine Swoop will be integrated into the portable imaging services offered by the Department of Medical Imaging at St. Michael's Hospital and will be integral to care pathways in Neurosurgery, Stroke, Trauma, Emergency Medicine, and Neurology. It will help speed up care and minimize demands on staffing levels, as hospitals across Ontario address backlogs caused by the pandemic.
The acquisition of the machine is an example of how St. Michael's Hospital and its clinical leaders continue to drive innovation, and aligns with the institution's goal of being a global leader in brain health.
"This is disruptive technology for the good. It will help every department that uses it to better care for their patients," said Dr. Tim Dowdell, St. Michael's radiologist-in-chief. "This is a game changer."
'Hugely impactful'
Traditionally, MRI is a procedure that's performed in a separate medical imaging department, in magnetically shielded rooms, due to the size of the scanners and the powerful magnets they house.
When a critically-ill patient needs an MRI, several staff members have to prepare the patient for transport, and bring the patient safely to and from the scanner. The process can take hours and requires extra staff and resources. There are also risks involved for the patient, should they become unstable during transport.
"If I have a patient in the intensive care unit, in the old days I used to have to get my intensivist to pack them up, put an oxygen tank on the bed, get the elevator, get two to three people to take them down to MRI, wait hours to get the scan, then take them back up," said Dr. Julian Spears, chief of the division of neurosurgery and co-director of the neurovascular program at St. Michael's.
By contrast, the new portable MRI uses lower strength magnets, which make it safe to operate in regular patient-care areas, such as the ER, the ICU and the OR. This means that the scanner can be brought to the bedside of critically-ill patients, and images can be produced quickly to give physicians the information they need.
Dr. Spears also sees a future role for the scanner in ambulatory care, where patients who come into the Multiple Sclerosis clinic, for example, can have an MRI done on the spot rather than waiting weeks for an appointment.
"Instead of waiting to go downstairs for MRI, we bring it to them," he said.
Dr. Aditya Bharatha, division head of diagnostic neuroradiology at St. Michael's, anticipates that this technology will help reduce overall MRI wait times by freeing up precious time on the conventional MRI machines.
"It will be hugely impactful on wait times," added Dr. Spears. "If you need brain imaging on an urgent basis in the emergency department, you can instantly have it. If you do one of those scans, you've freed up two to three outpatient spots in the MRI downstairs."
It's also an example of HUMANCARE in action – St. Michael's Foundation's historic $1-billion movement to reinvent Canada's patient care experience with a vision of delivering an experience where patients and their loved ones feel comforted when they're at their most vulnerable, connected to the teams that care for them and confident in their treatment.
For patients who experience anxiety or claustrophobia, the open concept of the portable MRI eliminates that problem. Conventional MRIs mean you have to leave patients alone in the MRI scanner, including those who are critically ill, and monitor them through glass from the control room.
"With this technology, you are right at the bedside with them. A family member can be right there holding their hand," said Sonya Canzian, executive vice president, clinical programs and chief nursing and health professions officer at Unity Health.
Complimentary role
There are some limitations of the current Swoop MRI scanner, which means that it will be used in a complimentary role alongside conventional MRI machines, said Dr. Bharatha. The current version of the portable MRI only produces images of the brain. As well, the images produced by the Swoop scanner, while detailed enough to give doctors critical information they need, are not as detailed as the images produced by conventional MRI.
"If it's a question that can be answered with the portable machine, then we use the portable machine. If it's a question that requires more detail, then we focus the detailed conventional imaging on the patients that need it," said Dr. Bharatha. "It will allow us to better align delivery of care to meet our patients' needs.
"But most importantly," he added "this revolutionary technology will unlock point-of-care MRI for the patients who need it the most, some of whom are too unstable to transport down for a regular MRI scan and who might otherwise not get a scan at all."
Clinical champions
The fact that St. Michael's Hospital is the first hospital in Canada to be using the Swoop scanner in an acute inpatient setting is testament to the "clinical champions" at the hospital who understand its value, said Dr. Edmond R. Knopp, senior medical director at Hyperfine. "They immediately understood it and moved forward, full speed ahead," he said.
These "clinical champions" at Unity Health Toronto, including Dr. Spears, Dr. Bharatha and others, worked to arrange for a demonstration of the scanner at St. Michael's last December, and then crafted and delivered a compelling case on why the hospital should move to acquire it.
With support from a generous donor, St. Michael's secured the scanner just a few months after that initial demonstration, something Dawn-Marie King, senior director of laboratory medicine and medical imaging, credits to the overall culture at Unity Health Toronto and its emphasis on patient care.
"It's reflective of the concept of 'bench-to-bedside,'" she said. "Other hospitals have purchased this on a research basis, but we knew right away the clinical impact and wanted to see it benefit our patients."
Dr. Dowdell added that it's the collaborative culture across Unity Health that ultimately paved the way for the new scanner.
"The whole culture of our initiative is that all of our groups, from those in administration and procurement to those that are going to be using it clinically are at the table," he said. "It's a story of St. Michael's, its people coming together and working collaboratively at all levels to come up with something that really matters for our patients."
By: Marlene Leung